NOIDA: Cybercriminals are now trying to mint money from devotees of Lord Ram. Soon after the Centre established the Shri Ram Janmbhoomi Teerth Kshetra Trust, cybercriminals set up phoney websites with the same name and began seeking donations. These phoney websites conned unsuspecting people into donating to the construction of the Ram Mandir in Ayodhya. For the donation, they had supplied their bank account number.
As soon the matter came to light Uttar Pradesh Cyber Police initiated action and with the help of other agencies arrested five conmen from Delhi.
Police got the information that three fake websites have been created – https://srjbkshetra.org, https://rammandirtrustayodhya.com, and https://srirammandirtrust.com/.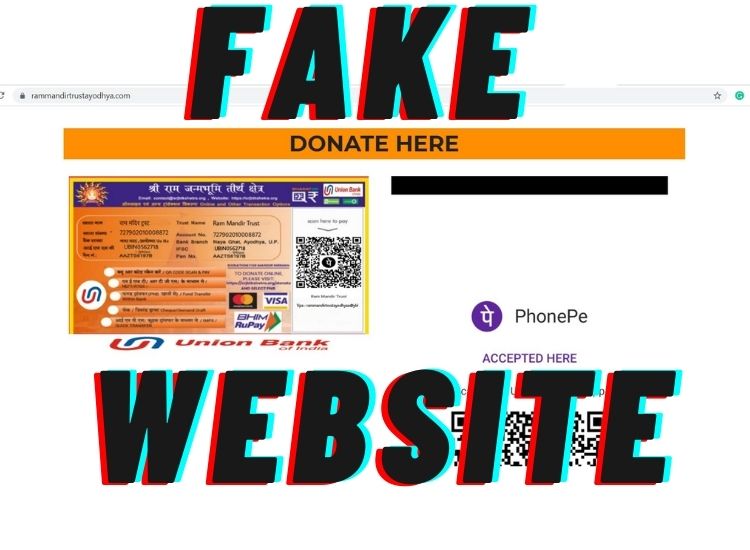 On scanning one of the fake websites- https://rammandirtrustayodhya.com, The420.in found that the website had mentioned the original address of the trust as their own i.e R-20, Greater Kailash Part-1, New Delhi, 110048. These websites carried pictures of the grand ceremony of Bhoomi Pujan which was done by Prime Minister Narendra Modi. These sites also had the latest news regarding the constructions to appear genuine.
Those arrested have been identified as Ashish Gupta, Naveen Kumar, Sumit Kumar, Amit Jha and Suraj Gupta.

Shri Ram Janmbhoomi Teerth Kshetra has its own Twitter account. On their official Twitter account, they have shared the details of their bank account as well as their real UPI ID.
Triveni Singh, Superintendent of Police, Cyber Crime said, "We have arrested five people from Delhi. It was possible with the help of several agencies like CERT, GoDaddy, Internet service providers etc. Our team is continuously scanning such fake websites which are illegally collecting money. As soon it is flagged to us, we write to the concerned authority and take it down."
Cybercriminals in the past have tried misusing the names of religious organizations and trust to cheat people. As a large number of devotees give donations and offerings, cybercriminals create look-a-like websites and trick people.
Follow The420.in on Facebook, Twitter, LinkedIn, Instagram, YouTube & Telegram