Crackdown Against MLM: ED Attaches Amway India Assets Worth Rs 757 Cr In Money Laundering Probe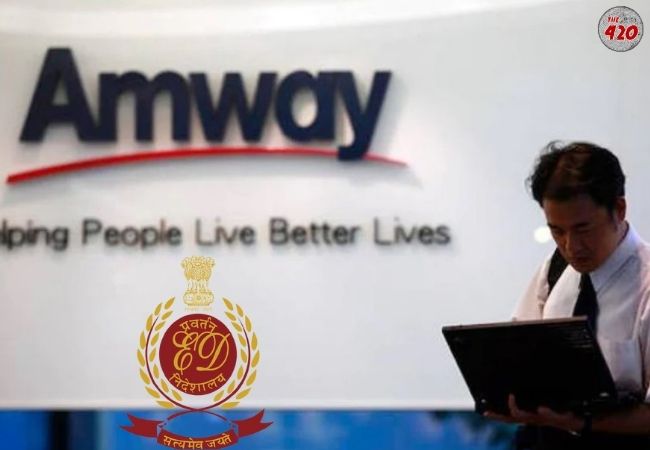 NEW DELHI: The Enforcement Directorate (ED) has attached assets worth Rs757.77 crore belonging to M/s. Amway India Enterprises Private Limited, a business accused of operating a multi-level marketing scheme.
The attached properties comprise Amway's land and a factory building in Dindigul District, Tamil Nadu, as well as plant and machinery, cars, bank accounts, and fixed deposits. The ED has temporarily attached immovable and movable properties worth Rs 411.83 crore and bank balances totalling Rs 345.94 crore from 36 distinct Amway accounts.
According to a money laundering investigation by ED, Amway is operating a pyramid scheme under the cover of a direct selling multi-level marketing network. It has been observed that the costs of the majority of the products sold by the organisation are expensive when compared to alternative popular products from reputable manufacturers available on the open market.
ALSO READ: Meet the Bad Boy Billionaires – Vijay Mallya, Nirav Modi and Subrata Roy: Legal battle, controversy and review of Netflix's new series
 Without knowing the truth, the general naive public is persuaded to become members of the company and purchase products at exorbitant costs, resulting in the loss of their hard-earned money. The new members are not purchasing the products to use them, but to get wealthy by becoming members, as demonstrated by their upline members. The reality is that the commissions paid by upline members contribute significantly to the increase in product prices.
From 2002-03 to 2021-22, the company collected an amount of Rs 2,7562 Crore from its business activities and paid a commission of Rs. 7588 Crore to its distributors and members in India and the United States.
ALSO READ: Karvy Stock Broking Scam: ED Arrests MD & CFO in Rs 2,000 Cr Security Scam
The company's main concentration is on spreading the word about how members can become wealthy by becoming members. The emphasis is not on the products. Products are being used to disguise this MLM Pyramid scheme as a direct selling organisation.
Amway brought Rs 21.39 Crores as share capital in India in 1996-97, and the firm has remitted a massive amount of Rs 2,859.10 Crore in dividend, royalty, and other payments to their investors and parent companies up to F.Y 2020-21.
M/s. Britt Worldwide India Private Limited and M/s. Network Twenty One Private Limited also played an important part in marketing Amway's pyramid scheme by holding seminars for joining members under the premise of selling items by enrolling people in chain system. The promoters are holding massive conferences, flaunting their luxurious lifestyle, and using social media to entice naive investors.
Follow The420.in on
Telegram | Facebook | Twitter | LinkedIn | Instagram | YouTube