LUCKNOW: To strengthen cybersecurity and tackle the unforeseen challenges of cybercrime, the Higher Education Department, Uttar Pradesh is organising a cyber awareness workshop on January 5. The two-hour-long workshop will see the country's top cyber experts share real-life crime cases to decode the digital world and explain how to stay safe at a time when cybercrime is soaring.
After the directions from UGC and MHA, Higher Education Department is conducting monthly cyber awareness sessions with universities, colleges and institutes associated with them. Educational institutes have been asked to prepare a calendar of events and arrange regular competitions, hackathons, workshops, and seminars on cyber security and cyber crimes at regular intervals following protocols and norms amid the COVID-19 pandemic situation. The workshop – Cyber Awareness & Protection, is being conducted by Future Crime Research Foundation (FCRF), a non-profit think tank along with Root64 Infosec Research Foundation.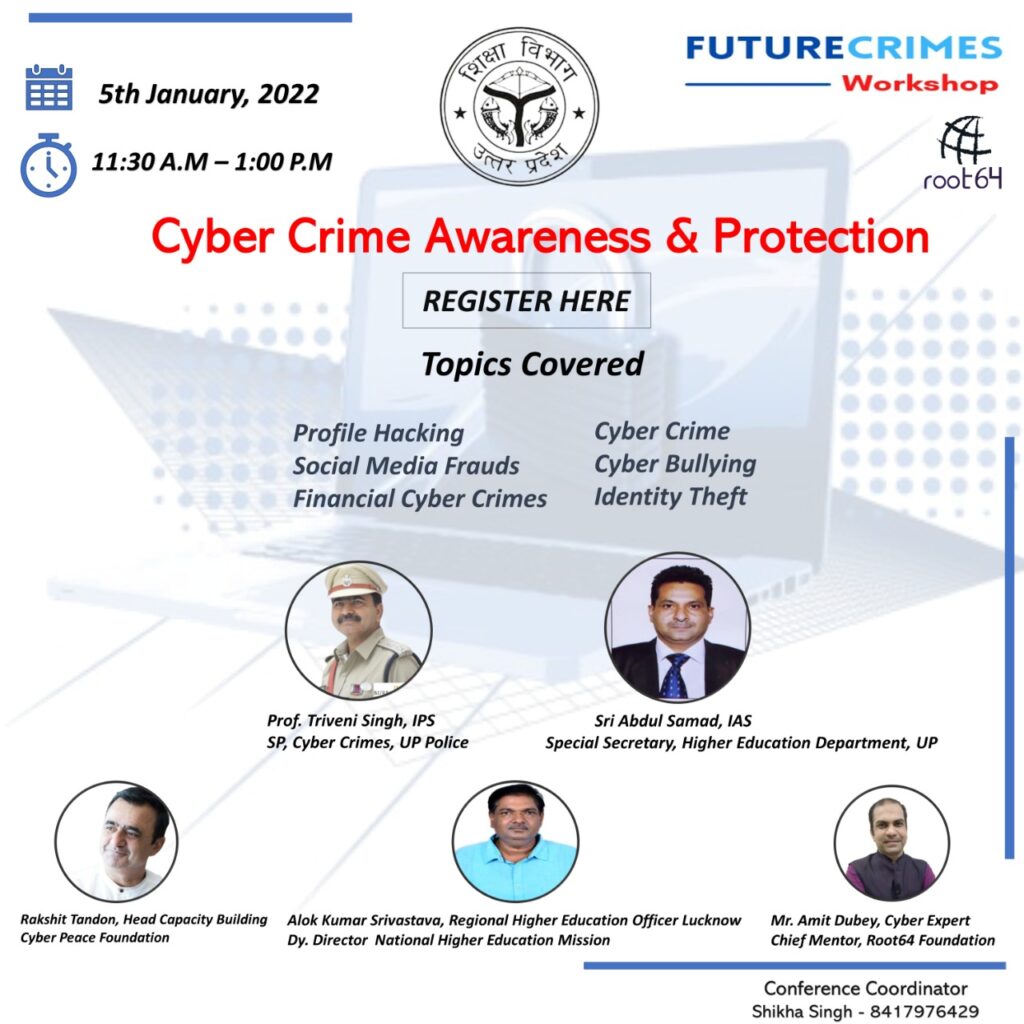 Mr Abdul Samad, IAS, Special Secretary Higher Education Govt. of UP will inaugurate the online session. Prof Triveni Singh, SP, Cyber Crime, UP will address the audience by sharing the latest modus-operandi, recent crime trends and preventive measures. He will be followed by eminent cybercrime experts Amit Dubey and Rakshit Tandon who will have an interactive session with the audience. The speakers will cover topics like profile hacking, social media frauds, financial cybercrime, cyberbullying and identity theft. The webinar will be moderated and coordinated by FCRF's founders – Shashank Shekhar and Kartikeya Singh.
All of you are requested to attend the seminar. The webinar starts at 11:30 am on Wednesday, January 5.
Link for the registration: Click Here