Cyber Forensic Industry Needs Price Regulation And Product Standardisation To Stop Rampant Bid Rigging And Cost Manipulation: RTI Activist
PRAYAGRAJ: While most of the products and goods available in the market come at a fixed or standardised price tag, this rule doesn't apply on big companies providing cyber forensic software and tools to the state police, secret agencies, Central Armed Police Forces (CAPFs), law enforcement agencies and government bodies.
Yes, there is no standard price for these advanced software being sold to critical government agencies to investigate and examine cybercrime and other hi-tech cases. Infact, whistleblowers have highlighted that prices of these software and tools are manipulated and sometimes sold at multiple times higher prices depending upon the deal. With such allegations, they are clearly pointing at nexus between bureaucrats, Original Equipment Manufacturers (OEMs) and vendors.
ALSO READ: International Expose: Cyber Forensics Vendors Cartel Playing Loot Games In India, Corrupt Practices Revealed
To get more clarity and ascertain government agencies' stance on the issue, a senior high court advocate and activist, Rajesh Kumar has filed RTIs with several government agencies which have purchased such advance cyber forensics software and tools.
In his RTIs, Rajesh Kumar has asked about the suppliers, subscription details along with price, payment, cost justification and criteria for selecting the vendors.
"It has come to our notice that there is huge manipulation in purchase and sale of advance cyber forensic tools and software. I was shocked to know that there is no price regulation. One software which is sold to one agency at a certain price is sold to another government body at a much higher cost. This is clear cheating with the government and waste of tax payer's money," said Rajesh Kumar to The420.in in a telephonic interview. Kumar is also a Cyberlaw expert.
ALSO READ: Software Licensing Secrets for Indian Police Officers
"Cyber Forensic Industry needs Regulation and Standardisation to stop rampant bid-rigging and price manipulation," Rajesh Kumar added.
READ RTI QUESTIONS FILED BY RAJESH KUMAR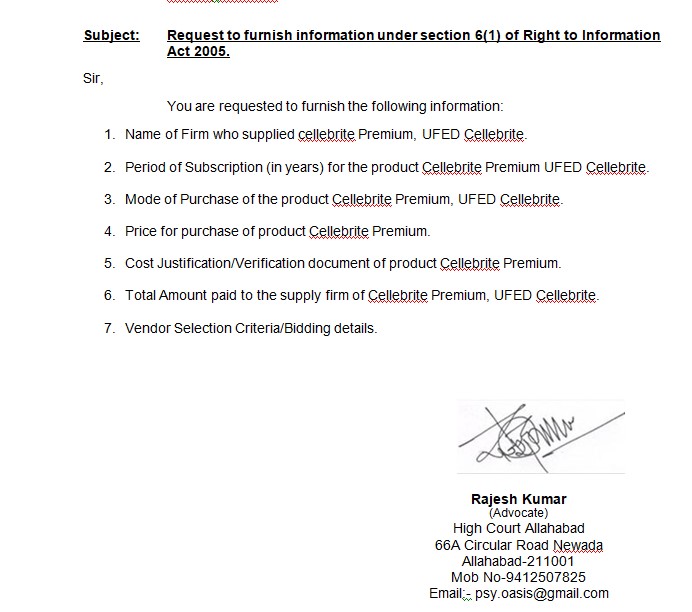 Kumar appealed that any senior law enforcement officer or whistleblower who has access to sale-purchase documents can share it with him. This vital information will help in bringing transparency in software and tool procurement and save taxpayers money.
"Imagine the level of nexus that some vendors are threatening to block any future cyber forensic deal in certain states and agencies. It has also come to my notice that proxy supporting bids are there to hide the real identity of actual vendors. Money flow investigation can easily expose the nexus between such vendors," Kumar said.
As part of digitisation and make India cyber secured, all security agencies in India, including state police, defence and intelligence agencies are upgrading their digital infrastructure. The latest cyber forensic software and tools are the need of the hour to tackle ever-increasing digital threats.
ALSO READ: Is PwC The Next Arthur Andersen? ICAI Suspended PwC Auditor for Misconduct and Malpractices
To obtain these items, agencies issue global tenders, requesting multinational corporations and OEMs to submit their most up-to-date technologies. Whistleblowers claim that these multinational corporations are represented by their Indian partners or vendors, who work hand in hand with corrupt authorities to increase product prices. Over 90% of these OEMs are based in the United States, the United Kingdom, Israel, and other nations.
Security organisations need products like mobile forensics, computer/hard disc forensics, hard disc imaging and diagnosis tools, DVR forensics, video audio forensics, password recovery tool, CDR TDR Analysis, MAC Forensics, and internet forensics. Surprisingly, the same product from the same manufacturer are offered to different agencies and states at different costs.
A whistleblower said that all the vendors in India are reselling the foreign products so the import documents should be produced to ascertain the landing price of the product. This should be made a part of payment conditions to keep the procurement process transparent.
ALSO READ: Insurance Fraud: Nexus & Lapses By Insurance Companies, Agents, Brokers, Regulators Key Behind Huge Data Leak, FCRF Panel Recommends 7 Solutions
The RTI reply by government agencies will expose:
– How prices of the latest and advance tools and software are jacked up by multiple times.
–              Nexus between local vendors with corrupt officials in giving the contract.
– Why no level-playing ground was given to all the vendors. Why a particular OEM was benefitted.
– How Indian officials of OEMs also represent as vendors, thus manipulating the price of international products.
Follow The420.in on
Telegram | Facebook | Twitter | LinkedIn | Instagram | YouTube