Cyber Swachhta Kendra By Indian Government Against Hackers – All You Need To Know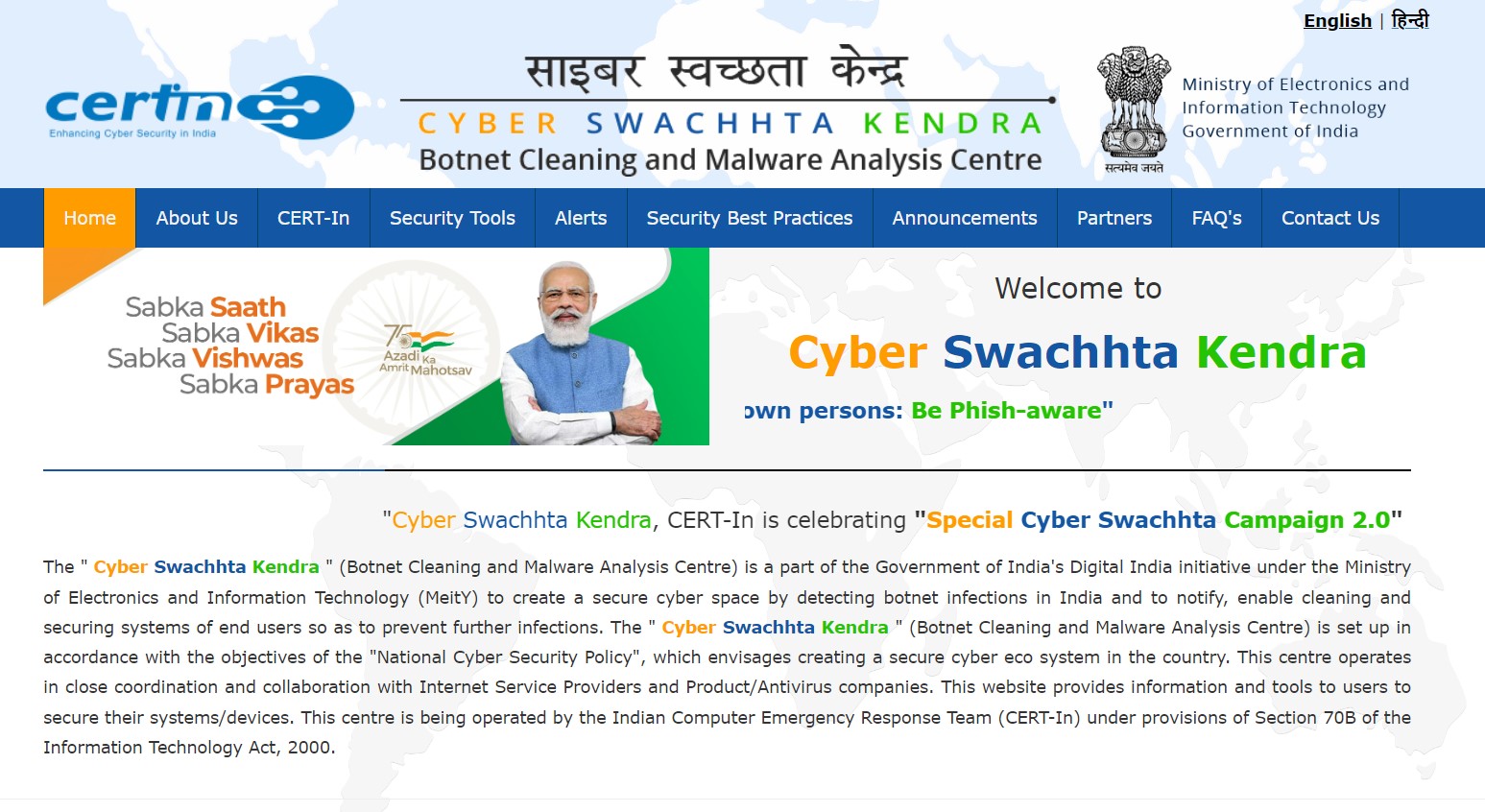 NEW DELHI: In the digital era of the day, computers, mobiles, UPI, online shopping, etc, and several other internet-based facilities have made human life easy and brought the world at one's fingertips.
However, the online world has also its share of challenges for users in the form of hackers engaged in cyber-crimes or frauds. The hackers remotely damage a computer system or infiltrate into an organization in the form of security breaches, especially endangering its finances.
Multiple awareness campaigns are run by the Indian government to educate people on cyber crimes and their impacts while it also informs them about the techniques to prevent losses to due to online frauds.
ALSO READ: Step By Step Guide: How To File Cybercrime Complaint Online In India
Recently you must have noticed a message on your device from the Cyber Swachhta Kendra — a part of the Government of India's Digital India initiative. The portal can be accessed at – csk.gov.in
Basically, the Cyber Swachhta Kendra is a Botnet that acts as a cleaning and malware analysis center. Its purpose is strengthening the mechanism and dealing against cyber-crimes by providing information on botnet or malware threats and suggesting remedial measures.
About Cyber Swachhta Kendra:
The "'Cyber Swachhta Kendra' also known as Botnet Cleaning and Malware Analysis Centre comes under the Government of India's Digital India initiative which comes under the Electronics and Information Technology Ministry.
ALSO READ: Cyber Crime Helpline By MHA: Now 155260 Is 1930 To Report And Prevent Cyber Fraud
Its main aim is to build cyber space by detecting botnet infections in India and notifying, cleaning, and securing the systems of end-users which will protect them from further infections.
The National Cyber Security Policy's aim for developing a secure cyber ecosystem for the nation, guided the establishment of the Cyber Swachhta Kendra. It works closely with internet service providers, product/antivirus firms to operate.
Users can safeguard their systems and devices using the knowledge and resources on this website.
ALSO READ: Victim Of A Cyber Attack? Now Dial 1930 & 155260 To Register Complaint And Get Your Money Back
How To Report Incidents:
Cyber Swachhta Kendra is being operated by the Indian Computer Emergency Response Team (CERT-In) and incidents can be reported at help desk using the email id – incident@certi-in.org.in
Who Can Report:
All users, system administrators can report incidents to Cyber Swachhta Kendra regarding the malicious behavior on their systems / networks along with sufficient logs for analyzing the incident and providing requisite support.
Follow The420.in on
Telegram | Facebook | Twitter | LinkedIn | Instagram | YouTube