Highlights:
Scammers created fake Facebook profiles and made friends with random people. On the pretext of video chat, they get the victim on a video call, capture their footage and edit it into obscene content.

Blackmail them of uploading the video on social media. Videos of more than 40 victims found on their phones, gang made over Rs 25 Lakh.

Gang was running extortion business from Bharatpur, Rajasthan.
New Delhi: If you receive a friend request from a random person on social media and then asked to join a video call, Beware! This is the latest trick of scammers to record and morph your video into pornographic content and extort money.
Delhi Police has busted a gang of conmen who duped people by making fake profiles on social media platforms like Facebook and then trapped them by morphing their videos. The gang which was operating from the Mewat region has duped more than 40 people and made over Rs 25 lakh.
According to the Cyber Crime Unit (CyPAD), multiple complaints were received in the last few weeks regarding an online extortion racket which was blackmailing people in the name of edited and morphed videos.
As per the complaints, the victims were contacted over social media platforms such as Facebook through profiles of attractive individuals.
"The victims were engaged in a brief chat and guided to a video call over Messenger or WhatsApp. During the call the victims were shown an adult clip and their video call was simultaneously recorded," said  Anyesh Roy, Deputy Commissioner of Police (DCP), Cyber Crime Unit.
Roy explained that after some time, the victim gets extortion calls in the name of the offensive video made from the captured video chat. Amounts ranging from Rs 2,000-30,000 were demanded and some of the victims succumbed to those demands before reporting it to the police.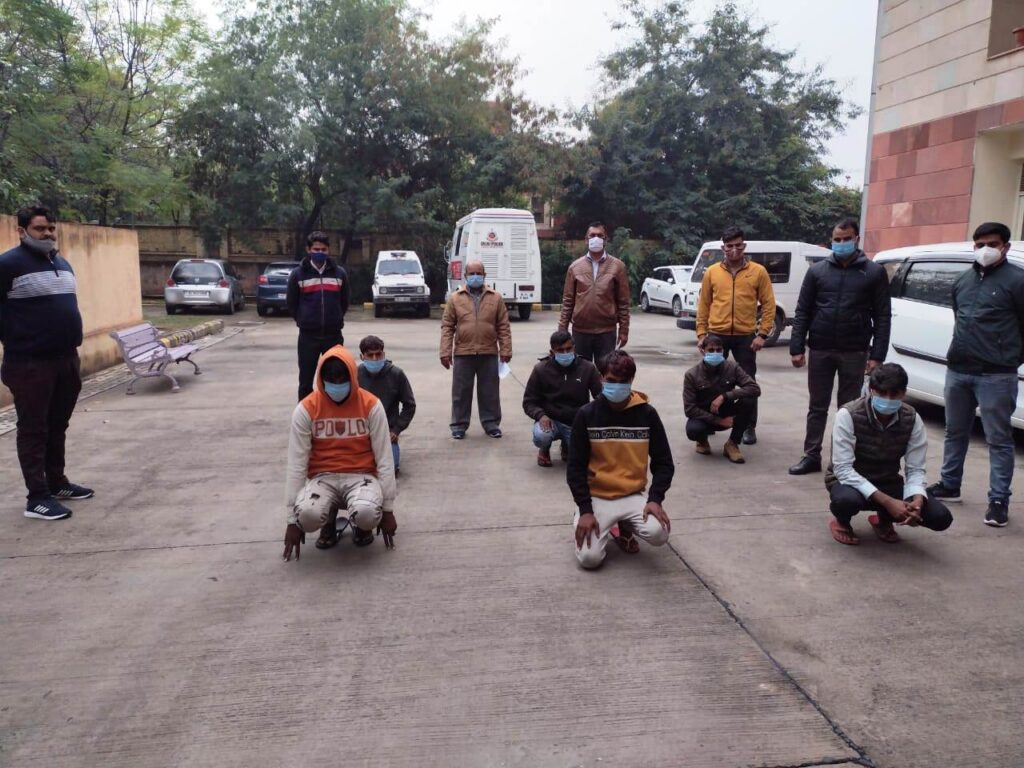 The police said that during the investigation, it was found that the subscriber addresses of the phone numbers used in the crime were of Madhya Pradesh and were being used in Bharatpur area in Rajasthan. Similarly, the accounts in which money was transferred were of Alwar in Rajasthan.
"It was also found that the gang members used to change the SIM cards after a day or two. Scammers used multiple SIM cards issued from various parts of the country on fake identity. So to track them all similar complaints were analysed and it was found that this was a handiwork of a large gang," Roy said.
Explaining the crackdown, Roy said the data of subscriber details, call details, bank account details, e-wallet details etc were collected and analyzed. After meticulous analysis, it was found that the gang involved in this series of extortions is operating from Ishnaka village, Bharatpur.
On January 3, in co-ordination with Bharatpur Police, the hideouts of the gang were identified. In the early morning of January 4, raids were conducted. In the raid, six people were arrested. All the accused are in the age group of 21-30 and are actively involved in online frauds. They have studied up to high school level.
A total of 17 mobile phones used in making extortion calls and sex chats were seized.
On preliminary scrutiny of their mobile phones, information about more than 40 victims have been found and the same is being analyzed to link them with the complaints received.
The case is under investigation and help is being obtained from the labs of CyPAD to retrieve crucial digital evidence. Efforts are being made to identify the involvement of others.
Safety Advisory for citizens:
Be cautious before accepting a friend request on social media platforms from strangers or people whom you don't know personally.
Do not engage in video chats with strangers. Videos can be easily manipulated to harass and blackmail.
Do not succumb to their blackmail and never pay any money.
Immediately report to your local Police Station or on the online portal and share screenshots, etc. with a complaint.
Do not get tricked by fake profiles, spoofed or impersonating phone numbers displayed over True Caller, etc.
Investigating Team: Inspector Sanjeev Solanki, Sub-Inspector (SI) Suneel Sidhu, Sub-Inspector (SI) Manish, Sub-Inspector (SI) Manjeet, Sub-Inspector (SI) Ashok, Sub-Inspector (SI) Deepak, Head-Constable (HC) Jitender, Head-Constable (HC) Anil Dagar, and others. Technical help was provided by the labs of CyPAD.