NEW DELHI: Indian art legends, FN Souza and SH Raza paintings, valued at Rs 5.50 crore, were found by the CBI during a fresh search in connection with India's largest bank fraud involving DHFL, officials said.
FN Souza's 1964 untitled oil on linen piece, valued at Rs 2 crore, and SH Raza's 1956 oil on canvas painting titled "Village," valued at over Rs 3.50 crore, were two of the pricey objects the agency seized, according to them.
During searches, the central agency also confiscated two extremely expensive watches made by Jacob and Co. and Frank Muller Geneve, valued at nearly Rs 5 crore, according to a statement.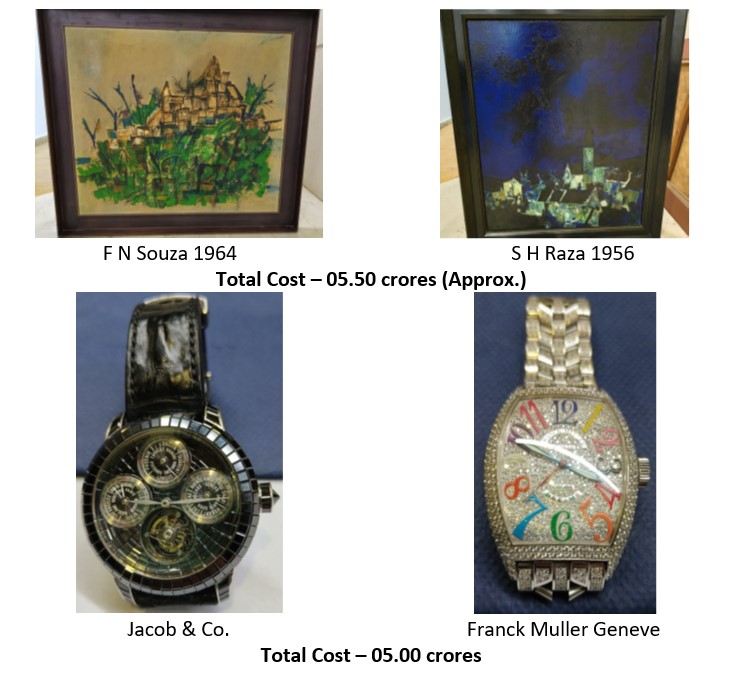 According to the officials, the CBI has been questioning former DHFL CMD Kapil Wadhawan and Director Dheeraj Wadhawan in custody for the past nine days. During this time, it has come to light that they bought these paintings from a reputable art auction company at Fort in Mumbai.
ALSO READ: Check If Digital Lending App Is Registered With RBI: India's Top Bank Governor Asks People
The CBI allegedly conducted searches and seized the assets after learning where these items were kept.
A total of Rs 2 crore worth of gold and diamond jewellery, including bangles and necklaces, was reportedly also found by the CBI, according to officials.
A painting by Tyeb Mehta named "Bull" worth over Rs 27 crore and an untitled work by Manjit Bawa believed to be worth over Rs 7.7 crore were both retrieved by the CBI over 20 days ago.
The CBI claimed in a statement that Mehta and Bawa's works were among other paintings and sculptures, with a total estimated worth of Rs 40 crore, cash, and incriminating documents that were recovered.
ALSO READ: Fraudulent Quick Loan Apps & Chinese Directors Behind RBI's Crackdown Against 5 NBFCs
Dewan Housing Finance Ltd, the Wadhawan brothers, and other individuals were arrested by the federal investigation agency on June 20 in connection with a bank fraud case valued at Rs 34,615 crore, making it the agency's largest investigation to date, according to officials.
They were accused of defrauding a group of 17 banks, including Union Bank of India, by diverting bank loans totaling Rs 34,615 crore using DHFL's fabricated account books.
By disbursing money to fictional firms as retail loans, they allegedly exploited shell companies and a parallel accounting system called "Bandra Books" to syphon off public funds in DHFL.
ALSO READ: Senior Indian Bureaucrat Claims Cyber Attack On Phone, Know The Latest Scam
The agency responded to a complaint from Union Bank of India, the largest member of the consortium that provided credit facilities to DHFL between 2010 and 2018 totaling Rs 42,871 crore.
The Wadhawans, according to the bank, defrauded the consortium by committing a criminal breach of trust and engaging in a criminal conspiracy with others to misrepresent and conceal facts in order to stop making loan payments starting in May 2019.
The company allegedly committed financial irregularities, diverted cash, falsified accounts, and round-tripped monies to "create assets for Kapil and Dheeraj Wadhawan" using public funds, according to the audit of DHFL account books.
Follow The420.in on
Telegram | Facebook | Twitter | LinkedIn | Instagram | YouTube