Fake Quick Loan App: Silver Cash Loan Online Misusing Tata Investment Name, Warns Govt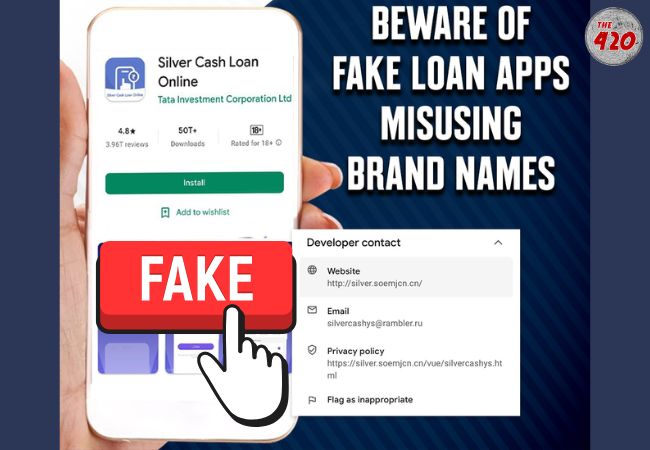 NEW DELHI: The government and Tata group has issued an advisory against a dubious investment app – Silver Cash Loan Online. The app is in the business of offering quick loans but is misusing the name of the Tata group.
Government agencies have warned that this app is not only misusing the name of a big corporate house but may also be involved in stealing their customer's personal details and further blackmailing them.
"Beware of "Silver Cash Loan Online" app misusing the name of Tata Investment Corporation Ltd. Besides financial fraud, these apps may steal and misuse your personal data," said CyberDost – a Cyber-safety and Cybersecurity awareness handle maintained by Ministry of Home Affairs.
Following advisory by the government, Tata group has also issued a statement warning the public.
"The general public is hereby cautioned that certain unknown individuals and agencies have been trying to mislead the public by wrongfully claiming to be part of our Company and offering loans and other financial offerings and investment schemes," said Tata Investment Corporation.
---
ALSO READ: 404 Fake Loan And Investment Apps Shut Down By Cyber Police – Check Full List Here
---
In the statement, Tata group added that it had been brought to notice that such unknown persons have also made fraudulent mobile and other online applications using our Company's name and the trademark TATA with the view to cheat the general public and to lure them to invest money in such Ponzi schemes. One such mobile application called "SILVER CASH LOAN ONLINE" is available for download on Google Play Store and also made a fraudulent website at http://silver.soemjcn.cn/ and is fraudulently showing Tata Investment Corporation Limited as its owner.
---
ALSO READ: KYC Details Of Indian Users Misused By Chinese Loan Apps To Create Fake Bank Accounts
---
Tata group also said that it is advised that any person willingly downloading such mobile apps, corresponding with such individuals and agencies in any manner whatsoever will be doing so at their own risk, as to costs and consequences. We strongly recommend that no one should download such mobile apps and respond to such solicitations.
Law enforcement agencies have found several fake loan and investment apps misusing the name of big brands. Most of these apps are not recognised by the RBI. Once the customers download the quick loan app they give all the permissions, which allows app operators to access customers' contact details, images, social media and other sensitive details. The app operators then blackmail their customers by morphing their image and threatening to make it viral on social media.
Follow The420.in on
Telegram | Facebook | Twitter | LinkedIn | Instagram | YouTube