New Delhi: Online financial frauds kept cyber sleuths of Delhi busy during the pandemic year 2020. Statistics shared by the Delhi police shows around 62 per cent of cases registered by them were linked to financial fraud, followed by 24 per cent of cases related to social media crimes.
Sharing data and trend, Delhi police in its annual press conference highlighted new modus operandi being used by cybercriminals to cheat people.  
New Modus Operandi
Fake government websites offering financial assistance and subsidies
Fake Websites offering government jobs.
New users of payment Apps targeted in the name of KYC Verification, e-SIM upgradation, etc.
Phishing links in the name of schemes, news and alerts pushed through email & WhatsApp .
Customer Care Online Search Manipulation (Search Engine Optimization Fraud).
Extortion using edited porn videos

The police report also shows maximum crimes originating from Delhi and its neighbouring region. According to the police cases related to QR-code based payment manipulation fraud on Olx, Just-Dial and Facebook Marketplace is being done by criminals of Haryana-Rajasthan-UP Tri-junction (Mewat region).
Similarly, frauds related to UPI hacking frauds in name of KYC verification, SIM upgradation, Refund, etc is originating from Jharkhand-Bihar-WB Tri-junction (Chota Nagpur – Santhal Pargana region)
Crimes related to Call-centres for job, loan, insurance frauds have made Delhi and NCR region its base. Meanwhile, crooks from the Mewat region is involved in SoS frauds through fake social media profiles.

Police finding shows, more technical crimes like tech-support, IRS, Social Security illegal call centres are being operated from metropolitan centres like Salt Lake (Kolkata), Navi Mumbai, Jaipur, Noida, Delhi, Mohali and Panchkula.
Explaining action taken against Mewat-based conmen, Delhi police said the crackdown is launched against fake SIM card vendors, telecom companies' distributors, payment bank agents.
Close to 41 persons were arrested from the Mewat region in 2020 who were involved in various kind of cybercrimes. Delhi police added that they are working in coordination with Haryana, Rajasthan and UP Police through MHA's Joint Cyber Investigation platform. Result of which can be seen in the number of complaints on the National Cybercrime Portal dropping by 53%.
Officials said that using data of accused arrested in Delhi, their victims in Maharashtra, Telangana, and Odisha were traced and action was taken by state police. Upon analysis of IMEIs of mobile phones used by fraudsters, 14,259 fake numbers identified and communicated to DoT for the imposition of a fine on telecom service providers.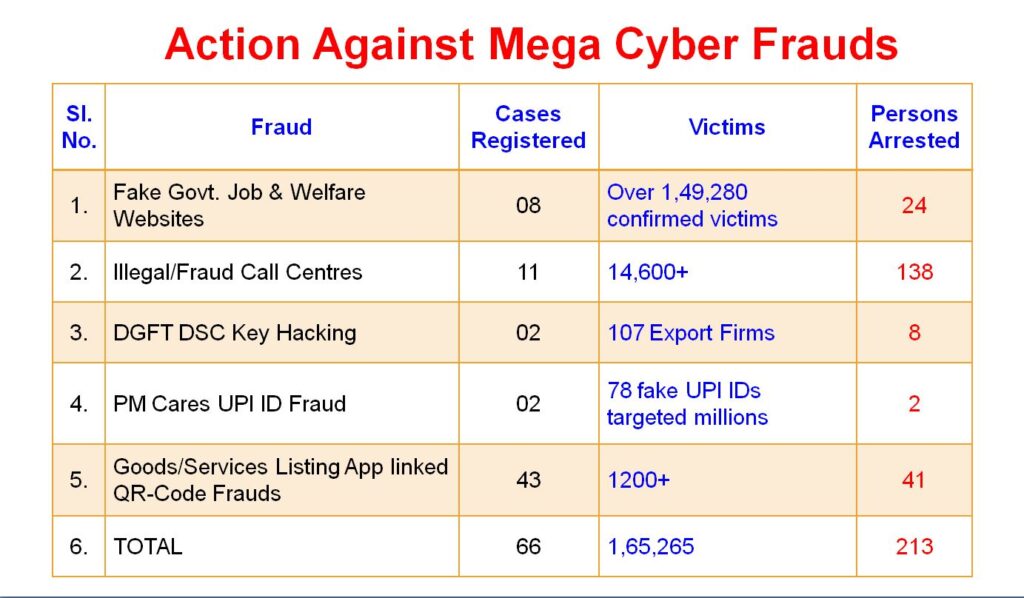 As cybercriminals are getting smarter day by day, Delhi Police is also honing the skills of its staff by conducting regular training and workshops.
Officials said that 1280 officers trained in cybercrime investigations through online courses during COVID. The latest issues, such as crypto-frauds, dark-net investigation, IPDR analysis, etc were taught to investigating officers (IOs).
CyPAD-NCFL has planned to hold monthly hands-on training for LEAs countrywide on cyber forensics and digital investigations from March 2021. Crash courses on new online fraud modus operandi are being conducted for district and police station cyber teams.
Officials said that they are testing the Citizen Financial Cyber Frauds Reporting and Management System. The program aims at Common Online Portal for LEAs and Banks/Wallets, which is developed and tested by I4C/MHA and Delhi Police. The move will bring LEAs and Banks/Wallets on one platform to promptly record online fraud information from victims and quickly escalate across banks/wallets to trace and freeze cheated money.
Senior officials said that 44 banks, wallets and merchants already joined. During the testing mode fraud money being successfully blocked and talks are underway for bringing the entire RBI ecosystem on the Portal.