NEW DELHI: Cyber Crime Unit of Delhi Police-CyPAD has busted a gang of criminals who duped more than 500 job seekers on the pretext of high-profile jobs in leading MNC and minted around Rs 7.5 crores.
According to the police, a complaint was received from a resident of Uttam Nagar, Delhi that he was contacted by unknown persons who represented themselves as employees of recruitment agencies. They cheated him of almost Rs 20 lakh on the pretext of providing him with a job with a conglomerate.
"The accused persons contacted the victim for offering a job with the leading MNC and then, in the name of starting the selection process, document verification, completing the top management profile, internal reference, aptitude test, security amount, seat reservation, etc., conned him for several weeks and made him deposit the money in various bank accounts. The accused persons had created several fake websites and email IDs for running the scam successfully," said Anyesh Roy, Deputy Commissioner of Police (DCP), CyPAD.
A team was formed and technical investigations of the case begin. "Complete analysis of the mobile numbers was done, the money trail was established, assistance was taken from the labs of CyPAD and the location of the accused was zeroed in. A raid was conducted by the team at the illegal call centre that the accused were running in Gurugram and five persons were arrested from the spot," Roy said.
The mastermind of the gang Manoj Hota along with his accomplice Ashish Ranjan, Abhishek Kumar, Sonu Rawal, Shaik Pintu were arrested. Cops have seized seven computers and laptops and 14 mobile phones from the possession of the accused.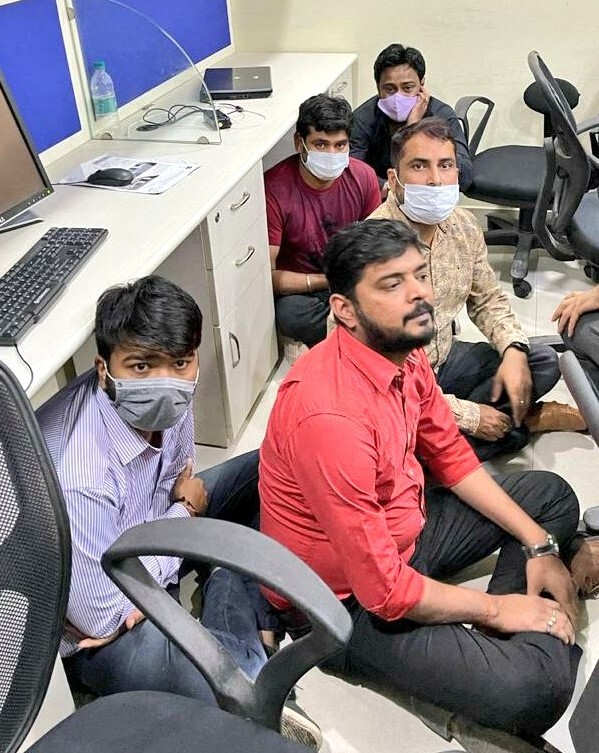 According to the police, the main accused Manoj is a commerce graduate who went on to obtain a Masters in Business Administration (MBA) from Pune and then further did his PhD in Human Resources, with a specialization in Compensation Management from a reputed university.
After this, he worked as a visiting faculty at a number of universities and colleges for a few years and then started a college of his own. However, it did not materialize and he ended up in a lot of debt. It was then, that he decided to make money illegally and contacted people who were already running this scam.
Police said Manoj has been conning unsuspecting people in the name of providing high end jobs with reputed MNCs for over the last few years. He further recruited others to assist him in managing the Centre as well as calling job-seekers.
"He made it a policy to target only extremely well qualified people who were looking for top management jobs, so that he could coax them into paying more money. For this, he also made sure that he recruited enough well-qualified persons in his team who could converse well in English and talk professionally," Roy explained.
The other key player includes, his associate Ashish and Abhishek are Engineers in Electrical and Electronics, respectively. Ashish was in charge of handling the operations of the Centre and was the main Manager there. Abhishek was the 'star caller' of the team who could easily convince unsuspecting people that he was calling on behalf of top MNCs. Both were instrumental to the success of the scam.
Sonu and Pintu are not as highly qualified and have only completed their schooling, however, they are also very fluent talkers and were in charge of contacting customers in the first instance and initiating the scam, which would then be 'closed' or finalized by Abhishek and Ashish.
During the investigation, police found that the gang had created several fake websites and email IDs in the name of various MNCs for the impersonation and cheating.
"As disclosed by them, they have been able to con more than 500 persons of around Rs. 7.5 Crores by promising them high end managerial positions with leading MNCs," Roy said.
Investigation of the case is under progress. All relevant devices have been seized. Efforts are being made to identify the involvement of others.