NEW DELHI: Fake call centre operatives in Delhi are luring youngsters from Northeastern states and hiring them as tele-caller to dupe US citizens by posing as federal officers.  Recent crackdowns have shown that maximum callers were for northeastern states because of their command over the language and their accent.
Cyber Cell of West District of Delhi police has busted an illegal call centre operational from Hari Nagar area and arrested 65 people. The maximum staff involved in the calling process were from north-eastern states. It was found in previous cases that these youngsters were paid a premium and were called for night shifts. They are provided with a script and asked to memorise it. The more people they cheat, the more money they are paid.
Police are also probing if there are agents or recruiters who are behind hiring northeastern youths in these shady call centres.
A senior officer said during the raid it came to their notice that fraudsters are engaged in using illegal techniques like VOIP calls. These are basically internet-based calls and bypasses the legal International Long Distance (ILD) gateways and thus causes revenue loss to the government.
Officials said that when they raided they found callers cheating US citizens by impersonating themselves as government officials of US Customs and Border Protection Department, Drug Enforcement Agency, Sheriff, FBI, Treasury office and extort money from overseas victims in the name of saving them from legal action and arrest.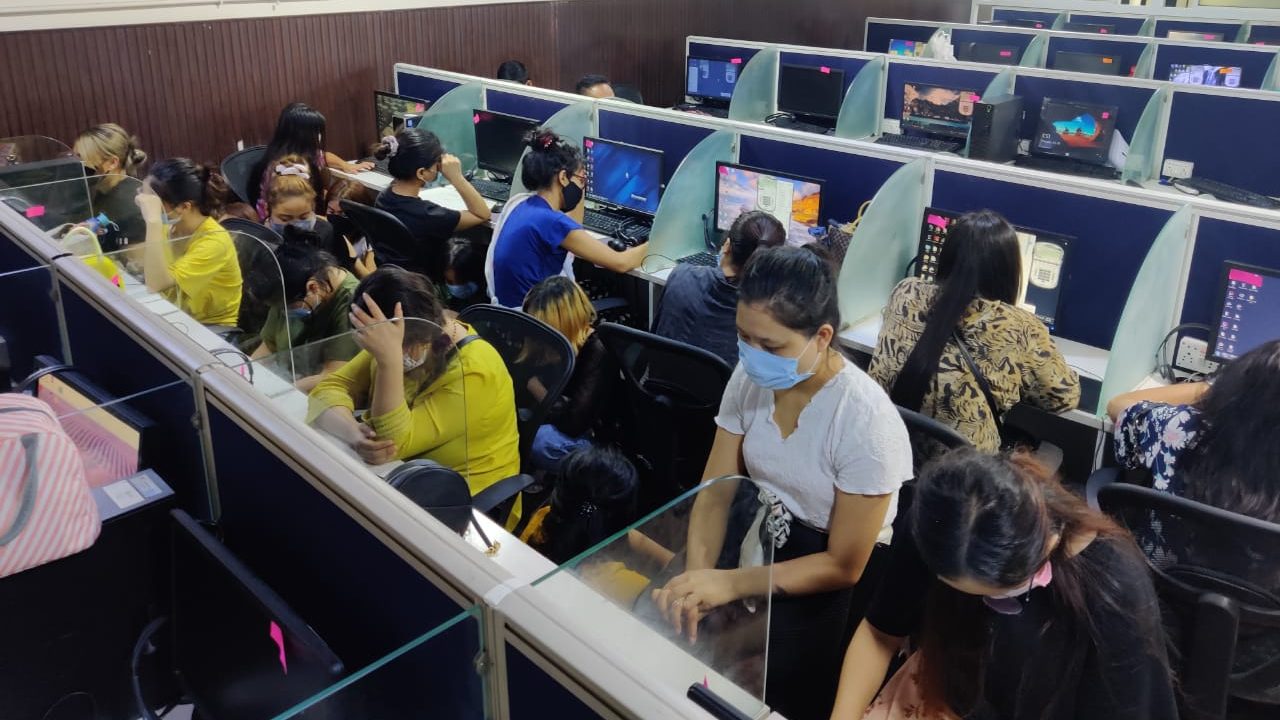 On sustained questioning and scrutiny of their network, computers, mobiles, they divulged that they were engaged in calling US nationals and impersonating themselves as genuine government officials of US.
Explaining the modus-operandi an official said this scam typically begins with a pre-recorded threatening robocall claiming to be from the legal department and telling the victim that your social security number (SSN) will be suspended soon and to save themselves from legal action they need to follow their instructions on phone. Callers persuaded their target to connect via pressing 1 on IVR.
When the threatened target presses 1 on IVR, the call gets connected to one of the tele-callers sitting in this fake call centre in Delhi. The tele-callers introduce himself as officials of the US Customs and Border Protection Department and scare the target in the US by saying that a parcel containing drugs addressed in the name of the victim has been seized by US Customs and Border Protection Department and legal action of arrest, forfeiture of bank accounts, suspension of SSN and execution of warrant has been initiated against them. To save themselves from these legal actions targets were told to immediately move their entire bank balance amount into buying e-gift cards. Callers used to collect details of these e-cards and through various routes, they used to encash the amount.
 As the callers used spoofed VOIP numbers, the complainant can neither call back nor those numbers can be traced. Recently, Delhi police busted several fake call centres which were involved in similar fraudulent activities. Police are yet to ascertain the amount they have made through cheating the US citizens but it is expected to run in several crores.