NOIDA: Lucknow-based think tank Future Crime Research Foundation (FCRF) has been incubated by IIT Kanpur's Artificial Intelligence and Innovation-Driven Entrepreneurship (AIIDE) – Centre of Excellence (CoE)
Future Crime Research Foundation (FCRF) is a non-profit organization that strives to make India future-ready by making India more digitally aware and building an ecosystem of a cyber-safe India. Their mission is to provide deep research and insight into new-age threats and strengthen Indian states, industries, institutes, academia and society by knowledge sharing, capacity building, imparting skill and public outreach in the digital space.
AI-BASED BIG DATA SEARCH PLATFORM TO EASE POLICING
FCRF is building artificial intelligence (AI) powered big data platform which aims to smoothen the investigation and policing process. It will integrate the data from all the key stakeholders to create a first-of-its-kind search engine, which will help in predictive policing, crime mapping and analysis apart from the other services.
"Frauds and crime are one of the main social issues, Shashank CEO of Future Crime Research Foundation is developing methods of predictive policing using AI, now we can understand crime better and solve them faster.  We are committed to promote AI startups in UP, I am thankful to GoUP for their support for Center of AI at Noida," said Dr Nikhil Agarwal, CEO – IIT Kanpur (FIRST, AIIDE and C3i Hub).
"We will collect all necessary data from many sources and create a single platform that can execute data analysis utilizing regression models, data mining, and artificial intelligence, as well as providing insights into the crime pattern that is unique to a given region," said Harshvardhan Singh, Co-Founder, FCRF.
Harshvardhan Singh explained that with our platform the police agency can do more advanced analyses, obtain a better knowledge of the factors that influence criminal behaviour, and better predict where and when crimes will occur.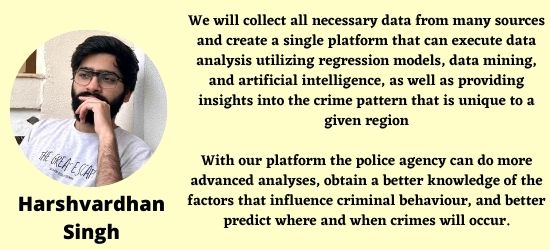 The police force in India is frequently faced with health and social difficulties as a result of overburdening of work, necessitating the need for better resource allocation. As a result, any technology or policing system that allows for improved resource allocation is highly desirable.
FCRF VISION AND MISSION
FCRF believes in the idea of India taking a lead in the digital security space. It aspires to make the country's critical infrastructures, business, corporate, institutions, and society ready to meet future crime challenges.
"We aim to assemble a strong, innovative, multi-disciplinary ecosystem to address future cybersecurity and privacy challenges faced by the centre, states, industries and individuals. Our area of focus remains in-depth study and research in the field of cybercrime, corporate fraud investigation, internal investigation, financial forensics, cyber law, Intellectual property domain, data protection, General Data Protection Regulation, Privacy, internet governance, smart manufacturing, forensic accounting and auditing, data breach, start-up policies, geopolitical analysis and public affairs," said Shashank Shekhar, co-founder, FCRF.
Last year, as a reward for its attempt in spreading cyber awareness amongst its readers, Future Crime Research Foundation (FCRC) was chosen as the top three finalists in the Cyber Awareness Category of DSCI Excellence Awards 2021.
ALSO READ: Cyber Awareness Award: The420.in – Future Crime Research Foundation (FCRF) In Top 3 Finalists Of Prestigious DSCI Excellence Award
FCRF has created India's first search engine for Nodal officers and all India police station numbers. This is to help law enforcement agencies and common man to contact key person when in need.
Future Crime Research Foundation has created a unique questionnaire – CQ 100 or Cyber Quotient 100. It consists of unique 100 questions related to cyber hygiene, cyber security, cyber law, cybercrime, banking and finance guidelines to access the current preparedness of stakeholders. Based on the result we help them curate a training and workshop module which is again assessed through CQ100 Test to check the progress.
ALSO READ: CQ100: Meet India's Most Influential Cyber Warriors
ALSO READ: CQ100: Meet The Dynamic Women Changing The Face Of Indian Cyberspace
AIIDE-CoE TO BOOST STARTUPS IN UTTAR PRADESH
The incubation with IIT-Kanpur's Artificial Intelligence and Innovation-Driven Entrepreneurship (AIIDE) – Centre of Excellence (CoE) will give an immense boost for creating this platform. The Uttar Pradesh government has entrusted IIT Kanpur and FICCI with the establishment of a world-class Centre of Excellence (CoE) in Noida in order to boost the innovation and entrepreneurial ecosystem via the use of artificial intelligence (AI) and machine learning (ML).
"AIIDE Centre of Excellence will incubate startups from diverse sectors including those leveraging AI/ML for policing and crime prevention, healthcare, education, logistics and various others," said Ankit Saxena, Senior Manager, AIIDE Centre of Excellence and FIRST IIT Kanpur.
Over a five-year period, the Artificial Intelligence and Innovation Driven Entrepreneurship Centre of Excellence (AIIDE-CoE) will assist foster and incubate 250 firms in the AI/ML area. To aid accelerate product development, the businesses will have access to world-class infrastructure and lab facilities, as well as mentors and investors.
The centre serves to promote Uttar Pradesh's startup ecosystem in the field of artificial intelligence, as well as bridge the gap between academia and industry.
Follow The420.in on
Telegram | Facebook | Twitter | LinkedIn | Instagram | YouTube