Indian Govt Withdraws Proposed Law On User Data Protection: Everything You Need to Know
NEW DELHI: The Indian government on Wednesday withdrew its ambitious Personal Data Protection (PDP) Bill that it had proposed in 2019.
The bill was aimed at expanding regulations to protect the digital footprints of millions of internet users, data flow, and its usage in the 1.3 billion citizens-strong country.
The decision comes at a time when India is auctioning 5G spectrum and telecom operators are gearing up to roll out the next generation internet bandwidths by end of the year. 
Speaking in Parliament, India's Electronics and Information Technology Minister Ashwini Vaishnaw said the Centre was taking the decision as a parliamentary panel's review of the bill had suggested 81 amendments, leading to the need for a new comprehensive legal framework.
"The Personal Data Protection Bill, 2019 was deliberated in great detail by a Joint Committee of Parliament (JCP) and 81 amendments were proposed and 12 recommendations were made toward a comprehensive legal framework for the digital ecosystem," Vaishnaw said, according to reports.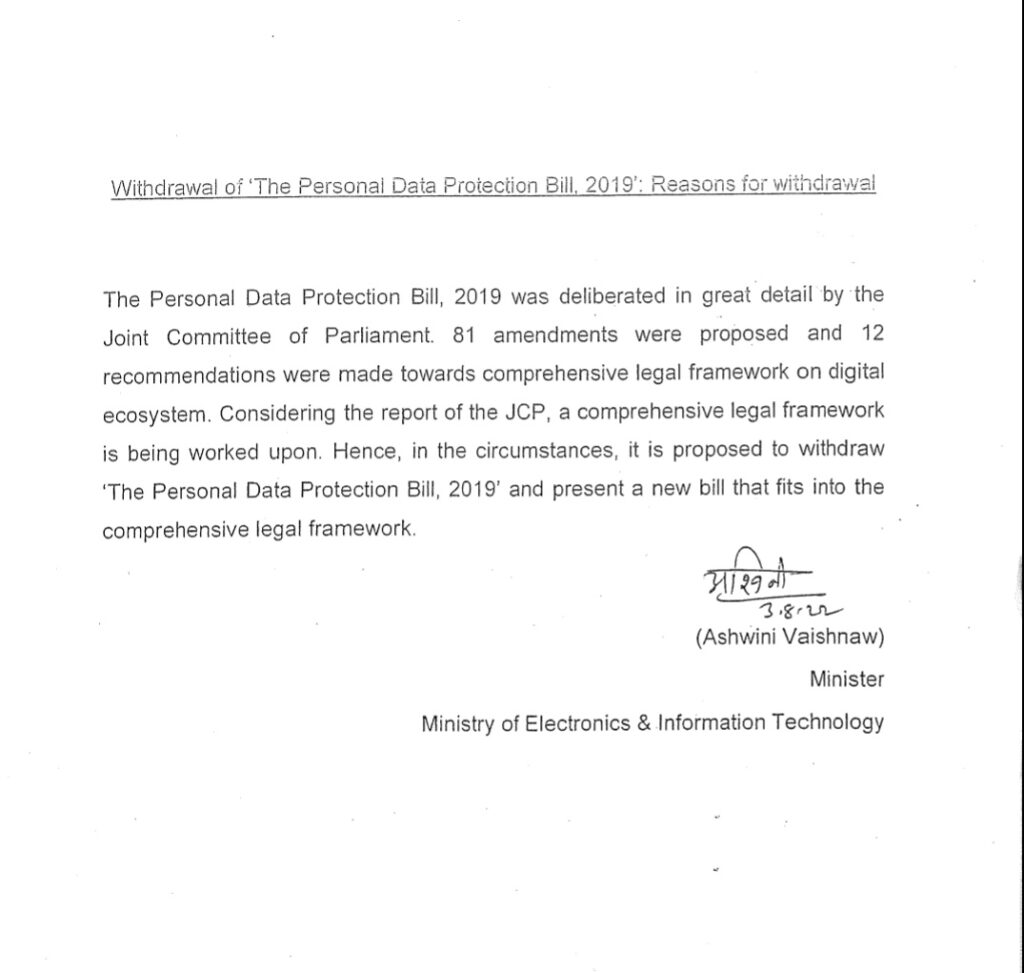 ALSO READ: No More Than 9 Connections: Telecom Department To Deactivate Extra SIMs Of Subscribers
The minister said that taking into consideration the JCP report, a comprehensive legal framework is now being worked upon.
"Hence, in the circumstances, it is proposed to withdraw 'The Personal Data Protection Bill, 2019' and present a new bill that fits into the comprehensive legal framework," he said.
Aim Of The Bill
Considering the large size and ever-growing number of internet users, the Personal Data Protection Bill would have changed the landscape of digital privacy for India. 
The proposed legislation was meant to regulate how various companies and organizations use individuals' data inside India.
The Bill was aimed at providing protection of digital privacy to individuals relating to their personal data, specify the flow and usage of data, and create a relationship of trust between persons and entities processing the data.
ALSO READ: Step By Step Guide: How To File Cybercrime Complaint Online In India
Timeline Of Personal Data Protection Bill
The Personal Data Protection Bill, 2018, was prepared by a high-level expert group headed by former Supreme Court judge BN Srikrishna.
It was first introduced in Parliament on December 11, 2019 and passed on to the JCP for examination the same year.
The JCP was initially chaired by BJP Member of Parliament (MP) Meenakshi Lekhi initially.
Since a minister is not allowed to chair a JCP, Lekhi was subsequently replaced by PP Chaudhary.
ALSO READ: Search All India Police Station Phone Numbers & Mail ID Through This Search Engine
What followed over the theee years, including the pandemic-hit 2020 and 2021, were 81 amendments and 12 recommendations to the original Bill.
The report of the JPC was presented to the Lok Sabha on December 16, 2021.
The Bill was withdrawn on August 3, 2022 during the Monsoon Session of Indian Parliament.
Follow The420.in on
Telegram | Facebook | Twitter | LinkedIn | Instagram | YouTube