By Hina Desai in Azamgarh
The International Girl-Child Day has come when the entire world, including India, is in a turmoil. The Covid-19 crisis has thrown up a slew of unprecedented challenges before humanity at large. The situation is worse for women, especially girls of all age groups, in the post-Covid world with crimes against them having sharply increased.
The periods of extended lockdown, joblessness and health concerns have caused overall frustration particularly among the poor and vulnerable sections of the society in India. If the stress and tension have aroused suicidal tendencies, they have led to violence and crime of all kinds.
Different kinds of violence against women and the girl-child have always been a matter of concern, but the situation is more grim in the present difficult circumstances. In the process, if on one hand the increased exposure to cyber space has had an empowering effect, on the other, it has become a vicious trap too.
Last week I received a call from Sunidhi (name changed), a class 11 student who had to undergo medical treatment after a phone call using abusive language traumatised her optimistic mind to such an extent that it became unbearable. The most common is trolling, use of derogatory language, stalking, morphing, email spoofing, phishing, pornography, which all impact psychologically and socially.
The theme of the International Girl-child Day this year is 'My voice, Our equal future'. To attain this, it's high time we educate our girls to tackle the upcoming challenges and overcome obstacles in their way of empowerment.
When we speak of empowerment, the focus should be on holistic empowerment, which includes legal empowerment, social empowerment, emotional empowerment as well as cyber empowerment. We must provide actionable assurance to the girls to ensure they confidently report abuse and seek help and guidance without fear. Apart from building this awareness, we should empower them with cyber etiquettes, knowledge of technology and DO's and DON'Ts of the digital world and put in place a state-of-the-art support mechanism.
The way forward
We must promote inter-sectional understanding and approach to communities who experience multiple forms of online harassment and oppression as part of the continuum of violence.
Monitoring initiatives to prevent and respond to online violence against girls, to understand how it's working.  Capacity building by communicating to parents, teachers and children.
Cyber crime awareness activities like circulating handbooks and animations on cyber safety in local language for adolescent and youth. To further strengthen the initiative, training of teachers, PRI members and grassroot workers on technology should be done.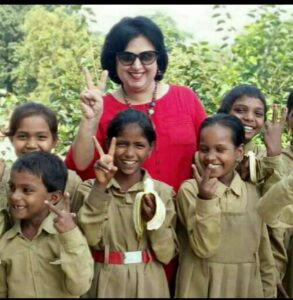 The writer – Hina Desai is a Social worker and Executive Director, Sri Ramanand saraswati Pustakalaya Jokehara Azamgarh