NEW DELHI: The levels of public satisfaction with the quality of policing are highest in Andhra Pradesh, Telangana, Assam, Kerala, Sikkim, Mizoram, and Gujarat, according to a new survey
The Indian Police Foundation (IPF) issued its 'IPF Citizen Satisfaction Survey on SMART Policing, 2021' on Thursday.
Its goal is to assess public perceptions of the quality of policing in India as well as popular faith in the police.
The poll had a total sample size of 1,61,192, with 64% of responses received online and 36% gathered through face-to-face, telephone interviews, and other paper-based data collection methods. Significantly, Andhra Pradesh and Telangana combined accounted for 56.48 percent of all responses.
The SMART Scores are assigned on a scale of 1 to 10 and represent levels of citizen satisfaction, with a score of 10 representing the highest degree of satisfaction.
The top five states in the 'IPF Smart Policing Index 2021' were Andhra Pradesh (8.11), Telangana (8.10), Assam (7.89), Kerala (7.53), and Sikkim (7.18).
The five states at the bottom of the list, on the other hand, were Punjab (6.07), Jharkhand (6.07), Chhattisgarh (5.93), Uttar Pradesh (5.81), and Bihar (5.74).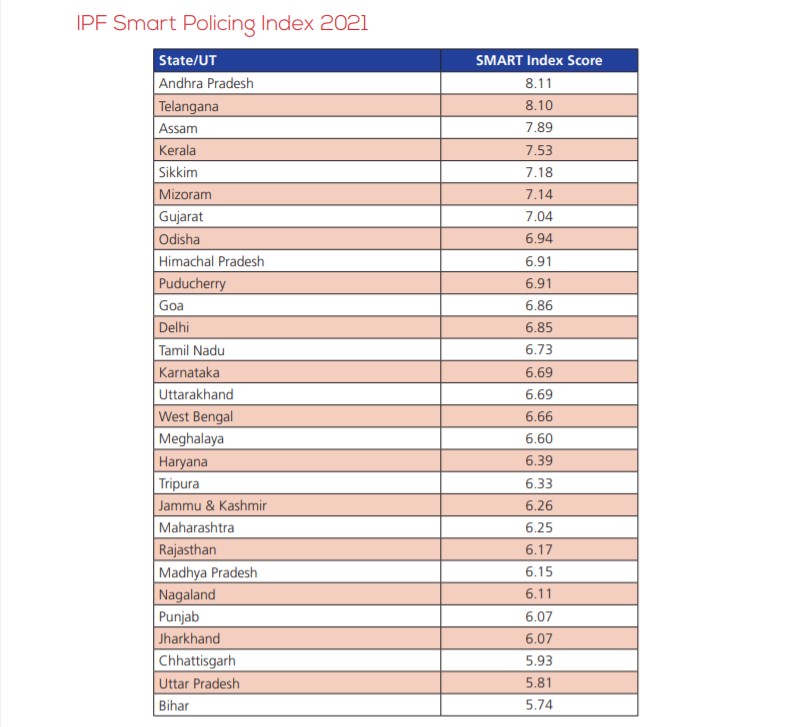 19 states/UTs had an index value between 6 and 7, while 3 states received an index value between 5 and 6.
Police sensitivity, strict and excellent behaviour, accessibility, police response, helpful and friendly policing, and technology usage were among the Competence-Based Indicators. The Values-Based Indicators included perception indices of integrity and corruption-free services, a policing index that was fair, unbiased, and lawful, and police accountability.
It was also stated that "the elephant in the room is the share of the population that has expressed disillusionment, some with very negative feelings." While the proportion of individuals with good impressions may be higher, the proportion of the disgruntled population that is still dissatisfied with the status of policing is tragically, quite important and sizeable."
According to the overall 'Index of Public Trust in the Police,' trust has a significant impact on the interaction between citizens and the police and plays a very evident role in police efficacy and efficiency.
According to the study, "a lack of trust substantially inhibits residents' willingness to follow the law and collaborate with the police, which is critical for efficient crime prevention, investigation, and intelligence work. Better trust ensures better compliance with the laws of the land and better policing outcomes."
The overall Index of Public Trust in the Police had a score of 6.86.
Citizens trusted Andhra Pradesh, Telangana, Kerala, and Assam the most, with all scoring above 8. Six states obtained ratings ranging from 8 to 7, including Mizoram, Sikkim, Gujarat, Himachal Pradesh, Haryana, and Goa.
According to the study report, eighteen states obtained scores ranging from 7 to 6, with Bihar receiving the lowest accountability score of 5.98.
Four possible reasons for low trust assessments were found based on citizen comments. These include a lack of regard for the law and human dignity, continuing problems with corruption, some officers' reluctance to stand up for the law or stand by their choices, and a lack of moral authority to reject extraneous interferences and pressures.
Follow The420.in on
 Telegram | Facebook | Twitter | LinkedIn | Instagram | YouTube