NEW DELHI: The arrest of 14 cybercriminals from Jamtara-Deoghar-Giridih-Jamui region by Delhi Police has opened up a pandora's box. The analysis of mobile information has revealed that cybercriminals were linked with 1,624 cases across India, which is one of the biggest linkages so far.
Delhi Police Special Cell, Cyber Unit (CyPAD) have examined their digital record on National Cyber Crime Reporting Portal and other records and found these scammers were involved in over 1600 cases. A maximum of 409 cases is linked to Uttar Pradesh followed by 348 cases in Telengana.
Jamtara region in Jharkhand shot to limelight after unemployed youth here started calling on random number posing as bank or government officials are using social engineering trick they used to steal sensitive banking details. Jamtara became the biggest hotspot for phishing calls being made in the country. Not only the common man but even senior bureaucrats, political leaders and judges have become their victims.
ALSO READ: Cyber Prahar 2.0 : Massive Crackdown By Delhi Police Cyber Unit In Jharkhand's Cyber Crime Hotbed, 14 Scammers Arrested
CyPAD is now sharing the details with other state police and agencies to investigate cases registered in different states of the country.
The week long-action has started showing its impact as arrests have resulted in a drop of 29% week-on-week in frauds committed by the Jamtara-based fraudsters.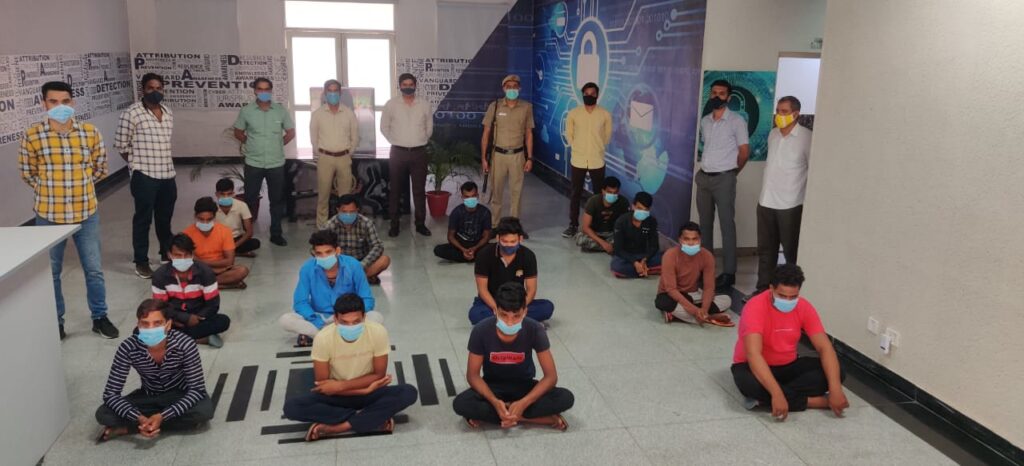 CHANGING MODUS OPERANDI
The operation has revealed a new Modus Operandi of exploiting open-source tools. As disclosed by the scammers, over time, they have evolved a number of modus operandi. They have conned people impersonating bank employees, telecom service providers, e-wallet companies, etc. For this, they employ highly sophisticated techniques and technology, including Search Engine Optimization and Google Ads.
ALSO READ: Pension Fraud: Using 120 Fake Accounts Jamtara Cyber Criminals Made Rs 4.5 Cr, 1 Arrested By UP Cyber Police
EXPLOITING OPEN SOURCE TOOLS
The gang used to pay Rs. 40,000-50,000 per day just to run Google Ad campaigns. The accused made use of Survey Applications like Survey Monkey to customize it and collect the banking details of the victims. When anyone expressed apprehension about filling their bank account details and/or card details in the survey form, the accused would assure them by stating that they are filling the details in their own mobile phone and this is, in no way, accessible to anyone else. In this way, they would gain access to all of the victim's banking details through cloud syncing.
MISUSING NEW APPLICATIONS & SERVICES
Most recently, the gang started using the App 'Bikayi' available on Google Play Store for genuine businesses. Using this App, they would create fake URLs of e-commerce platforms which would then be pushed online using Google Ads. Anyone looking for a customer care number of these popular e-commerce platforms used to stumble across these fake numbers of the accused and was then conned by either inducing to share the account details or by installing a remote access App which is used to take over complete control of their device.
ALSO READ: Jamtara's Fake Calls Network Busted: Here Is How Cyber Criminals Arrange Fake Accounts, SIMs and e-wallet
The gang mostly made calls to their potential victims in a group so that in case the victim expresses their desire to talk to a senior official or the manager, one of them can pretend to be the same and gain the trust of the victim, thus making their task easier.
Over the last two years or so, the accused have been receiving/making calls to 40-50 persons per day of which 3-4 fall prey to their ruse every day.
They have been working in a large group from secret hideouts outside the villages. The locations from which these calls to victims are made are deliberately chosen in such a way that they can keep an eye on any movements around. In case any attempt is made to apprehend them, they quickly get rid of their devices in the nearby forests, swamps, rivers, etc. and disappear in the jungle.
LOOKING FOR TECH-SAVVY PARTNERS
Police said of late, a new trend had emerged wherein cybercriminals from the region are moving to urban areas and big cities like Delhi/NCR, Lucknow, Hyderabad, Kolkata, etc to enjoy more luxurious city life, to avail more sophisticated tools, gain access to more educated partners in crime who have expertise in malicious App development, phishing website creation, etc. and only occasionally come to their native villages. Most of the ill-gotten wealth is being used to build huge houses in their native villages as it is considered a matter of pride by them.
Follow The420.in on Facebook, Twitter, LinkedIn, Instagram, YouTube & Telegram