THIRUVANANTHAPURAM: Kerala Police Cyberdome organised the 6th Edition Hackathon – Drone'KP 2021 with the goal of bringing together drone-geeks, inspiring students, start-ups, and emerging entrepreneurs under a single platform to produce cutting-edge solutions that can boost Kerala Police's drone capabilities.
Drone'KP was themed "Eagle-Eyed Policing". The hackathon aims to find new ideas and suitable manpower for Kerala Police in the field of drone technology. Drone'KP seeks to provide a collaborative and competitive platform for organisations, academia, and technology enthusiasts to collaborate in order to improve the operational effectiveness of policing through the use of drone-enabled technologies and to devise mechanisms to counter the emerging threats posed by drones.
The registration for Drone'KP – International Drone Hackathon 2021 began on October 26.
"We received a tremendous response from throughout the country, with over 150 teams registering for the competition. Following the preliminary screening, we have picked approximately 70 teams to compete in the final competition. The Drone'KP drone hackathon and Award Function 2021 included the drone development competition," said ADGP Manoj Abraham.
The event also featured an exposition of various Drone solutions/applications/utilities, Drone Air displays, and Drone Flying Training & Workshop for Student Police Cadets & Police Officers.
Kerala Chief Minister Pinarayi Vijayan officially opened the event. V Sivan Kutty, Minister of Education, officially opened the drone flying instruction and workshop. On December 17th, the event finished with a closing ceremony and award presentation.
"This is a very important security initiative, which is crucial not only for us but for the nation, also. The Drones and connected technology developed as part of this initiative will be a great boon to other state LEAs and vital installations also, for we can take care of the security, with an – eye from the sky," said ADGP Manoj Abraham who is in charge of the drone shield.
The event centred on developing cutting-edge drone solutions in the following areas:
➢ SURVEILLANCE DRONE
➢ HEAVY LIFT DRONE
➢ DRONE FORENSIC SOLUTIONS
➢ NANO DRONE
➢ ENDURANCE DRONE
➢ ANTI DRONE SYSTEMS
Kerala Police Cyberdome is the technological research and development centre of Kerala Police department.
It brings together Government Departments, Law Enforcement Agencies, Industry, Academia, International Organizations, and Public Domain Experts to collaborate on Cyber Security in order to improve the State's capacities in dealing with cyber threats and to secure the State's Digital Assets.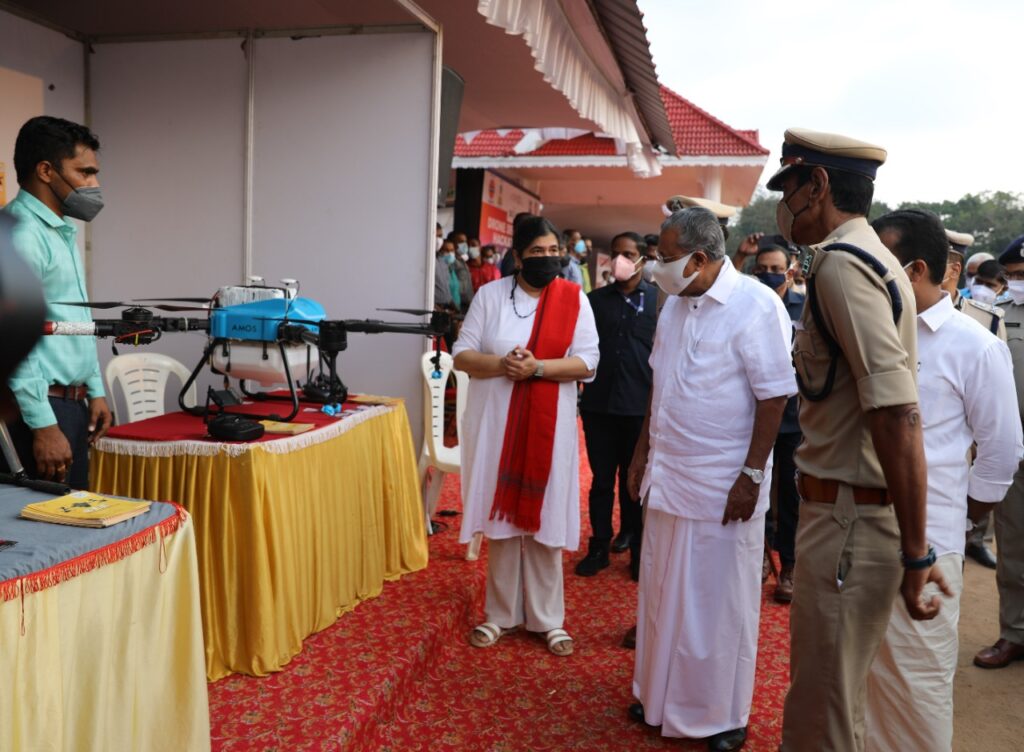 It was established as the Kerala Police's Centre of Excellence to address rising cyber threats. In recent years, the introduction of 'drones' or 'unpiloted aircraft' has had a profound impact on national security and surveillance frameworks.
As with every other new technology in this field, it presents enormous opportunities as well as a slew of new threats to law enforcement. To secure the nation and its residents, the state's law enforcement authorities must quickly catch up with technology. In this context, Kerala Police has established the nation's first Drone Forensic Lab and Research Center as a special wing under Kerala Police Cyberdome at Thiruvananthapuram.