India Cracks Down on Cryptocurrency Crimes, Seizing Over Rs 953.70 Crore in Proceeds: Finance Ministry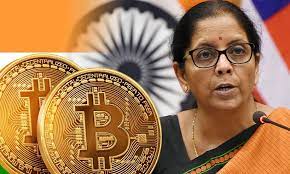 NEW DELHI: The Enforcement Directorate is investigating several cases related to crypto-currencies under the Prevention of Money Laundering Act, 2002 (PMLA) and the Foreign Exchange Management Act, 1999 (FEMA). Nirmala Sitharaman, the Union Finance Minister revealed that proceeds of crime amounting to Rs 953.70 crore have been attached, seized or freezed, while five individuals have been arrested in connection with these cases. Additionally, six Prosecution Complaints (PCs) have been filed before the Special Court, PMLA.
ALSO READ: Want To Become A Future Crime Researcher? Join The Future Crime Research Foundation
The Ministry of Finance has also issued a showcause notice to crypto-currency exchange Zanmai Labs Pvt Ltd, known as WazirX, and its Directors under FEMA for transactions involving crypto-currencies worth Rs 2,790.74 crore. Assets amounting to Rs 289.28 crore have been seized under section 37 A of FEMA.
Sitharaman said the Reserve Bank of India (RBI) has been cautioning users, holders, and traders of Virtual Currencies (VCs) about the potential risks associated with dealing in VCs through various public notices. The RBI has also advised regulated entities to carry out customer due diligence processes for transactions in VCs, in line with regulations governing standards for Know Your Customer (KYC), Anti-Money Laundering (AML), Combating of Financing of Terrorism (CFT), and obligations under Prevention of Money Laundering Act (PMLA), 2002.
ALSO READ: Step By Step Guide: How To File Cybercrime Complaint Online In India
The Ministry of Finance has also informed that the Financial Action Task Force (FATF) Plenary discussed and adopted amendments to the FATF Standards to respond to the increasing use of virtual assets for money laundering and terrorist financing at the request of the G20 Ministers. This includes an amendment to the FATF Recommendations and glossary to clarify to which businesses and activities the FATF requirements apply in the case of virtual assets.
The FATF has developed a comprehensive approach to prevent the misuse of virtual asset activities for money laundering and terrorist financing, which involves exchanges and wallet providers implementing AML/CFT controls, and being licensed or registered and supervised or monitored by national authorities.
ALSO READ: Over 10 Lakh Cyber Crime Complaints Received By I4C in 2022
Meanwhile, Minister of State for Finance Pankaj Chaudhary informed Parliament on Monday that India is collaborating with G20 nations to develop a worldwide coordinated policy on crypto assets. With its G20 presidency, the country is seizing the chance to prioritise various issues, including cryptocurrency assets, for international collaboration.
Because crypto assets are not bound by borders, they require international cooperation to prevent regulatory arbitrage, according to Chaudhary. As a result, the minister emphasised that any regulatory legislation, whether for regulation or prohibition, can only be effective with significant international collaboration in assessing risks and benefits and creating shared taxonomy and standards.
Follow The420.in on
 Telegram | Facebook | Twitter | LinkedIn | Instagram | YouTube