By Sunidhi Dubey: WhatsApp is world's most popular choice for communication where you are part of your office group, your friends' gang or some new and old acquaintance.  But cybercriminals are busy exploiting some loopholes in this encrypted messaging app to dupe people. In the latest WhatsApp OTP scam, the criminals are targeting their victim by posing as someone they know.
What will you do if you get a message from an old-time friend? You will get delighted and immediately start chatting, right? Exploiting this human psychology, hackers are stealing WhatsApp OTP to gain control over their phone.
Modus Operandi:  The scam came to light after netizens highlighted that they have received messages on WhatsApp from an unknown number claiming to be an old friend or acquaintance. They conversed for a bit and suddenly the hacker who is posing as a friend will ask the victim to share the OTP he has received on his phone. Hackers claim to be in an emergency situation, asking you for an OTP which was sent to your number by mistake.
Once you the victim share the OTP, the entire WhatsApp of the user gets compromised by the hacker. The access can be misused in any way: Hackers may send such malicious messages to others using your WhatsApp number thereby putting you in trouble or make seek bribery to release control over your account.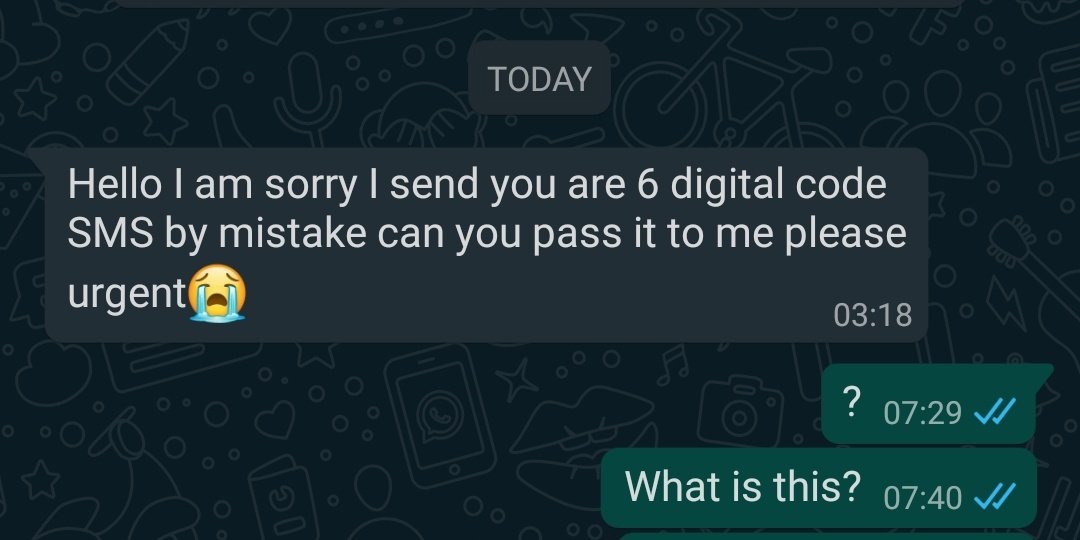 From the hacked WhatsApp number, the cybercriminal can create havoc. He now gets access to all the contact and further target new people.
Safety Tip:
To avoid getting scammed on social media, it is advised to add a two-way authentication system, which increases security by up to 50%.
To turn on the 2 steps authentication on WhatsApp, follow these simple steps.
— Tap on the three dots present on the top right corner.
— Tap on the Settings option → select Account.
— Click on Two-step verification.
— Click on the Enable option present on the next screen.
— You will be asked to enter a six-digit pin, which will act as your pin code for this application.
— Enter your pin twice, then enter by your email address.
—On confirming the email address, your two-step verification will be activated.
— You could easily disable or change the pin following the same step.
Although it is better to have a 2 step verification, it is best to always take necessary precautions; refraining from sharing OTPS, Passwords and confidential Account or social media details to anyone and report if you notice anything suspicious to the cyber police to stop any crime in its initial stage itself!