Illegal Call Centres And Phishing Gangs In India Cost Americans $10 Billion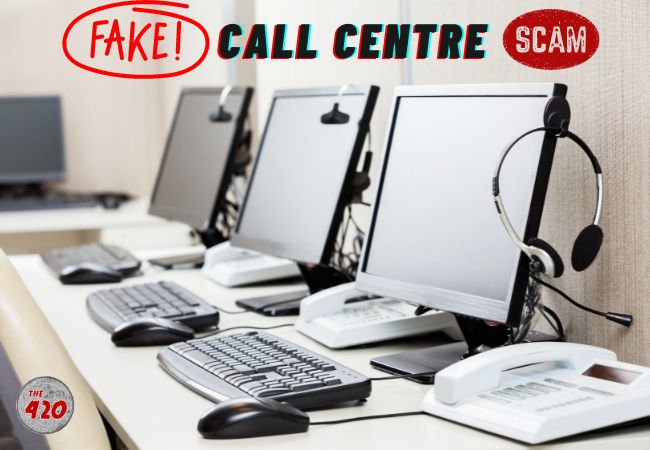 NEW DELHI: FBI data shows that scams involving romance and "tech support" pop-ups have cost trusting elderly US citizens more than $3 billion (Rs 25,000 crore) in the last two years alone.
Most of these scams came from illegal call centres and phishing gangs in India. The trend is still going strong. In the last 11 months, Americans lost a total of $10,2 billion in frauds related to the internet and call centres, which is 47% more than last year's loss of $6,9 billion.
The Federal Bureau of Investigation (FBI) is worried that phishing gangs based in India are stealing the life savings of elderly US citizens. To stop this, the FBI has sent a permanent representative to the US embassy in New Delhi to work with the CBI, Interpol, and the Delhi Police to bust these gangs and freeze money sent by wire and crypto currencies to gangs based in India.
ALSO READ: Decoding the Menace of Fake Call Centre Scam & How It Is Harming India
Suhel Daud, the legal attaché at the US embassy here and the head of the FBI's South Asia division said in an interview that romance-related frauds reported by victims on the FBI's website show losses of Rs 8,000 crore in 2021 and Rs 8,000 crore in the last 11 months of 2022. When "tech support" crimes are added to this list, the losses could reach $3 billion in two years. Most of the people who fall for these scams are over 60 years old.
"It may not be a threat to India's national security yet, but it could hurt India's reputation, and we don't want that to happen," Daud said. He said that the CBI and Interpol have been "strong partners" in investigating these crimes. He also said that the FBI is ready to fill in any gaps in the investigation by giving local law enforcement agencies evidence they can use to prosecute the criminals.
ALSO READ: Fake Call Centre Busted In Delhi; 42 Arrested For Duping 3,500 US Citizens Of Rs 70 crores
The head of the FBI's South Asia division talked about how the FBI is working more closely with Indian agencies to catch these criminal gangs, which are putting the world's fifth-largest economy at risk of being called a net exporter of internet and call centre scams.
Daud said that the FBI's website for reporting internet crimes (ic3.gov) had received about 8.5 million complaints in 2021 with estimated losses of $6.9 billion and over 7.8 million complaints in the first 11 months of 2022 with estimated losses of $10.2 billion. The biggest losses come from investment ($3 billion), business email compromise ($2.4 billion), personal data breach ($1.2 billion), romance ($1 billion), and tech support ($781 million).
ALSO READ: Delhi Police Bust 2 Call Centres Defrauding People In US, Arrest 100
MODUS-OPERANDI OF FAKE CALL CENTRE:
Scare is a big part of the fake call centre business, which is worth billions of dollars. Based on the information that their partners in the US leaked, Indian agents call them and try to scare them.
1: Scareware is the most popular of the rest. In simple terms, con artists working in Indian call centres use a leaked database of American or other foreign customers to start contacting unsuspecting customers through internet pop-up messages that look like security alerts from Microsoft, Apple, or another reputable IT company.
The pop-up messages falsely told the customer that a virus was on their computer. Then, it would run a scan on the customer's computer, which would falsely show that there was a virus or malware on the computer. The victim would be given a toll-free number to call, and the call would go to one of their call centres. Then, these companies would take remote control of the victim's computer and tell them they had problems that didn't exist. They would then make the victim pay hundreds of dollars for services and software that they didn't need.
2: The caller from India used another way to scare foreigners: he or she first sent thousands of messages to people in the United States. In the message, they will say that the victim's car was used in a crime and that they will be sued. After the caller gives them some basic information, they ask them to call back on an international number. When the American victim calls back, the call goes to a call centre in India. Indian callers told American residents that drugs were found in their cars or that there were blood stains in their cars. The people who call them from India also have access to their social security numbers and addresses, which makes them sound more real. If the victim was scared enough, the person who was accused would offer to pay.
3: Going after people who live in the US with fake payday loan schemes. The term "payday loan system" refers to the practise of lending small amounts of money, usually between 700 and 900 US dollars, for a short amount of time at a high interest rate. Indian callers offer fake payday loan plans. To use the plan, they tell their victims to buy online gaming coupons and give them the coupon code, which is against their policy. The accused then used the coupon code online to cash it in.
Follow The420.in on
Telegram | Facebook | Twitter | LinkedIn | Instagram | YouTube