We have already stepped into the digital age and reached a level where technology influences and engages our daily activities right from the time we open our eyes in the morning by checking phone notifications to shutting them at midnight after scrolling our social media feeds.
There's no doubt that technology has helped simplify our jobs, and enhanced our capabilities to achieve what was unthinkable and unimaginable just a decade ago! For instance, you might on your commute to work in Gurugram or shuttling between the Bengaluru airport and city for a meeting, you can simply pull out your smartphone or tab and make a video call back home to check on the well being of your loved ones, transfer funds around the globe in a jiffy or use those cash back rewards on next purchase at the next online purchase.
However, like all other things, there is another side to technology, too. One that is full of threats to the human endurance and aspirations for achieving something new. The dark side of the digital world threatens users with data hacks, personal information leaks, remote control of devices and industrial systems for financial frauds, security risks among several manifestations of cyber attacks.
But if one thought that cyber attacks and information security threat looms large only at individuals and government agencies, then they are in for some new information. Cyber security experts and agencies have already triggered alarm for rising corporate fraud.
While the threat is real, the solution for management of this new-age challenge is real, too.
It is with this motive that the renowned Amity Business School has joined hands with Future Crime Research Foundation (FCRF), an IIT Kanpur-incubated Start-Up (a Non-Profit NGO) specializing in Research in Cyber Security, Digital Crime, Fraud Risk Management, Cyber Laws and Cyber Forensics for a special day-long hybrid workshop on 'Corporate Fraud Management'.
The one-of-its-kind workshop is scheduled from 10 AM to 6 PM on July 16 and will have some of the top experts from the industry, the police force, forensic departments, lawyers to share their pearls of wisdom on tackling corporate frauds.
Course Description:
The risk of fraud is one of many types of risks that must be handled by a corporate entity or a government agency. Yet, many risk management professionals undervalue the importance of fraud in their professional responsibilities. Failure to effectively manage this risk can have disastrous consequences. Building a successful corporate fraud management program to combat organizational fraud necessitates a thorough understanding of how and why fraud occurs.
The components of a comprehensive and effective corporate fraud management program, including deterrence, detection, investigation, and remediation, will be discussed in this certification course.
Learning Objectives:
– Learn components of a corporate fraud management programme, including fraud risk governance policies
– Examine stages involved in creating a corporate fraud management programme
– Learn the programme components required to effectively manage corporate fraud
– Understand why corporate fraud management is important for businesses
– Learn to assign roles and responsibilities for various aspects of the programme
– Recognize red flags associated with a wide range of occupational fraud schemes.
– Learn how to detect and investigate fraud using tools and procedures
– Establish an anti-fraud culture and promote fraud awareness throughout the organization to identify, assess, and manage corporate fraud risk from all sources
– Case studies can be used to back up corporate fraud management theories and practice.
– Conduct group exercises to reinforce what you've learned
Who Should Attend:
The workshop is designed for Risk Professionals in BFSI Sector, C-Suite Executives, Chief Risk Officers and CISOs/CIOs, Top officers in Law Enforcement Agencies, i.e., Police, Income Tax Department, ED, SFIO, EOW and ACO, Aspiring candidates who are looking for a challenging career in Risk Management Domain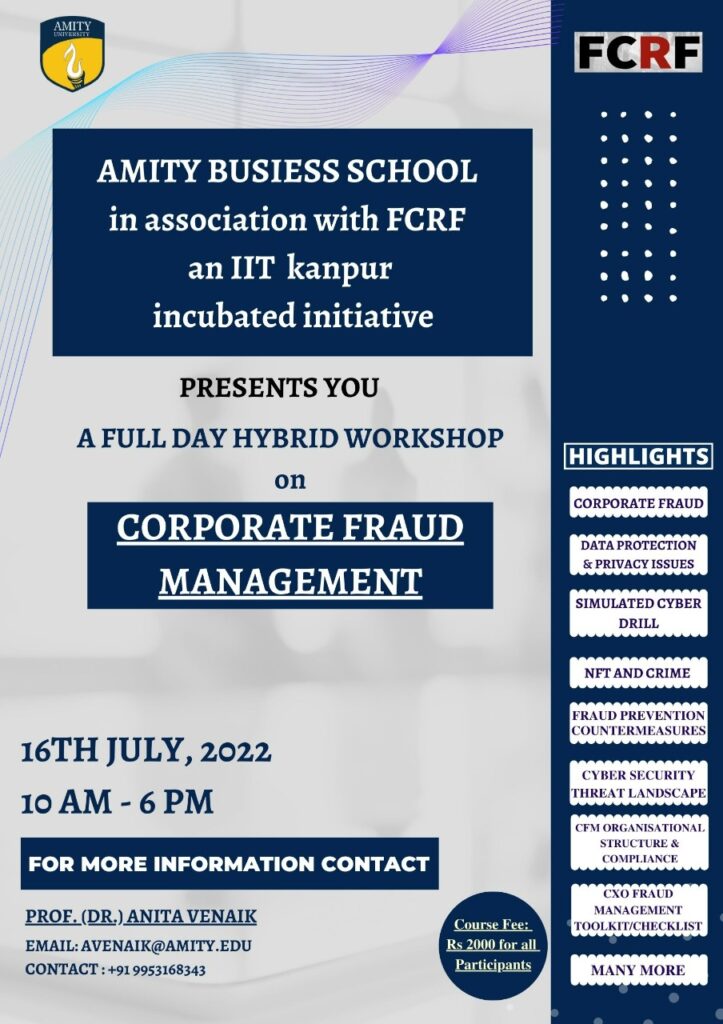 What Do You Get From The Workshop:
Besides the 10 points mentioned above in the 'Learning Objectives', which of course is the core strength of the workshop, all participants will get certificates that will be jointly given by Amity Business School and FCRF.
All the attendees will also be provided with full information about the future training , workshops , awareness camps, for their perusal.
Guest Speakers:
The day-long workshop has some top notch experts lined up for knowledge sharing. The guest speakers include:
– Senior Police officers
– Cyber & Intellectual Property Lawyers
– Information Security Experts
– Forensic Accountant & Auditors
– Subject Matter Experts from Banks, Insurance, NBFCs
– Data Analysts
– Privacy Experts
– Risk Management Professionals
– Computer Forensics Experts
Course Fee:
A participants for the day-long workshop will be charged a nominal fee of Rs 2,000/-
Bank Account Details:
A/c holder Name – Amity University Uttar Pradesh
Bank Name – Indian Bank, Amity University Branch, Sector 125, Noida, U. P.
IFSC code- IDIB000A607
A/C details – 2051934454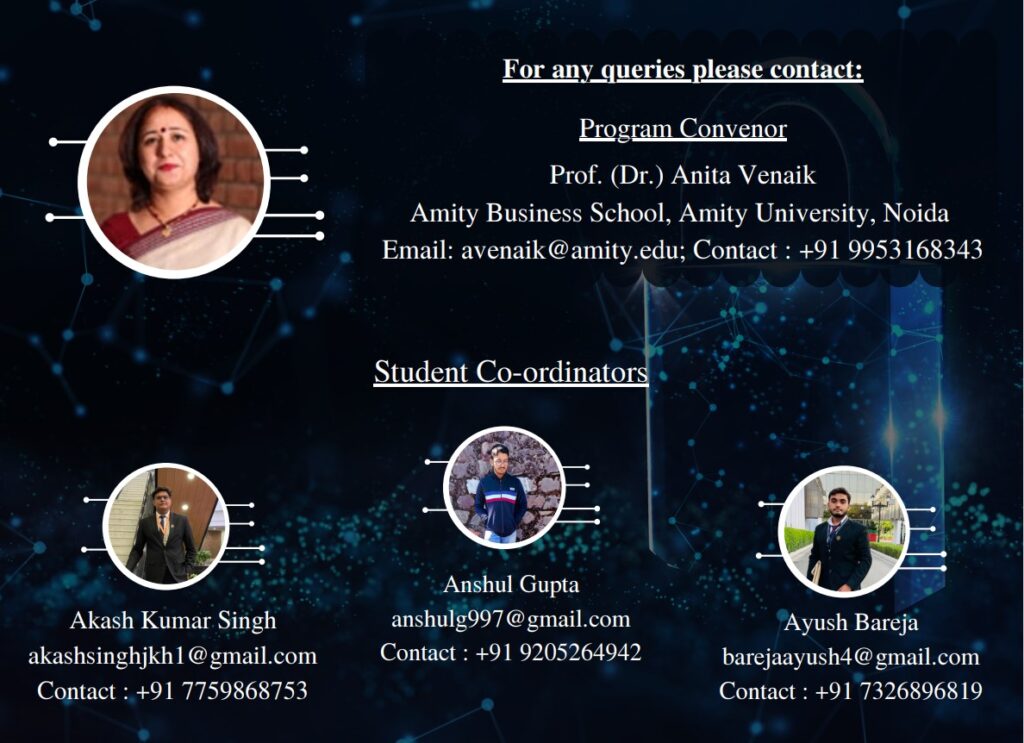 Follow The420.in on
Telegram | Facebook | Twitter | LinkedIn | Instagram | YouTube