Kingpin of Gang Making Fake Aadhar Cards Arrested By UP STF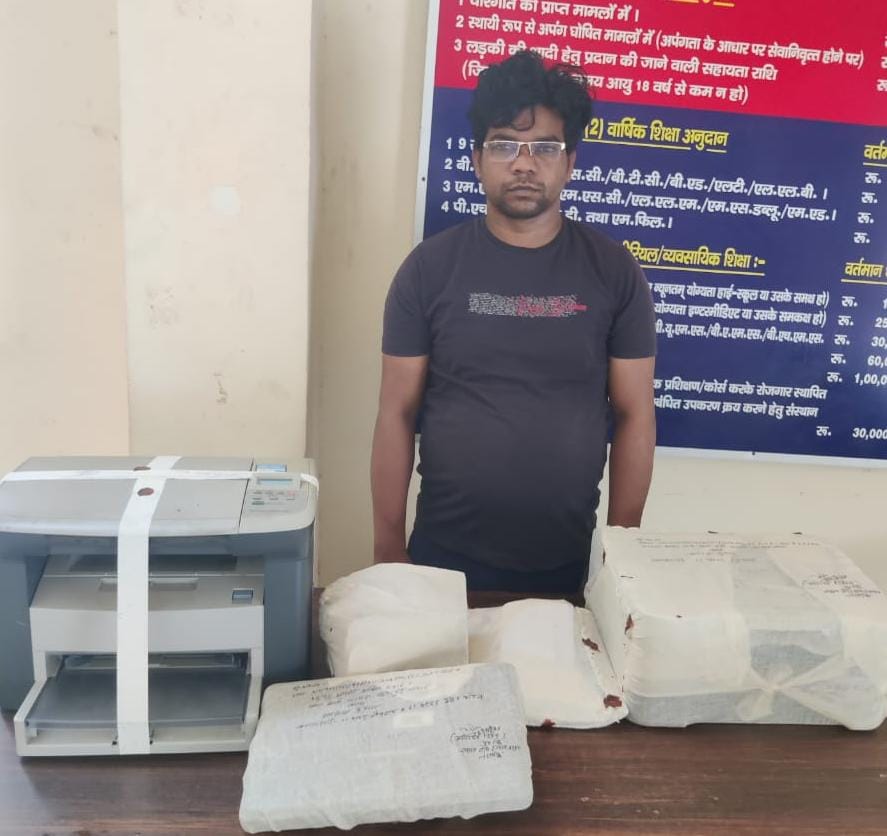 The Special Task Force of Uttar Pradesh Police arrested from Kanpur the mastermind of an organized gang involved in making fake Aadhar cards and making changes in authentic ones.
What's significant to note is that the gang did this by bypassing the government's Aadhar software, which is claimed to be a unique identity card for Indian citizens.
The STF also seized over a dozen fake Aadhar cards and equipment used for making it when its officials nabbed Anil Kumar Gautam from the Barra area of Kanpur city.
How It All Started
STF, Uttar Pradesh said it was receiving information about organized gangs, who made fake Aadhar cards by bypassing official channels through fake websites and softwares.
Accordingly, under the supervision of STF Senior Superintendent of Police Vishal Vikram Singh the process of collection of intelligence was started by the cyber team at the STF Headquarters in Lucknow.
ALSO READ: Chinese Scammers Mastermind Behind Rs 3,000 Crores Part-Time Job & Instant Loan Fraud: Senior IPS Prof. Triveni Singh

During investigation website — https://adharucl. tech/as/login – and a software https://www.bsaver.online/aadhaarnputSetup.exe were highlighted and when tracked further, it was found that they were being operated from Barra in Kanpur.
"Working on the gathered information, a Cyber Team of STF Lucknow led by Sub-Inspector Manoj Singh tracked the mastermind of the scam through technical and informer-based inputs on Friday," the STF said.

Interrogation Findings
During interrogation, the mastermind of the gang, Anil Kumar Gautam, told STF that in 2021, he opened a company named GDG India Software Solution Pvt Ltd.
Under the guise of this company he created Aadhar card of people in a fake manner through https://adharucl.tech/as/login and https://www.bsaver.online/ aadhaarnputSetup.exe.
ALSO READ: Mobile Game Frenzy Leads To Teen Death: Bihar Police In Search Of Body Of Boy Murdered By Friends Over Free Fire
This website and software were provided to him by persons identified as Aman alias Sandeep alias Himanshu, a resident of Lucknow and Ghulam Bose alias Piyush, a resident of Jharkhand.
Through this website, Anil Kumar Gautam said he made and amended information on Aadhar cards through his laptop only.

Seizures
The STF said it has seized 12 fake Aadhar cards, eight ATM cards, one PAN card, one election card, one ETV India Press Card, one mobile phone, a cheque book, six Aadhaar Enrollment/Correction/Update Forms, 11 certificates for Aadhar Enrollment/Update, a laptop, a fingerprint scanner, a thumb scanner, a retina scanner, among other items from the spot.
ALSO READ: How This Nigerian Scammer Conned IT Head Of Rs 88 Lakh, Arrested By UP Cyber Police

Lesson For People
The Aadhar is the unique identification card issued by the Government of India to the country's residents.
The UIDAI is the only agency mandated to issue an easily verifiable 12 digit random number as Unique Identity – Aadhaar to all residents of India.
The only authentic and official website for it is — www.uidai.gov.in.
Follow The420.in on
 Telegram | Facebook | Twitter | LinkedIn | Instagram | YouTube