Quick Loan App A New Death Trap, Circulation Of Morphed Naked Image Pushed Mumbai Man To Death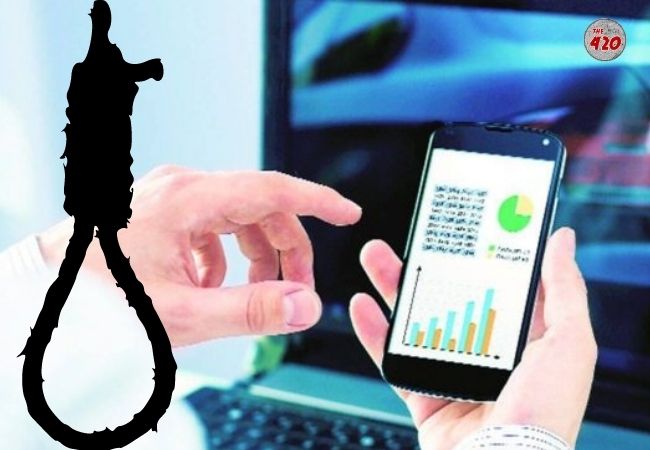 NEW DELHI: A quick loan app's recovery agents allegedly forced a 38-year-old Mumbai resident to commit suicide by circulating his morphed nude images to his colleagues, relatives, and acquaintances in order to recover a loan that he and his family swore he never took out.
According to the authorities, the deceased (38) was a sales executive at an imitation jewellery factory who committed suicide while he was alone in his house in Kurar village at 11 a.m. Based on the accusation of the man's elder brother, a first information report (FIR) for suicide abetment was filed at the Kurar police station against an unidentified accused.
He called his brother on April 24 to complain about being harassed for no reason, according to police. Even though he constantly told them he had not taken any loans, the recovery agents allegedly contacted, assaulted, and threatened him to pay back the money.
Even after he filed a police report, the harassment continued. Before committing suicide in Mumbai's Kurar on Wednesday, his female coworkers were among those who received his manipulated images.
ALSO READ: Beware Of Fake Instant Loan Apps: 137 Quick Loan Providers Under RBI's Scanner, Check The Complete List
According to the man's brother, the accused tormented the dead by contacting him over 50 times from several mobile numbers, demanding him to return a debt that he claimed he never took.
This is not the first case as harassment by cyber fraudsters in the name of online loans has been on the rise of late.
Last month, the government railway police in Andheri detained a 19-year-old man from Karnataka for reportedly circulating morphed sexual videos of a woman to her distant relative after she failed to repay a loan of Rs 9,000.
A 24-year-old woman was sexually harassed by cyber-fraudsters who contacted her from 25 different mobile numbers and threatened to slander her if she did not pay up a loan, which she never accepted, and extorted Rs 4.5 lakh from her. An FIR was registered by the Charkop police station in Kandivali (West) on April 14.
ALSO READ: Over 2 lakh Cheated Through Fake Loan Apps, Mumbai Police Arrests 4
In January 2021, a 36-year-old man in Hyderabad allegedly committed suicide after becoming tired of being harassed and humiliated for failing to pay back fast loans obtained through online apps. G Chandra Mohan, a store supervisor, is the fifth victim from Telangana in less than a month in the instant loans app case.
Earlier in December, Eddu Shrawan Yadav of Narsapur, Kirni Mounika of Siddipet, P Sunil of Rajendranagar, and Santosh Kumar of Ramagundam allegedly committed suicide after being harassed by lending app businesses.
Earlier, the police of Hyderabad, Cyberabad and Rachakonda in Telangana have written to Google to take down 158 instant loan apps from Google Play Store. The Telangana Police raided offices and call centres in Hyderabad, Bengaluru, Pune and Gurugram, from where hundreds of staff members made calls to customers. The 14 arrested include a Chinese national, behind allegedly 11 of the apps.
ALSO READ: Chinese Nationals Fuelling Fake Investment, Loan and Work From Home Apps In India?
Explaining the modus-operandi, Prof Triveni Singh, SP, Cyber Crime, UP said, "Quick loan app has turned into a new death trap. The illegal business of quick loan apps are not approved by the RBI and are being orchestrated by big cybercriminals settled outside India with the help of their Indian agents."
WATCH: Prof Triveni Singh, SP, Cyber Crime, UP Explains How Quick Loan App Is Becoming New Death Trap
Prof Triveni Singh explained the syndicate is sending thousands of messages, emails and social media promotion posts in a day offering instant loans without going anywhere. Indian agents contact their target in Telegram and WhatsApp and ask them to download the company's app for verification. As soon the app is downloaded it takes data from the phone which includes contacts, social media and images.
ALSO READ: KYC Details Of Indian Users Misused By Chinese Loan Apps To Create Fake Bank Accounts
Once a person takes out a loan, other app operators push them into taking out more loans. In many cases, after a customer has repaid the original amount, additional funds are credited without the consumer's request. The app's operators deliberately set the trap, not exposing all of the details.
Once the customer fails to pay the amount, agents abuse, harass and even morph their picture to humiliate them. These agents get a huge commission for the collection made by them. In greed for money, they go to any extent to harass the customers. Sometimes they are pushed so much that the customer is forced to end his/her life.
Law enforcement agencies have warned that cyber criminals have floated hundreds of fake loan apps which are involved in fraudulent activities.
A senior official told The420.in that 137 fake loan apps are under RBI's scanner. A large number of people are becoming victims of cyber fraud and regulatory body and law enforcement agencies have received several complaints against such fraudulent operators mostly based outside India. They are working in India through their local agents.  
According to officials, your mobile lending apps may promise you rapid cash, but default once and the system's ugly face screams at you. Loan collection agents have descended to such lows that they send abusive remarks about the person to his or her personal and professional acquaintances, shaming them.
"We have received many such complaints and are now scanning these service providers. Abusing, morphing, and threatening is a crime and it will be dealt strictly. These apps cannot illegal collect data and further threaten the contacts of their client. During our initial investigation we have found 137 such fake quick loan app and action has been initiated against them," said Triveni Singh, SP, UP Cyber Crime.
Follow The420.in on
Telegram | Facebook | Twitter | LinkedIn | Instagram | YouTube