Game Over for Cyber Fraudsters: GV Football Scam Busted, China Link Exposed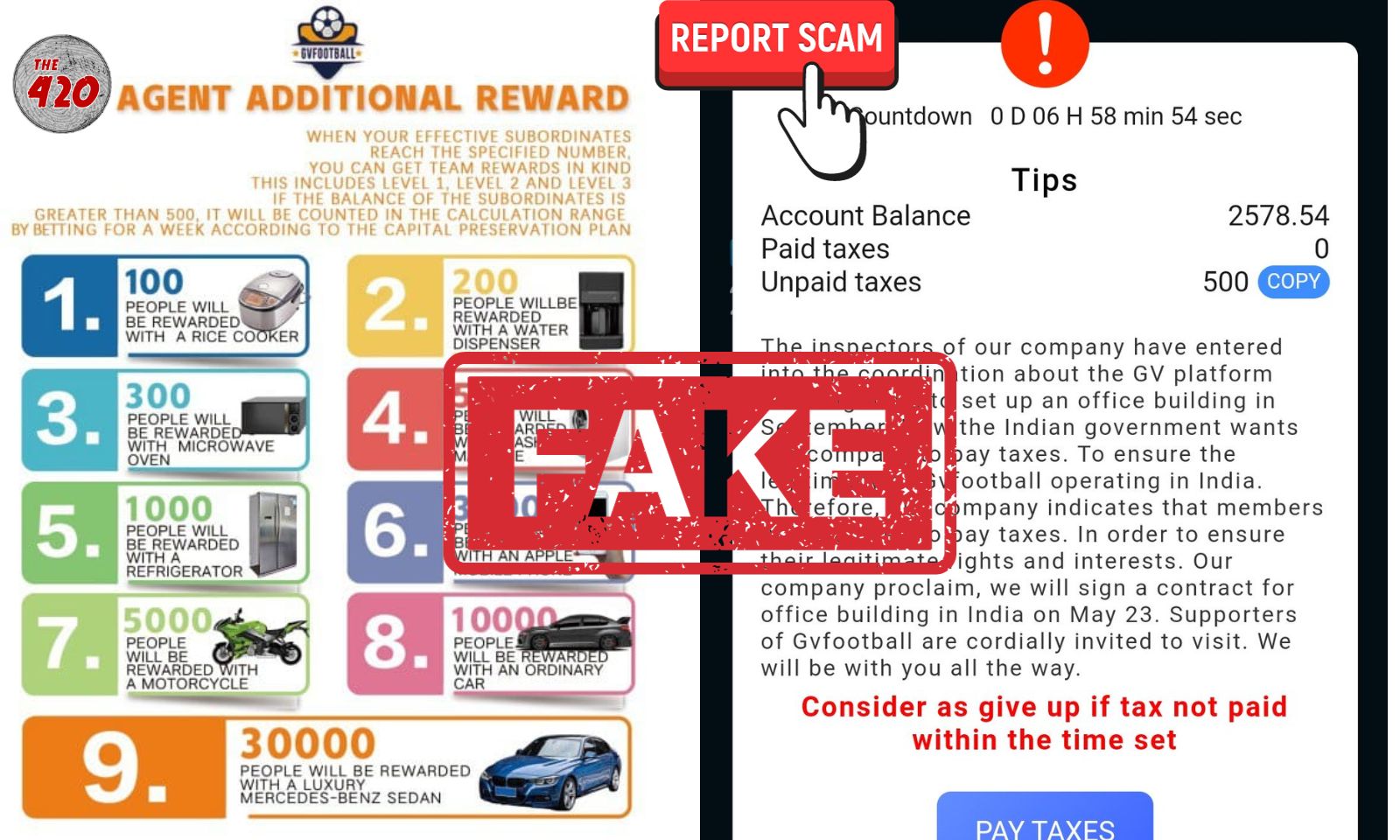 RANCHI: The Cyber Crime police department of Jharkhand, based in Ranchi, has successfully exposed and arrested the masterminds behind an elaborate online football betting scam. The case, registered under multiple sections of the Indian Penal Code (IPC) and the Information Technology Act, came to light when the victim Vijay Kumar Choudhary filed a written application with the Angada Police Station in Ranchi. The fraudulent scheme, which operated through the website GVfootball.com, lured unsuspecting victims through various social media platforms.

A Web of Deceit Unveiled
The scam involved cyber criminals enticing individuals to register on GVfootball.com for betting on football matches. Telegram and WhatsApp were used to propagate information about the website, drawing a significant number of unsuspecting participants. Upon registration, victims were encouraged to download a malicious APK file disguised as a gaming app, allegedly associated with GV Football.
ALSO READ: Step By Step Guide: How To File Cybercrime Complaint Online In India
Forensic analysis of the APK file revealed that its IP address was traced back to China and Hong Kong. From December 2022 to May 2023, users, including the victim, invested Rs 500 each to participate in the scheme with the promise of substantial profits. The operation allowed withdrawals, with a maximum limit of Rs 50,000 per withdrawal and a 12% tax cut.
ALSO READ: Surge in Cyber Crime Complaints Involving FedEx Parcels
However, starting on April 27, 2023, the withdrawals abruptly ceased. Promises were made that withdrawals would resume on May 4-6, but on May 6, 2023, users attempting to access the GV Football App were met with a notification stating their IDs would be closed due to unpaid taxes. To make matters worse, individuals were coerced into paying taxes to receive their promised profits. On May 7, 2023, GV Football disappeared from Telegram channels, leaving participants high and dry.
A Nationwide Network of Fraudsters
The investigation, carried out in close coordination with the Indian Cyber Crime Coordination Center (I4C) under the Ministry of Home Affairs, revealed the involvement of a fake proprietorship firm based in Ghaziabad, Uttar Pradesh, by the name of Manish Enterprise. Shockingly, this firm was linked to a staggering 222 cases of cybercrime reported across India via the National Cyber Crime Reporting Portal. In the month of April 2023 alone, transactions totaling Rs 24 crore were discovered in a Yes Bank account related to the scheme.
In response, authorities conducted a raid and scanned the records using an OKEN Scanner, leading to the arrest of two prime suspects – Manish Kumar and Arun Kumar both resident of Ghaziabad, Uttar Pradesh.
ALSO READ: FCRF Report: India Battling Cyber Threats with Online Financial Fraud Dominating at 77.41%
Evidence seized during the operation included two mobile phones used in the commission of the crime, as well as bank account documents instrumental in the fraudulent activities.
Preventing Cybercrime: Stay Informed and Vigilant
In light of this alarming incident, authorities urge the public to exercise caution and adhere to cybersecurity best practices:
Guard Personal Information: Refrain from sharing personal details with unknown callers.
Beware of Suspicious Links: Avoid clicking on links from unverified sources, especially in SMS messages.
Verify App Sources: Use Google Play Protect when downloading apps, and contact your bank branch if you have doubts about any banking application.
Official Customer Care Numbers: Trust only official customer care numbers provided on the official website or app of a service provider.
Avoid Unknown Links: Do not click on URLs sent by unfamiliar individuals. Verify the source before proceeding.
Report Cybercrimes: In case of victimization, reach out to the helpline at 1930 or file a report at www.cybercrime.gov.in.
This successful crackdown on cybercriminals demonstrates the commitment of Indian authorities to combat online fraud and protect innocent citizens from falling victim to such scams.
Follow The420.in on
 Telegram | Facebook | Twitter | LinkedIn | Instagram | YouTube