New Delhi: New mobile applications offering attractive investment options sitting at home can be a possible scam. Uttar Pradesh police have received several complaints against mobile application which assures a minimum of 18 per cent return in a day and a maximum of over 1000 per cent return for the investment of two months.
These mobile apps are not hosted on Google's play store but can be downloaded through a third party. Usually, links of these applications are being circulated on WhatsApp, Telegram and other social media platform. Cyber Crime Police of UP has received a complaint against a new mobile application –Pet Town.
On paper, the idea of this application sounds quite interesting. All the investment are categorised as animals. The homepage of the app has some animals listed with their price amount and rate of return mentioned over it. So under this 'Pettin Zoo' option users can buy any animal and price varies from Rs 100 to Rs 50 lakh. There are different investment options and rate of return varies depending upon the days of investment.

The app developer mentions that Pet Town has already issued 10 different types of products. Take one of the product – Alan for example, the price of this product is Rs 1,000-2000, the price is not fixed in this range, the cycle is 3 days, the yield rate is 24%, and the principal plus the income will be automatically recovered after maturity If you purchase at the price of Rs 1,500, you will get Rs 1500+1500*24% = Rs 1,860 income. The higher the price of the purchased product, the more income you will get.
The complainants have told the police that withdrawing money is a tricky process. Investors cannot withdraw their fund at a time. Infact it is only during the initial stage the app developer will return the money and as soon a high-stake investment is done they will seize the fund and stop the payment.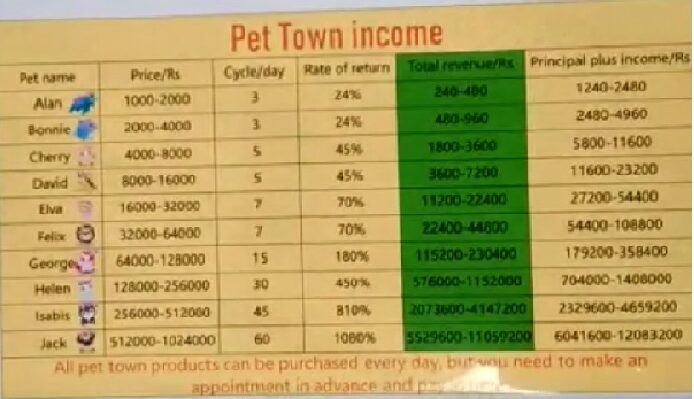 The complaints said that the app owners only communicate through virtual number via WhatsApp call a clear indication of lack of professional team running the applications. The operators use different UPIs to manage their transactions.
Triveni Singh, Superintendent of Police, Cyber Crime told The420.in, "This clearly looks like a case of fraud via mobile application. The way the app is being operated in wrong at multiple levels. There is no product and the owners are giving an abnormally high rate of return."
Singh said the case is being investigated and those behind running such dubious applications will be investigated. He highlighted that 10 virtual numbers used by the app developers and their 30 UPI ids are under scanner. Soon the operators will be questioned about their business model and security of investors' money.