Kedarnath, Maa Vaishno Devi Helicopter Booking Scam: Cyber Fraud Using Google Ads In Name Of Gods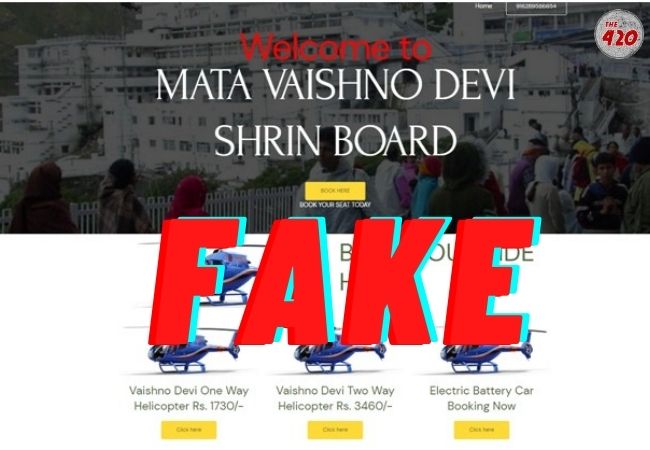 By Rushi Mehta: Planning for a pilgrimage to Kedarnath, Char Dhaam, Maa Vaishno Devi and book a helicopter? Wait, you may be defrauded by scammers. Lets explore how using simple technology/ways, people are scammed.
Step 1: Google Advertisement: Boost Fraud
Google AdSense provides a user to boost websites in search results. Hot Keywords are used by launch advertisements. Eg. Book Helicopter Maa Vaishnodevi, Kedarnath etc.
Advertisement is displayed on top in search results across the country along with a phone number.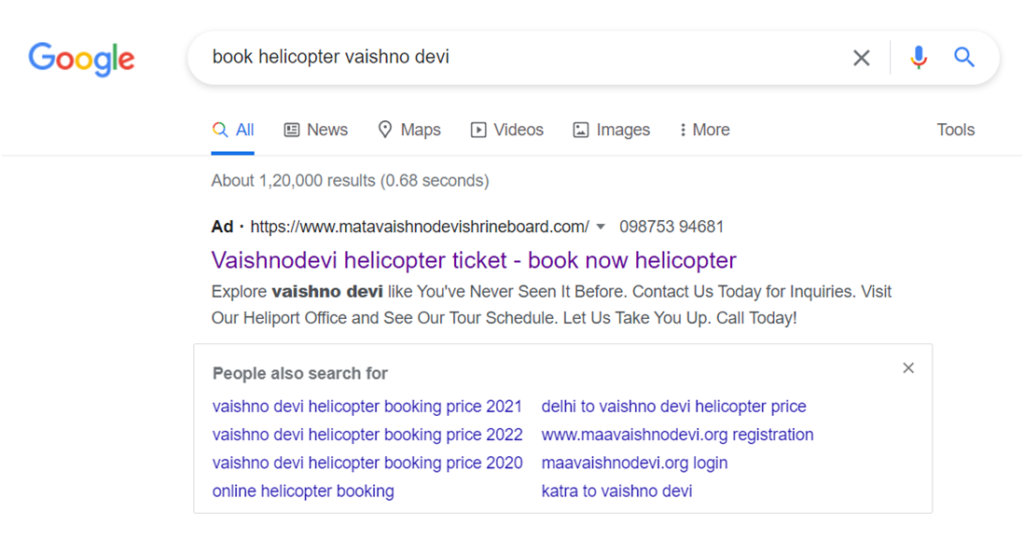 Google Advertisement has reach across India. It has turned convenient tool for scammers to reach out to victims.
Step 2: Fraud website
Cheap websites are created with same theme or domains showing various types of helicopters. A sample is shown below:
Website will have a Book Now Button → Which will open in Whatsapp Chat.
Majority of all website domains are newly created and with similar display and theme that gets replicated.
Domain created: March 9th 2022, 06:04:54 (UTC)
Domain registrar: GoDaddy.com, LLC
Step 3: Chat over WhatsApp
Mostly WhatsApp business account is used with Automatic reply. Fraud agents will ask for Government ID Proof and Payment.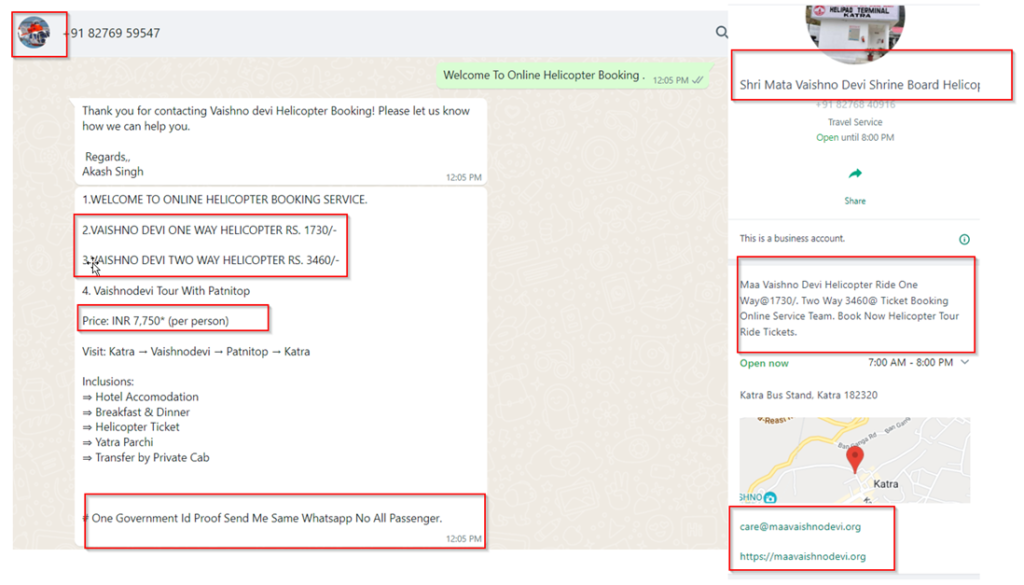 Typical Fraud Layout
They may even call you over WhatsApp or a normal call with a religious greeting: "Jai Maata Di"!
Scammers also share images of fake and edited ID cards to gain the trust from victims: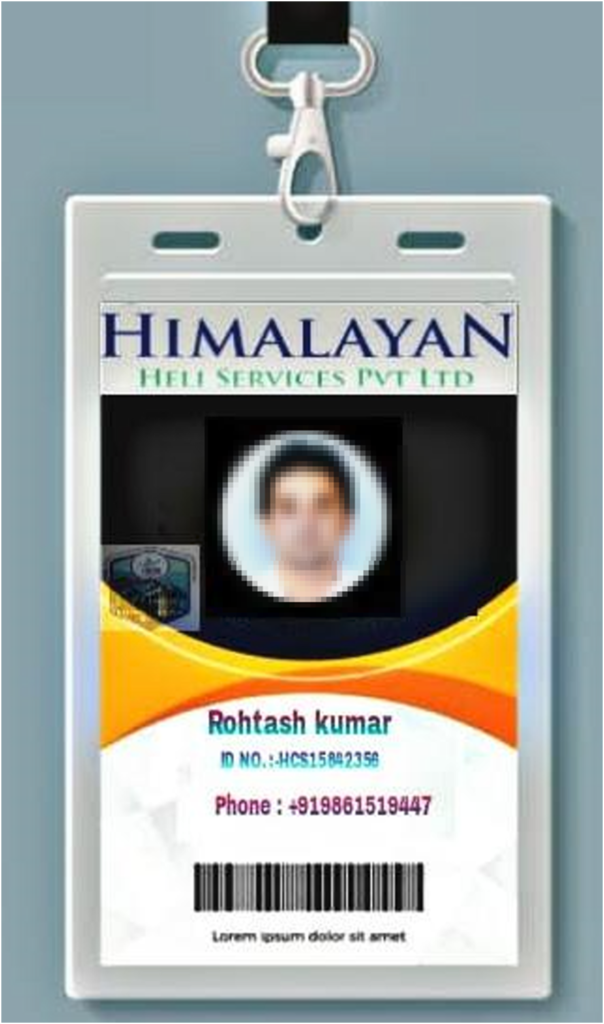 Step 4: Bank Account Transfer
Public Sector Bank Accounts are used to gain trust. IFSC code will be of Katra (fake) to gain trust. During transaction, bank does not validate IFSC code & Account Name hence it is not easy to spot a fraud.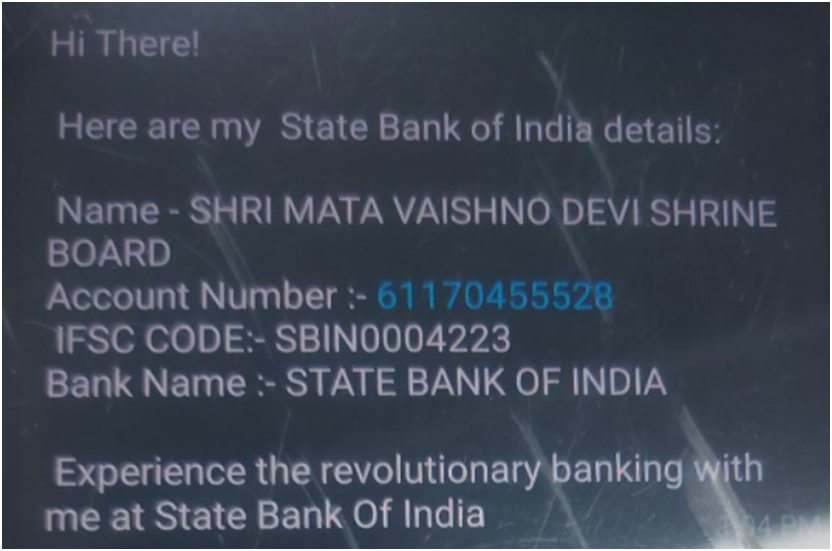 Step 5: Professional Ticket PDF
Victims are provided with a professionally made PDF ticket. This ticket is carried by them to Katra, where they find that there is no such company. Victims face lot of mental pain owing to the same.
Interestingly, the GST Number mentioned in Fake Ticket is also Genuine in the name of Helicopter company.

Scammers are turning intelligent and gone are days of grammar.
कैसे बचे ? |How to Safeguard?
Install Adblock Addon in your Browser-> This will block all the advertisement in search results.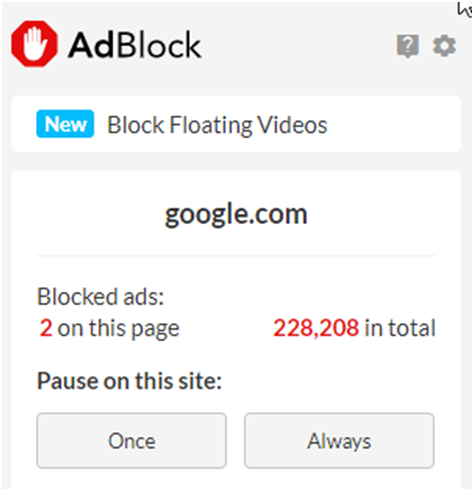 2. Book Helicopter only from trusted websites and travel agents. Official Site of Shrine Board is: Shri Mata Vaishno Devi Shrine Board :: Online Services :: Login (maavaishnodevi.org)
3. If you are a victim, report on www.cybercrime.gov.in after calling helpline 1930 of States and report to the nearest police Station.
The writer – Rushi Mehta is a Trekker, Hacker, Meditator and Enjoyer of Life! The story first appeared in his Medium Blog.
Follow The420.in on
Telegram | Facebook | Twitter | LinkedIn | Instagram | YouTube