Future Crimes Workshop: Top Experts Train Over 300 Policemen In Cryptocurrency Investigation & Bitcoin Forensics
NEW DELHI: Cryptocurrencies like Bitcoin, Ether, and Dogecoin have seen immense growth in the past few years. It has become a hot choice for young investors but is also being used by cybercriminals for ransom, money laundering, extortion and other illegal purposes. Law enforcement agencies are troubled with rising cases of crimes and fraud involving cryptocurrencies.
To assist police officers and law enforcement agencies in knowing such crimes better and investigating technical cases, IIT Kanpur incubated Future Crime Research Foundation (FCRF) held an online webinar on – Cryptocurrency Investigation & Bitcoin Forensics. The event saw top experts from various domains and was attended by over 300 policemen virtually.
ALSO READ: IIT-Kanpur Incubates FCRF For Developing First-Of-Its-Kind AI-Powered Search Engine For Predictive Policing & Crime Mapping
The two-hour-long informative workshop had Prof. Sandeep Shukla, Co-Project Director, C3iHub, IIT Kanpur, Prof Triveni Singh, IPS, SP, Cyber Crime, Uttar Pradesh Police, Rushi Mehta, Cyber Security Consultant to Government of India, MHA, Deep Shankar Yadav Technical Head, eSec Forte, Sanjeev Shahi and Akand Sitra from Chainalysis as panelists. The webinar was moderated by Ila Longani, CEO, SagePresage Consulting.
UNDERSTANDING CRYPTOCURRENCY:
Giving a brief history of the origin of cryptocurrency Prof. Sandeep Shukla, Co-Project Director, C3iHub, IIT Kanpur said, "It was in 2009, Bitcoin came into existence which was made by an anonymous person who is popularly called Satoshi Nakamoto. It was the time when the world was witnessing an economic crisis with financial institutions crumbling. Governments started issuing more currency to banks to keep them running. They printed more notes but the value of currency went down. It was then decided to evolve a new system where banks and governments had no intervention. A peer-to-peer money exchange system was made using e-currency."
Shukla explained that for traditional transactions usually, the bank is the body that authenticates the payment. In cryptocurrency, transaction validation goes to everyone electronically. People started getting attracted to it as cryptocurrency was not under the control of anybody and is finite in quantity. Mining of Bitcoin will end in a few years, so like any precious commodity cryptos are limited and prices will keep increasing.
He also highlighted the nomenclature of these digital assets, which is causing the problem for law enforcement agencies. " Problem with cryptos is no one knows your real identities. You can create as many crypto identities. As there is the anonymity it gets tough to identify the traders. Currently, the KYC process of these traders is very weak and without it getting real identity gets tough."
ALSO READ: Cyber Awareness Award: The420.in – Future Crime Research Foundation (FCRF) In Top 3 Finalists Of Prestigious DSCI Excellence Award
Money laundering, gambling and other illegal activity are becoming hot channels for dealing in cryptocurrencies. Through machine learning, we track such illegal money and transaction flow but tough to track real identity. At present, Crypto is becoming quite dangerous, government must regulate it, Shukla explained.
MENACE OF CRYPTOCURRENCIES
Sharing his experience Prof Triveni Singh, IPS, SP, Cyber Crimes, Uttar Pradesh Police said a few years ago a Charted Accountancy firm contacted us for a ransomware case. The hacker had compromised all the computers and locked them with keys and was demanding cryptocurrency as ransom. Despite the high-level technical investigation, we could not detect the end source of the crime. Even after so many years, we are still struggling.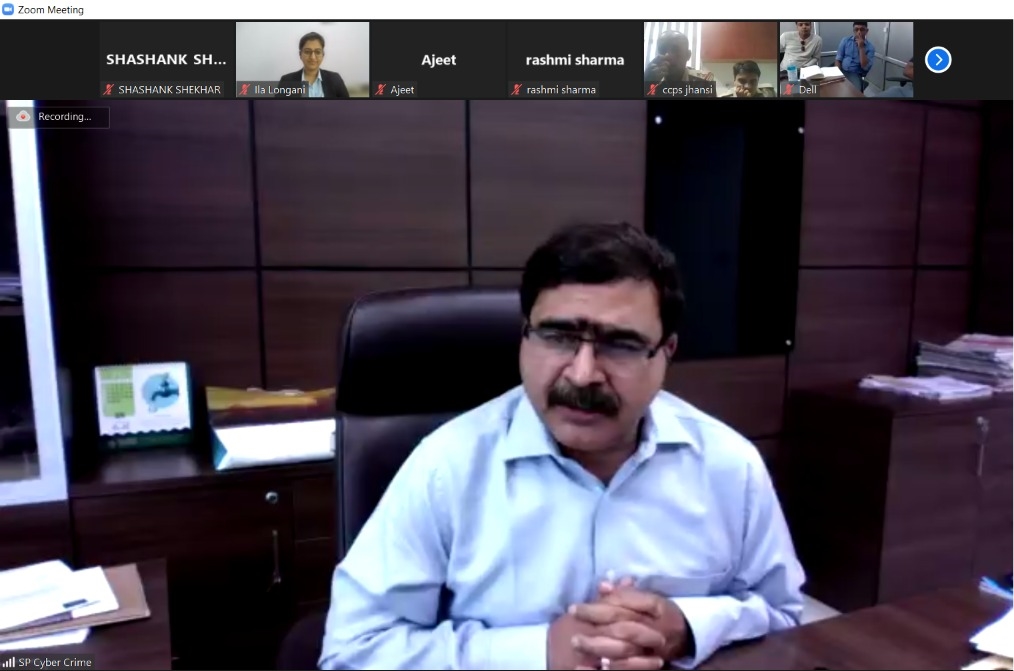 Triveni Singh, who has cracked several technical cases said we are seeing a tsunami of crypto-related crimes across the globe and in India. Crypto is not only a hot favourite of sophisticated criminals but even the local cybercriminals have switched to this digital asset to stay away from the police net.
In cases related to bitcoin and crypto crimes, it becomes tough to identify the ultimate beneficiary. The platform is such that it gives perfect anonymity. No tool can give a foolproof solution.
CHANGING FORMS OF CRYPTO CRIMES
Experts explained that as cryptocurrency is a decentralised system – it is just like buying stocks, just that identity remains anonymous if KYC is not done. There are several crypto exchanges and even individuals dealing with peer-to-peer networks in the trading of cryptos.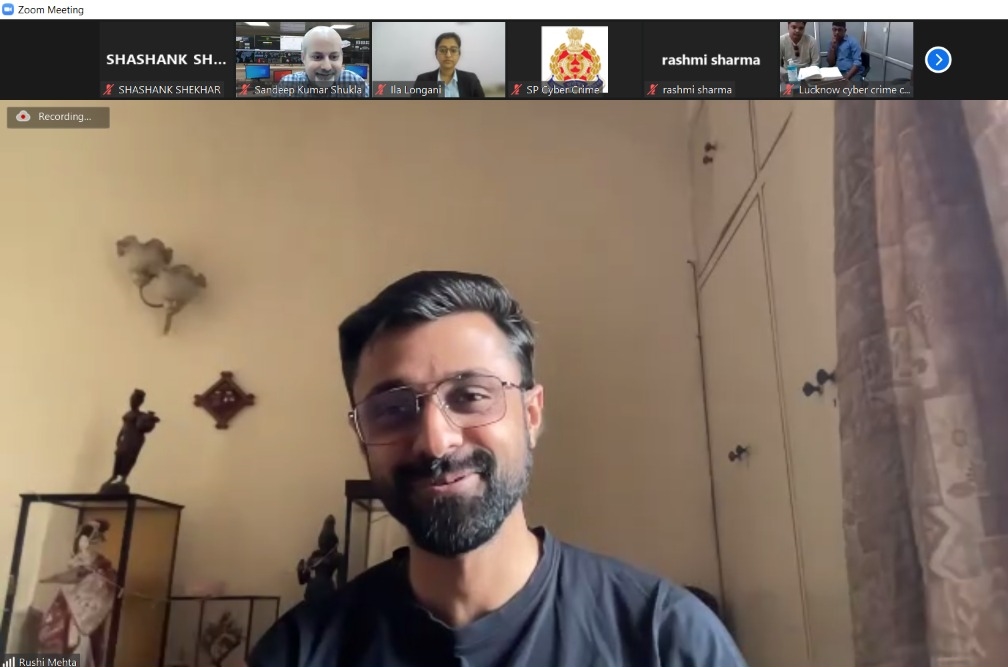 Rushi Mehta, Cyber Security Consultant to the Government of India, MHA said there is a sharp rise in cryptocurrency involved frauds and crime. It is mostly because the identity of the user is anonymous to a large extent and also it is a tough legal process to get their crypto wallet blocked by law enforcement agencies as most of them are located outside India.
ALSO READ: Cyber Security Workshop: UP Higher Education Department Join Hands With Experts For Cyber Awareness
Citing examples of new Modus-Operandi (MO) involving cryptocurrency Rushi said there are several ways through which such crimes are taking place.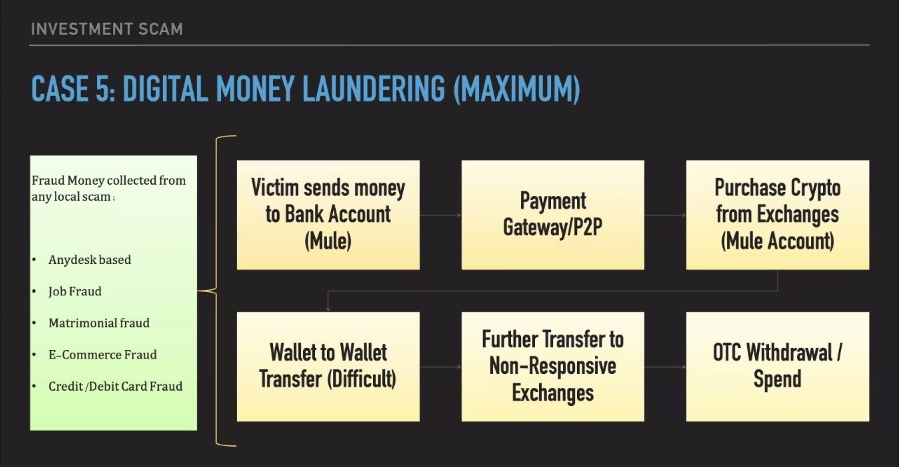 Like banking fraud, scammers are now calling crypto investors asking to download remote access apps like Anydesk for validating their KYC. They steal all digital assets once they get the app downloaded on their phone.
Bitcoin is the favourite mode of payment in Ransomware attacks. These attacks have become the biggest nuisance across the work and now international hackers have targeted many Indian firms with it.
Sextortionist who were earlier extorting money by recording obscene videos of their targets are now demanding cryptocurrencies. It is expected that other local crimes will follow the trend.
Scammers have created fake tokens and apps that will show your account increasing but it is all fake.
Several WhatsApp groups are created to invest or earn commission in crypto trading but it is again a trap.
Money made through different fraudd or cyber crimes is being converted into cryptos bought from foreign exchanges which don't have stringent KYC policy.
The give away scam is getting common. Hackers using fake or morphed video will stream videos of popular personalities or celebrities and trap a large audience in giveaway scams. They ask the audience to share a small amount in crypto to get a big amount in cryptos, which never happens.
Scammers are creating phishing wallets/websites. The look-a-like cone wallet/websites are created to fool traders who enter their private keys. Once the hacker gets access to the private key they empty the account.
SOLUTION TO TRACK CRYPTO CRIMES
There are many types of research going on around the world for finding a solution to track cryptocurrency. Sanjeev Shahi and Akand Sitra from Chainalysis showcased a demo of a variety of their products which can give deep insight into various crypto transactions.
"In over 60 countries, Chainalysis supplies data, software, services, and research to government agencies, exchanges, financial institutions, and insurance and cybersecurity firms. Our data is utilised to power investigative, compliance, and market intelligence tools, which has been used to solve some of the world's most high-profile criminal cases and to increase consumer access to bitcoin securely," said Sanjeev Shahi.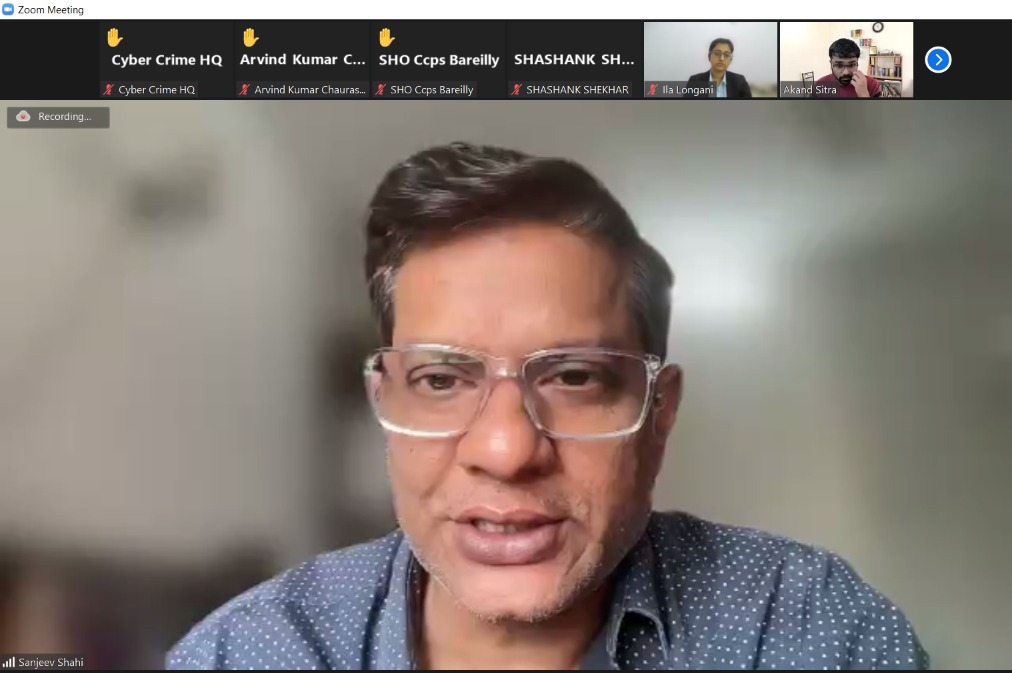 Akand Sitra highlighted how their automated behaviour based tracking can help law enforcement agencies in the post and pre-crime mapping based on payment and transaction details.
Similarly, Deep Shankar Yadav gave examples of types of crypto crimes happening in India and how CipherTrace Inspector is helping the solving such crimes. All the experts gave live demos which gave a better understanding to law enforcement officers.
These sessions were followed by an interesting question and answer round.
Shashank Shekhar, co-founder, FCRF said the IIT-K incubated NGO will continue to bring a series of webinars on technology crimes for law enforcement agencies and enterprises. These sessions will see top industry experts, domain specialists, law enforcement officers and policymakers.
Introducing crypto crimes, Ila Longani, Chief Executive Officer, Sage Presage Consulting moderated the entire webinar.  Longani is a Senior Risk Management Advisor proficient in advising corporates on holistic understanding of Corporate Risks and driving across ROI from investing in Risk Management Solutions.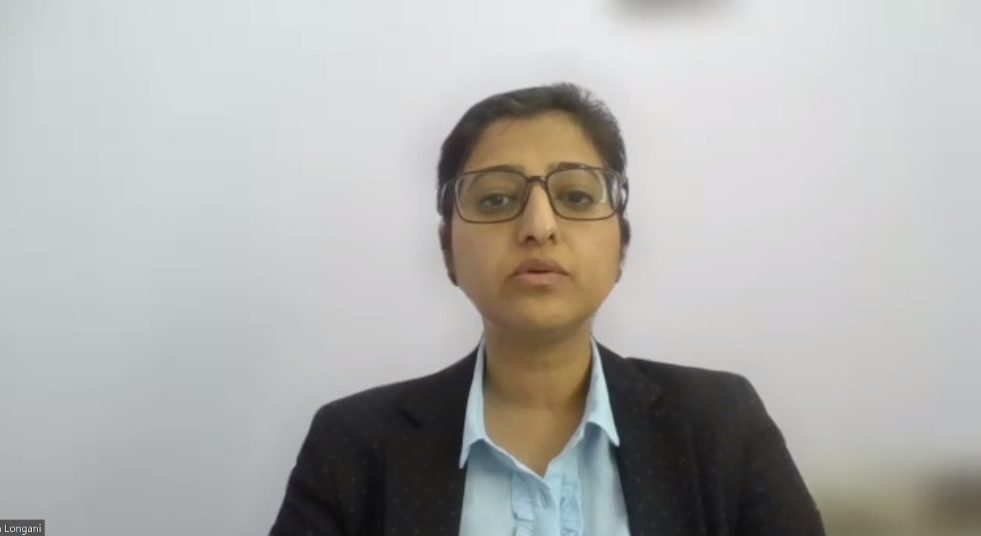 For any questions to experts or for feedback contact FCRF at research@futurecrime.org
Follow The420.in on
Telegram | Facebook | Twitter | LinkedIn | Instagram | YouTube