Cyber Security Workshop: UP Higher Education Department Join Hands With Experts For Cyber Awareness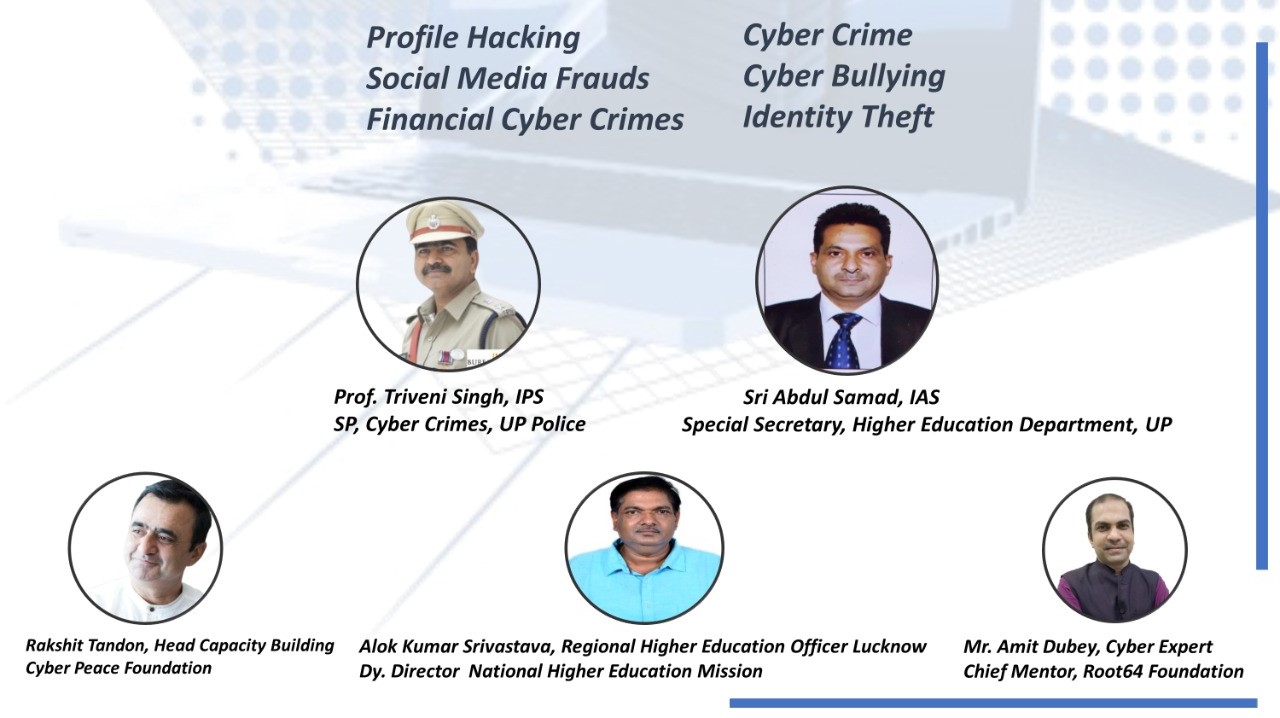 LUCKNOW: Hundreds of teaching faculty of colleges, institutes and universities under UP's Department of Higher Education attended a two-hour-long cyber awareness webinar on Wednesday. The workshop was organized by the Department of Higher Education as part of their monthly cyber awareness exercise to sensitize teaching staff about the latest threat and preventive measures.
The webinar was organized by Future Crime Research Foundation (FCRF), a non-profit think tank along with Root64 Infosec Research Foundation. The awareness event was an initiative by Mr Abdul Samad, IAS, Special Secretary Higher Education Govt. of UP
Prof Triveni Singh, SP, Cyber Crime, UP, eminent cybercrime experts Amit Dubey and Rakshit Tandon had an interactive session with the audience. The speakers covered topics like profile hacking, social media frauds, financial cybercrime, cyberbullying and identity theft.
Known for his workshop among students, Rakshit Tandon, Head capacity building – Cyber Peace Foundation started the first session. He stressed upon unbalanced social media diet and data protection. Explaining an unbalanced social media diet Tandon said, "With online education, access to the internet among children has grown by many folds, but they don't know how to consume the unlimited content available on the internet. They don't have that filters. They are exposed to several online threats like social media crime, gaming fraud, cyberbullying, photo morphing, body shaming etc. Exposure to a variety of content causes an unbalanced diet. We give them Internet, but do not tell them about technology, digital citizenship, cyber hygiene, and netiquettes."
He pointed out that parents need to carry out digital parenting. Age-appropriate content should be consumed to stay safe.
Similarly, hackers are looking at an opportunity to get access to personal data. Last year we heard cases if big data breach like Air India, Big Basket, Domino's, etc. All these data are sold on darkweb and then further used by cybercriminals to launch other phishing attacks.
Sharing an example Tandon said recently a woman was contacted by an executive of a telecom company asking for KYC verification. The women first resisted and asked for his authenticity. The man on the other side of the phone gave all details of past payments, addresses and other details to win her confidence. Thinking him genuine, she followed his instructions. The conman was very smart instead of asking for any OTP he asked the women to send an SMS to the telecom company. The woman followed the instruction not realizing that she was giving him access to her eSIM through which is as good as a physical SIM card allowing him to make all financial transactions.
Tandon asked the audience to check if their email id or data has leaked by checking their email id on https://haveibeenpwned.com.
Insisting on keeping persona data safe, Rakshit Tandon said hackers are making look-a-like malicious websites/domains to fool people. Hackers have created multiple passport department websites, government websites and other popular portals are their top targets.
The next speaker was Prof Triveni Singh who told about real-life cybercrime cases and told about recent cases. He highlighted that over a lakh case of cybercrime were reported only in Uttar Pradesh. "We are seeing a sharp rise in cybercrime and it is very important to know to stay safe. Cases of social media account hacking, debit/credit card scams, OTP fraud, QR code fraud, KYC fraud and transactions through remote access tools are rampant."
Singh said my suggestion for everyone is to have zero trust when they are online. It is very easy to stay anonymous or impersonate in the online world and cheat people. There are free tools available on the internet to hide or change mobile numbers or email id while communicating. You can become anyone with the help of the latest apps.
Cybercriminals psychologically and emotionally trap their target to withdraw money in Facebook friendship fraud. We have seen the gang is operating from one small room where one member is communicating the victim by pretending to be a super successful man in the UK, while other gang members pose as government and airport staff and call the victim to siphon off her money by claiming that she has received an expensive gift.
Triveni Singh also warned against part-time job SMS being sent by con artists. He said that their investigation indicates that the syndicate is operating from China and are sending a huge quantity of bulk messages to target maximum people. They have created fake job posts on various platforms on the internet. It is very important to check its authenticity before sending money online.
The concluding and the most engaging session was taken by cybercrime expert Amit Dubey, who is also chief mentor of Root64 Infosec research foundation. He highlighted cases of cybercrime with women and children in his session.
Amit said criminals manipulate your data because they know the importance of these details. All apps that provide free services are the richest today for example WhatsApp and Facebook. They don't charge anything they don't sell anything still they are making huge money. This show how valuable is consumers' data.
Giving out examples and statistics of the latest crime against children and women Amit said India uploads most child pornographic content. Other growing cases of cybercrime include cyberstalking, Identity theft, Sextortion – nude video calls, Cyberbullying, Cyber defamation, Cyber grooming – adults sexually exploiting kids. It becomes very easy for criminals to target children as they are curious.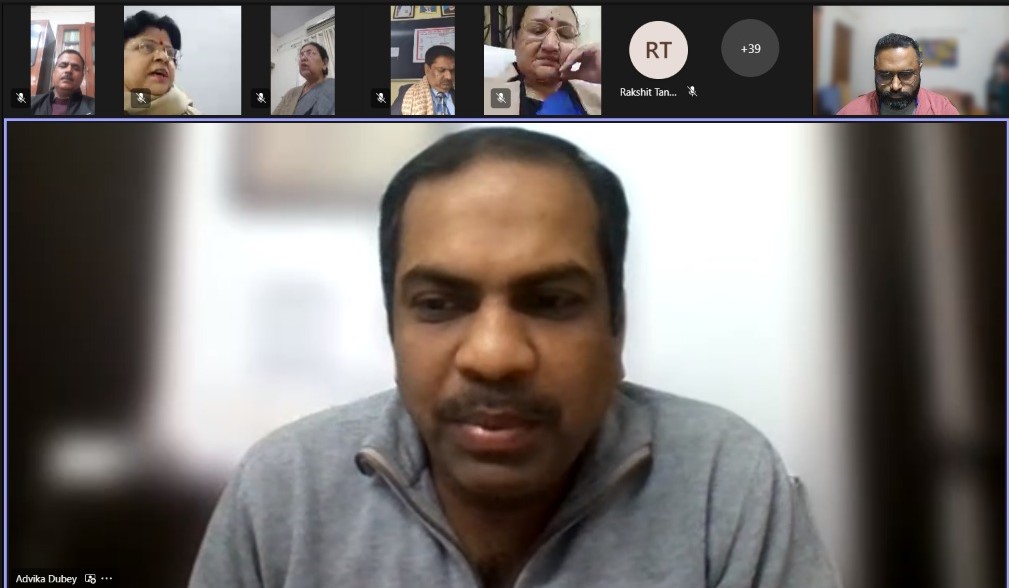 In a live demonstration, Amit showed how much information can leak or reach the hacker with a click of a button. Websites like www.privacy.net/analyz can show IP address, location, internet service and other basic details which are good enough to trap anyone. "Single clicks of a button can reveal a lot of info so don't click on such links. Don't save passwords on your browser, don't save auto-fills," said Amit.
Amit shared interesting findings from his investigation where kids were influenced by the video game that they started committing a crime.  He emphasized on the need for digital parenting and monitoring content being consumed by young minds.
He also shared details of various sections and their usage which can help a cyber victim and law enforcement agencies in a case of cybercrime.
The audience had questions ranging from data protection, malicious apps, fake links, social media crime and reporting cybercrime in India which were addressed by the speakers.
The webinar was moderated by  FCRF's founders – Shashank Shekhar and Kartikeya Singh.  The event was coordinated by Shikha Singh.
Follow The420.in on
 Telegram | Facebook | Twitter | LinkedIn | Instagram | YouTube