Cyber Jaagrookta Diwas: Webinar On Cyber Security Trends And Emerging Threats by IIMT And Future Crime Research Foundation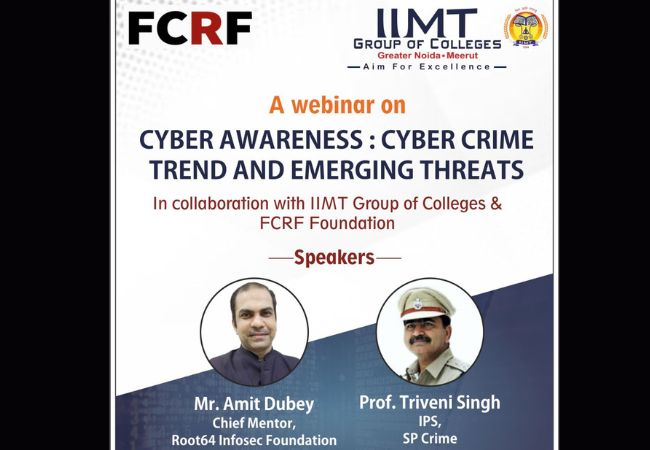 NOIDA: On the occasion of Cyber Jaagrookta Diwas a webinar was organised on cyber security trends and emerging threats by the IIMT group of colleges and the Future Crime Research Foundation (FCRF). Top experts explained the latest cyber crime modus-operandi and its prevention during two-hour long online sessions.
WHAT IS CYBER JAAGROOKTA DIWAS
Cyber Jaagrookta Diwas is a government effort launched under the I4C scheme to improve cybersecurity awareness among PSUs, government bodies, corporates, colleges, and schools, among others.
The initiative aims at creating cybersecurity awareness by putting special emphasis on the basic protocols of cyber hygiene.
ALSO READ: MHA Proposes To Observe Cyber Jagrookta Diwas To Raise Awareness Among Students
The Ministry of Home Affairs has recommended observing "Cyber Jagrookta Diwas," on the first Wednesday of every month day dedicated to promoting awareness among students about cybercrime and its different forms through workshops, interactive sessions, and other events.
MESSAGE FROM IIMT
Dr Mayank Agarwal, Managing Director of IIMT Group of Colleges, Greater Noida opened the webinar by highlighting how vulnerable students are in this digital age and need to strengthen the coming generation by imparting cyber skills.
"Cybercrime is a very organized crime as these criminals are targeting educated people. Every second person is becoming a victim of such crimes. We need to observe and be aware of small and minute details like protecting our identities and personal sensitive information," said Dr Mayank Agarwal.
WATCH FULL WEBINAR: Cyber Awareness : Cyber Crime Trends and Emerging Threats
First speaker of the webinar, Prof Triveni Singh, SP, Cyber Crime, UP police said, "We have received over 3 lakh cases of cyber crime in last three years. These digital crimes have shot up after the Covid pandemic."
Explaining the types of cyber crime, Singh said these crimes can be as basic as a hacking password or social media crime but their impact is huge. A compromised password can lead to identity theft or loss of hard-earned money. These attacks are getting more sophisticated day by day. Corporates, government, critical infrastructure and education institutions are among the biggest targets of hackers.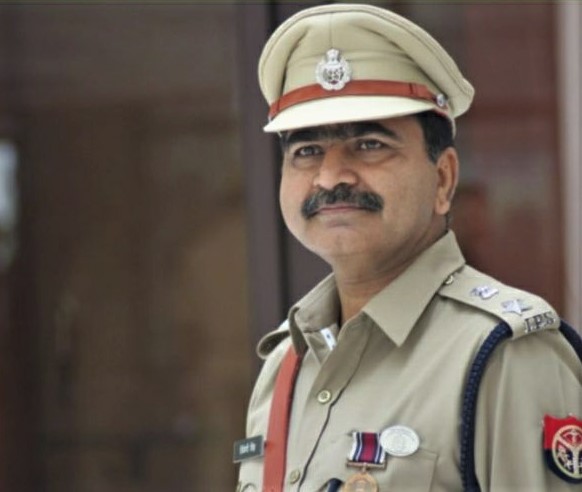 Sharing real-life cases Prof Triveni Singh said cyber criminals are now using innovative methods for identity spoofing and extorting money. Becoming friends on social media and making nude video calls to extort money is one of the biggest menaces. It not only drains money but pushes the victim to even end their lives. Threat actors are using free AI tools and deep fake technology to create morph videos and images. These cannot be identified with naked eye but if you are aware one can beat these criminals.
He explained like Jamtara new cyber crime hubs are emerging across India, Bharatpur-Mewat area is now the new training and breeding ground of these cyber criminals.
Hackers are using VPN or proxy IP to hide their identity, which is also a big challenge for law enforcement agencies in tracking them. He explained that darkweb is a completely different world. It is an underground world for the fraud supply chain as it is full of leaked credit and debit card dump.
Explaining preventive measures Prof Triveni Singh said never share OTP or personal details with anyone. Get all the profiles' two-factor authentication protected. "In case you have become a victim of cyber crime immediately report to 1093 or report to www.cybercrime.gov.in ," Singh said.
Next speaker, Amit Dubey, Chief Mentor, Root64 Infosec Foundation, gave examples of the most recent cybercrime instances as well as investigative methods that can be used.
"Criminals are innovators, so we should learn from them while we solve crimes. How and why are two crucial issues that investigators must attempt to address in order to comprehend the modus operandi of any crime," Amit Dubey said.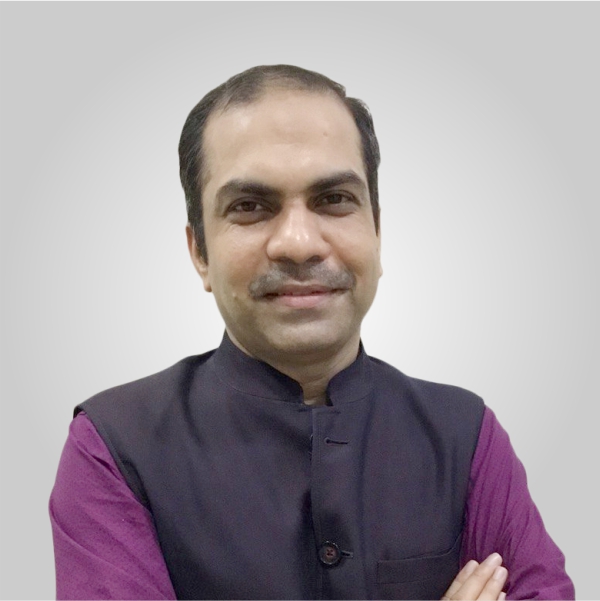 He showed a live demo of various websites and tools which can help in getting basic digital information. A website – privacy.net/analyser can show many details like IP address, location, internet service provider, device details, browser details, and battery status. These details can help criminals is gaining your trust and further attack you.
He explained to prevent crime, we have to think like cyber criminals. They play with your psychology and make you click a link, download an app, QR code scan or share personal details. There is only one thumb rule to stay safe which is say no to all of the above.
Dubey explained that always verify the source of the information. Cyber criminals are creating look-a-like websites, fake helplines to cheat people. So while shopping, seeking help, or making payment check the domain or source where you are sharing details. Websites like Who is or socialblade.com can give you details of any website or social media account.
Ending his session he explained important IT laws that one needs to know related to cyber crime offenses.
In the last session, Shashank Shekhar, founder, Future Crime Research Foundation (FCRF) explained fact-check tools and visual verification. He explained the need of verifying pictures and videos before sharing. Many a time viral videos are fake or misinformation but are shared widely without verification.
"Every citizen has to work in ensuring fake news or false information does not spread. It is only possible if citizens verify or check the authenticity of information before sharing."
Follow The420.in on
 Telegram | Facebook | Twitter | LinkedIn | Instagram | YouTube