MUMBAI: To address the issue of rising cases of cybercrime in the country, Phishbowl is a new platform created to help individuals and businesses search, report, and prevent digital fraud.
With a user-friendly interface and a team of experienced professionals working behind the scenes, Phishbowl makes it easy for anyone to stay safe online. In this interview, we will learn more about Phisbowl's founder Shweta Patel's journey as an entrepreneur, the inspiration behind Phishbowl, and their vision for the future of digital security.
Please explain what is Phishbowl?
Shweta: Phishbowl is a crowdsourcing search and report tool to prevent social engineering scams, phishing, cyber fraud, sextortion and other digital crimes. We are a provider of scammer directory services, where our customers can check and match against our huge database of previously reported scammer data elements and also report such data elements that they suspect.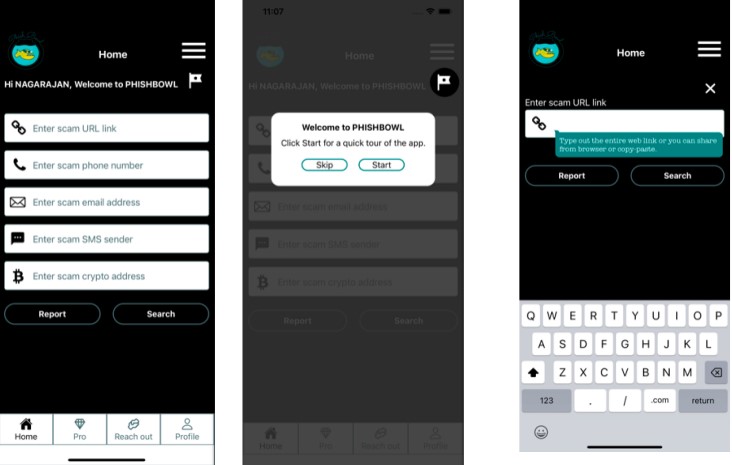 How did the idea of Phishbowl come to you?
Shweta: In my last role with a leading international bank, I was brought in to set up a Scam Prevention team. In that role, I would see elderly individuals losing their lifetime savings to a single scam.
At the same time here in India I would read about retired folks losing several lakhs to online scammers. It was heart wrenching. I thought about what the gap was and how I could step in to help close it. Because if you and I know that we are dealing with a scammer or phishing scheme there should be some way for us to share that information with others. Especially the elderly and vulnerable who may not be too sure about who they are dealing with or may just want to confirm their doubts.
ALSO READ: The Less Talked About Immigration Scam
Why is Phishbowl unique?
Shweta: Phishbowl is unique in many ways.
A. There are many B2B players in the fraud prevention market we are a B2C or more like B2B2C player and enjoy a unique spot.
B. We come into action in the prevention business before the crime as opposed to forensics or post facto recoveries by which time a scammer has probably burnt or buried that phone in a Mewat, or say a Jamtara.
C. We are an omni channel one stop shop, as opposed to fragmented solutions today that exist for phishing links versus phone numbers versus email etc.
D. We are crowd sourced and do not rely on supposedly AI rules that are sometimes as trivial as if someone has not received an email from this address before, then it is phishing. Of course, AI has its own place.
E. We are a handy tool where someone does not have to search for a website name or have a live incident to register and report.
F. We are transparent and queryable as opposed to opaque rules that just suppress without a user's knowledge.
G. We provide a brand new and an early source of intel, outside of post facto FIRs and other reporting done today.
Short answer is – no current solution is all of these in one: 1. Omnichannel, 2. Human filtered, 3. Easily accessible, 4. Economical, 5. Customer queryable, 6. B2C, and 7. sufficiently in advance of the event trigger to be of preventative value.
ALSO READ:  All You Need To Know About Password and Authentication Best Practices
What will a common man get from it?
Shweta: Today the only solution as far as phishing goes to protect the common man is we send blanket awareness messages to them. At some point most folks will tune out of mass messaging and theoretical training, unless there is an interactive solution like Phishbowl which they can consult pointedly. We have no sources for live scam intel today that they can use to surgically verify.
The Phishbowl app will be available for free for the common man to query surgically at the data element level. A use case being if they see an Ad on social media promising huge investment returns, they can query the listed phone number or email or social media profile to see if anyone has reported those before.
How big is the team, and what challenges were faced while building it?
Shweta: Following the lean start up principles we are a lean and mean team. Currently, it's just the cofounders and two contracted developers. We have outsourced most of noncore work including the website, legal work, marketing etc. The biggest challenges in building was the nitty gritty of data input validation and the user journeys, to think through and make sure we were capturing the infinite scenarios where something could go wrong, to nail the CustEx.
How does it help in addressing the issue of growing cyber-attacks?
Shweta: Cyber-attacks have got democratized, thanks to phishing kits, phishing as a service, remote access trojans, cyber fraud tutorials etc. being freely available on the dark web. One attacker teaches a hundred attackers and attackers have multiplied. The only way we can address this army of faceless scammers is by similarly democratizing intel on these scammers as well. So that, one person who spots a scam teaches a hundred. This is the only solution that can scale. The police and LEA resources can never scale the same way.
ALSO READ:  12 Typologies Of Crypto Scams To Watch Out For
How are you trying to monetize the project and make it sustainable?
Shweta: We are in this for the long haul. The subscription revenue stream will commence once we have a solid base, we plan to launch Fremium and Ad-free subscriptions. We are also working with our corporate partners on some B2B2C packages as well.
How will we see Phishbowl evolve in the future? What are the future plans for it?
Shweta: In the next versions, we are planning roll out our app in Hindi with a bilingual UI and then in multiple Indian languages – Gujarati and Marathi to begin with as we scale up in western India. We plan to introduce further features based on the response we get from our customers to provide ML-enhanced scores, Live notifications, Remote Access, Password compromise alerts etc. Further down the line we are not ruling out a global launch.
About Phishbowl's founder: Shweta Patel is a Fraud & Financial Crime Strategy professional from Mumbai, with an MS in Applied Statistics from the Royal Melbourne Institute of Technology. A career spanning across India, Australia and N. America, banking & finance sectors she has served across financial products: asset, liability, brokerage/trading & prepaid accounts, while managing fraud losses to budgets and owning end-to-end strategy teams across Fraud Risk and AML & CTF.
Follow The420.in on
 Telegram | Facebook | Twitter | LinkedIn | Instagram | YouTube