Watch Cryptocurrency Webinar: Crimes, Crooks & Cops – FCRF & Sharda University Online Training Draws Huge Crowd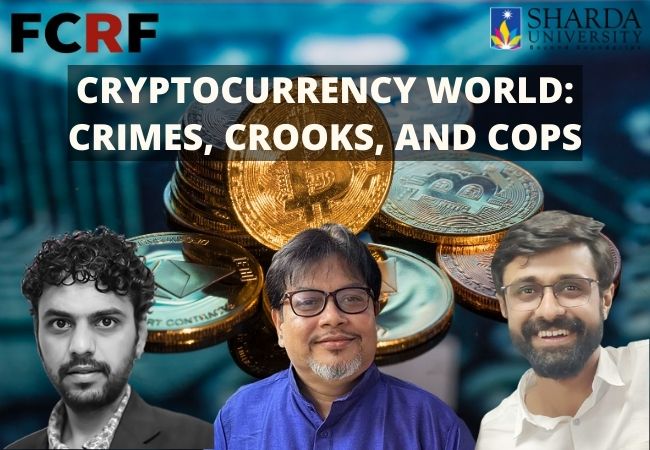 NOIDA: "Cryptocurrency World: Crimes, Crooks, and Cops," a virtual event about cryptocurrency and blockchain technology, was held on Friday. The webinar organised by Future Crime Research Foundation (FCRF) and Sharda University drew a large number of people from all over the world.
Blockchain, e-money, central bank digital currencies (CBDCs), tokenization, non-fungible tokens (NFTs), crypto-asset service providers (CASPs), crypto-investment scams, and the regulatory and legislative landscape were all discussed throughout the webinar.
Prof Triveni Singh, SP Cyber Crime, UP Police, Rushi Mehta, Senior Consultant, I4C, Jayjit Biswas, Founder, Elite Web3 Forum and Gaurav Mehta, founder, Catax – Simple Crypto Taxes were among the specialists on cryptocurrencies and blockchain technology who spoke during the event. Dr Nihar Ranjan Roy, Associate Professor in the Department of Computer Science and Engineering at School of Engineering and Technology at Sharda University also expressed his opinion.
The speakers shared important views and opinions on the current situation of the cryptocurrency market, the potential influence of blockchain technology, and the major issues confronting the crypto-asset business.
One of the highlights of the webinar was the discussion on the regulatory and legislative landscape for crypto-assets. The panellists agreed that the need for clearer and consistent regulations across different countries is one of the biggest challenges facing the crypto-asset industry. They also touched on the importance of Anti-Money Laundering/Combating the Financing of Terrorism (AML/CFT) compliance, investor protection, and the need for clear guidance on taxation of crypto-related income.
WATCH FULL WEBINAR HERE:
The panellists also examined the Indian scenario and the difficulties that Indian law enforcement officials confront while investigating such instances. They stated that one of the biggest challenges in detecting crypto-related crimes is a need for more technical skills and awareness of crypto-assets among law enforcement authorities.
Another critical topic covered during the webinar was cryptocurrency investment fraud. The panellists shared helpful advice on how people and businesses may protect themselves from cryptocurrency fraud and scams. They also discussed the crypto-asset industry's lack of regulation and the necessity for enhanced oversight to combat financial crime.
The webinar also discussed web 3.0 and how it will alter how we interact with the internet and technology. The panellists discussed the potential consequences and opportunities for the crypto-asset market.
The webinar Cryptocurrency World: Crimes, Crooks, and Cops was a big success, offering useful insights and perspectives on the present situation of the cryptocurrency market and the future of blockchain technology. Attendees enjoyed the presentation, and many have shown an interest in attending future meetings on the same theme.
Follow The420.in on
 Telegram | Facebook | Twitter | LinkedIn | Instagram | YouTube