New Delhi: Cashing on the popularity of e-commerce platform, cybercriminals have started cheating investors on the pretext of offering its franchisee. In the latest case, a Noida based resident was duped by conmen who made a fake website and offered franchisee of Flipkart delivery.
The complainant, Ramesh Kumar alleged that he got a message to join the franchise of Flipkart company for which he visited www.instakart.org.in and submitted an online form. Following my query, I received a mail and call from their representative Dheeraj Singh. "He asked me to furnish my documents and the form mentioned the names – 'Ekart Logistics', 'Instakart' and 'Flipkart".
It was on November 30, 2020, when the victim received a call claiming that his application for the online shopping portal's franchise has been approved. In another email, he was asked to deposit Rs 25,500 as a security fee in the company's account. The victim made a part payment of Rs 5,000 but got suspicious about their activity and decided to enquire with Flipkart customer care.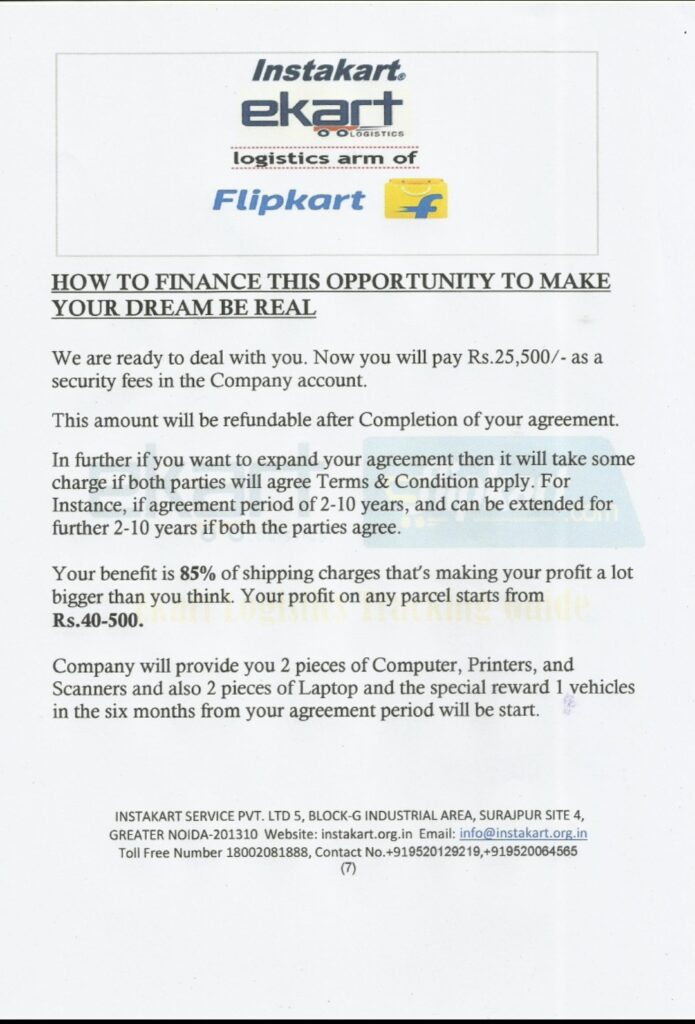 After calling Flipkart about Ekart Logistics franchise he was informed that the company does not provide franchise for their logistics business and he was duped. Ramesh immediately went to the police and got his complaint registered.
This is not the first case as conmen have cheated several gullible investors with the same trick. A senior officer told The420.in that criminals first make fake websites and then starts circulating them by giving attractive offers. Many fall for their trick and they make money on the pretext of the security deposit, processing fee or documentation fee.
The matter is also in Flipkart's notice. "In this type of scam, the fraudsters typically lure the public to set up delivery hubs, etc. in the space available with you for a very lucrative rent. However, they demand certain fees/commission to take this further. They may also set up fake websites where you are asked to register your business," Flipkart mentions of their website.
The company clarified, "Please note that Flipkart does not demand any kind of fees or commission for setting up a franchise. If you come across any requests for such payments, you may be dealing with a fraudster. Please report such people or agencies at once."