Data Security Council of India Inaugurates 5th Edition of Financial Security Conclave in Mumbai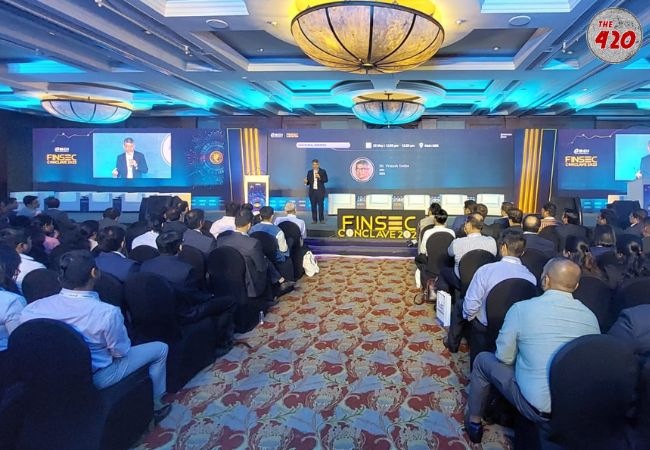 MUMBAI: The Data Security Council of India (DSCI) kicked off the highly anticipated 5th edition of the Financial Security Conclave, 2023, today in the bustling financial capital of India. With a focus on cybersecurity in the Banking, Financial Services, and Insurance (BFSI) sector, the FinSec Conclave aims to delve into the technological advancements driving digitization while addressing concerns surrounding security, privacy, and emerging opportunities.
ALSO READ: Step By Step Guide: How To File Cybercrime Complaint Online In India
Exploring Key Themes
This year's edition of FinSec Conclave encompasses a range of thought-provoking themes. The summit aims to shed light on crucial topics such as "Fin cloud," which examines cloud security in the financial industry. Additionally, discussions will revolve around cyber resilience for financial infrastructure, the intersection of cyber insurance and Environmental, Social, and Governance (ESG) principles, ransomware preparedness and response, and the global landscape of financial crimes and frauds.
ALSO READ: Search All India Police Station Phone Numbers & Mail ID Through This Search Engine
Other notable themes include cloud-native application security, decentralized finance, the future of digital identities in terms of authentication and authorization, securing mobile banking, data-driven strategies for the BFSI sector, and the cyber vision of industry leaders.
Industry Experts and Innovators Unite
Over the course of two days, the FinSec Conclave will bring together a diverse group of industry experts, global thought leaders, cybersecurity practitioners, policy specialists, and India's new-age technology innovators. With more than 30 sessions and 70 speakers, the event will feature industry-driven workshops, keynote addresses, plenary and special sessions, visionary meetups, fireside chats, parallel tracks, focused group meetings, and a townhall with Cert-In (Indian Computer Emergency Response Team). Additionally, the conclave will mark the launch of DSCI's sectoral privacy project, the banking guide.
DSCI expresses its sincere appreciation to over 35 partners, including Indian cybersecurity startups and innovative companies, for showcasing their cutting-edge technologies through collaborative efforts.
ALSO READ: Looking For Nodal Officers Of Banks, Telecoms, Social Media? Click The Link Here To Fetch Numbers – Details Inside
Celebrating Innovation in BFSI
Coinciding with the summit, the 10th edition of the DSCI Innovation Box will take place, highlighting groundbreaking developments in the BFSI sector. For almost a decade, the Innovation Box has served as a premier platform for startups to exhibit their innovative cybersecurity products. The initiative has gained widespread recognition, allowing industry leaders to identify and honor the most innovative product of the year. Going forward, the Innovation Box seeks to expand its influence by venturing into additional sectors, fostering a culture of innovation throughout various industries.
International Collaboration for Enhanced Cybersecurity
DSCI is also proud to engage with the Consulate General of the United States of America, aiming to strengthen cooperation between cybersecurity stakeholders in the US and India. The partnership's objective is to enhance capacity development, promote the sharing of information, and foster technological cooperation between the two nations. By joining forces, the US and India can collectively tackle the evolving challenges of the digital age.
Envisioning a Secure Future
During his address, Vinayak Godse, the Chief Executive Officer of DSCI, highlighted the pivotal role of cybersecurity in today's world. He emphasized the immense opportunities that lie ahead while acknowledging the daunting challenges that need to be addressed collectively.
Godse emphasized the significance of digitizing payments, the financial sector's aggressive digitization plans, and the rapid adoption of emerging technologies. He projected that the future of finance would be revolutionary, scalable, and innovative, with an expanding digital footprint and finance becoming intertwined with every digital aspect. However, he cautioned that managing the complex challenges of security, privacy, and fraud would require concerted efforts and continuous learning.
Driving Innovation and Collaboration
Godse articulated that the FinSec Conclave 2023 aims to promote knowledge sharing, examine the current paradigm and its associated challenges, and explore the future of financial security collaboratively. By bringing together key stakeholders, including the BFSI industry, the Fintech ecosystem, policymakers, regulators, security leaders, technology players, researchers, and start-ups, the event creates a dynamic platform for dialogue on challenges, possibilities, and innovations shaping the financial sector.
CloudSEK, a leading cybersecurity company and the title sponsor of the Financial Security Conclave announced the release of SVigil, an innovative solution designed to defend against digital supply chain threats. Leveraging the power of Contextual AI, SVigil enables organizations to identify and mitigate risks associated with software, cloud services, and third-party dependencies.
Comprehensive Mapping and Risk Assessment
SVigil empowers organizations by providing a comprehensive blueprint of their digital vendors, third-party software, product integrations, and dependencies. By monitoring software, cloud services, and third-party entities, CloudSEK's solution facilitates easy mapping of the digital supply chain while identifying potential issues. The platform's Contextual AI technology plays a vital role in uncovering software supply chain risks, and safeguarding organizations against threats that may compromise their infrastructure.
To streamline risk management, SVigil scans all discovered assets, including digital vendors, plugins, and dependencies, to identify vulnerabilities or misconfigurations. The assets are categorized based on criticality, allowing organizations to prioritize their efforts effectively.
Follow The420.in on
Telegram | Facebook | Twitter | LinkedIn | Instagram | YouTube