The420.in Lauded For Conducting Online Training Workshop and CQ Test Of 450 UP Police Inspector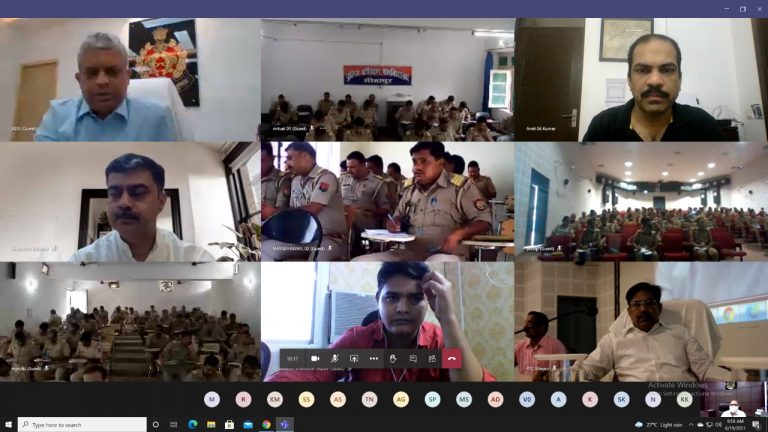 NOIDA: Additional Director General (ADG), Police Training Centre, Sitapur Raja Srivastava appreciate the work of The420.in for being a part of online training of around 450 policemen about cybercrime and technical investigation. The workshop was conducted in the month of July which was specially crafted by country's top experts for training newly promoted police inspectors in investigating cybercrime cases.
The cyber training workshop was conceptualised by Raja Srivastava, Additional Director General (ADG), Police Training Centre, Sitapur. During the two-day-long workshop domain shared their knowledge and policemen also appeared for a Cyber Quotient (CQ) test to check their cyber awareness level. The420.in along with Root62 Infosec Foundation and experts felicitated in conducting the CQ Test and spreading cyber awareness by covering the event.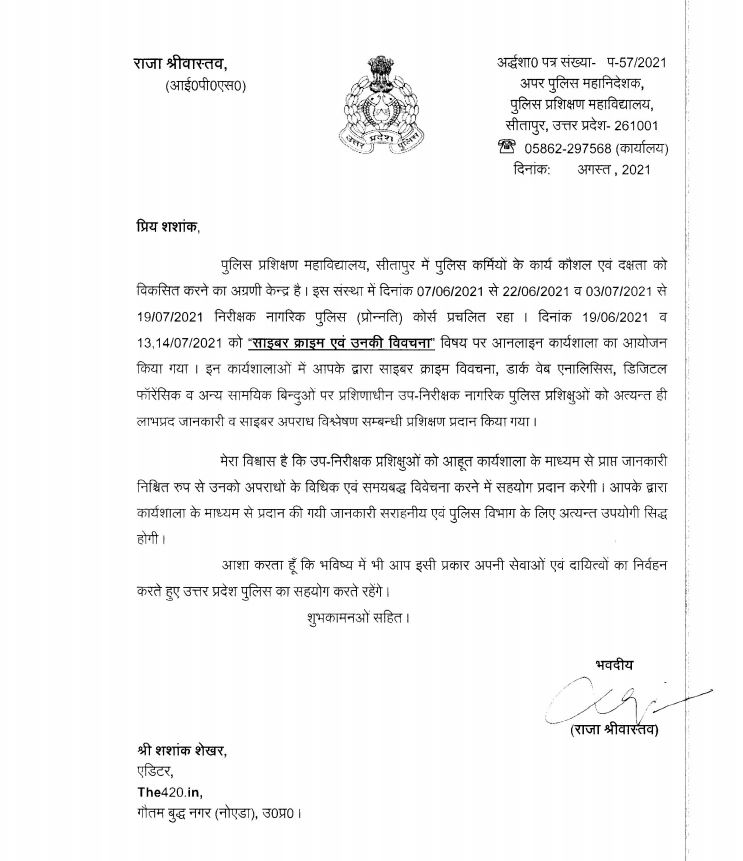 ALSO READ: Cyber Cops Of UP: Workshop and CQ Test For Cyber Training & Awareness Of 450 Police Inspectors
During the workshop, Prof. Triveni Singh, Superintendent of Police, Cyber Crime, Uttar Pradesh gave an insight on the latest cybercrimes, trends and case studies.
Amit Dubey, chief mentor of Root64 Foundation shared examples of real-life cases and how he helped such technical cases.
Satyendra Sharma, Chief Manager-IT, PNB, Cyber Crime Cell, HO, New Delhi explained about financial frauds and ways to stop it.
ALSO READ: Cyber Workshop: 450 UP Cops Undergo Training To Meet Digital Challenges
Shamsher Bahadur, Cyber Practice Head, Armantec System Pvt Ltd talked about types of Cyber Attacks, Psychology of Security, Futuristic imminent attacks, which Police Officers have to investigate in the coming days.
Abhirup Guha, Darkweb Specialist talked Deep web, Darkweb & explained the methodologies adopted by Cyber Criminals for committing Cyber Frauds/Crimes.
Pawan Kushwaha, CEO, Karatikal Tech Pvt Ltd explained about Phishing, SMSing, Mail Spoofing & how corporate organization faces the risk of Cyber Attacks due to these problems.
Technical support for the workshop was given by Ashish Kumar Yadav, Security Architect and the event was designed and coordinated by Kartikeya Singh. Shafiq Ahmed, Superintendent of Police, Police Training Centre, Sitapur along with Addition Superintendent of Police Rajendra Yadav and Santosh Kumar, a computer operator at PTC Sitapur played an important role in organizing the workshop.