Fact Check: Indian Oil Is Not Demanding Money For Job Or Training On Social Media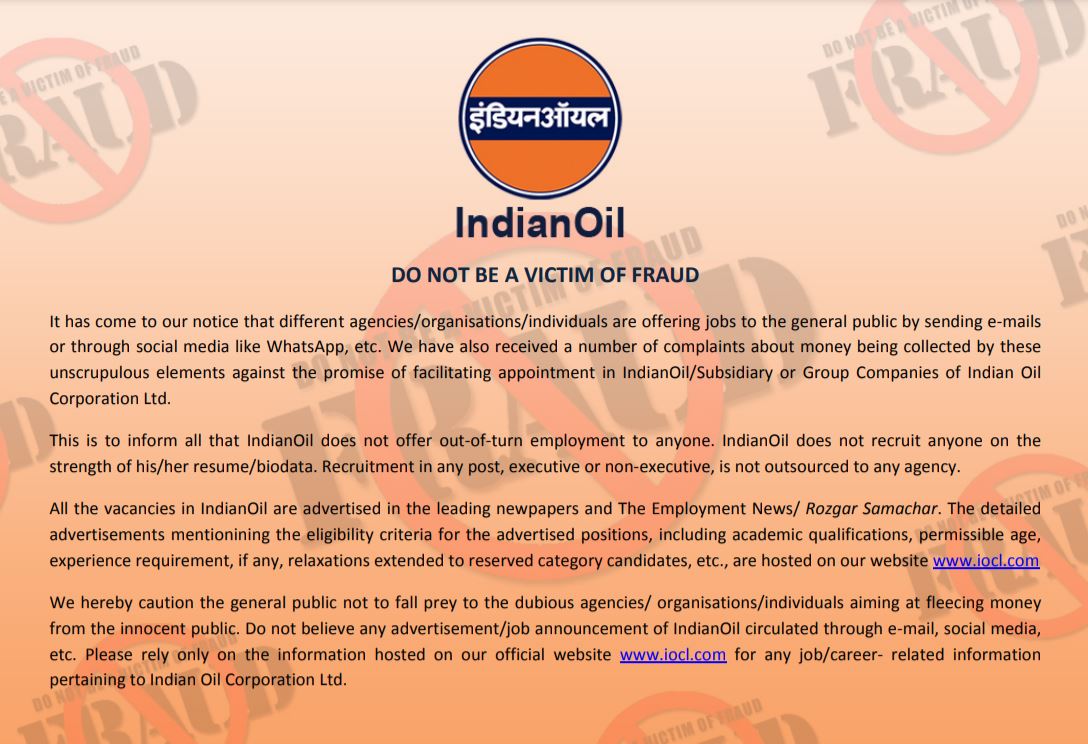 Scammers are now using the name of the country's largest fuel retailer Indian Oil Corporation Ltd to cheat job seekers. On September 3, Indian Oil Corporation took on Twitter to warn people against the circulation of fake news regarding recruitment and training offers.
Indian Oil has warned consumers not to waste their money by accepting bogus job offers. According to Indian Oil, some people/agencies are advertising bogus employment in the name of Indian Oil. Such bogus adverts should be avoided.
Aside from that, if someone offers a job in the name of Indian Oil and demands money in exchange for it, it is a scam.
Indian Oil Corp Ltd tweeted, "It has come to our notice that unscrupulous persons/agencies, are sending fake Recruitment/Training offers to candidates. To avoid falling prey to such malafide attempts, refer to http://iocl.com/pages/careers-overview… for authentic information on opportunities at IndianOil. @PIBFactCheck"
This tweet made by IOC was retweeted by PIB's fact Check team which is a verified Twitter handle countering all misinformation regarding government policies and schemes.
Indian Oil does not hire any other agency or person to handle their hiring process and they only post about vacancies on their official website or on newspapers and never through messages, social media or emails.
The company also does not ask applicants for some additional fees so if one sees a job advertisement asking for a deposit, it has to be fake.
Previously, when a similar piece of news was spreading the company made a statement that if any individuals fall for this fraud and end up paying the said fee, Indian Oil will not be responsible for it anyway. If there are any aspirants wanting to work with Indian Oil Corp Ltd, they should go to the company's verified official website and look for details there.
Earlier in 2019, two persons posing as field officers of the Indian Oil Corporation Limited (IOCL) were arrested while organising a 'recruitment camp' at the Cantonment area of Lucknow.
Follow The420.in on Facebook, Twitter, LinkedIn, Instagram, YouTube & Telegram