Fact Check: No, RBI Is Not Asking For Rs 12,500 Deposit For A Return Of Rs 4.62 Crore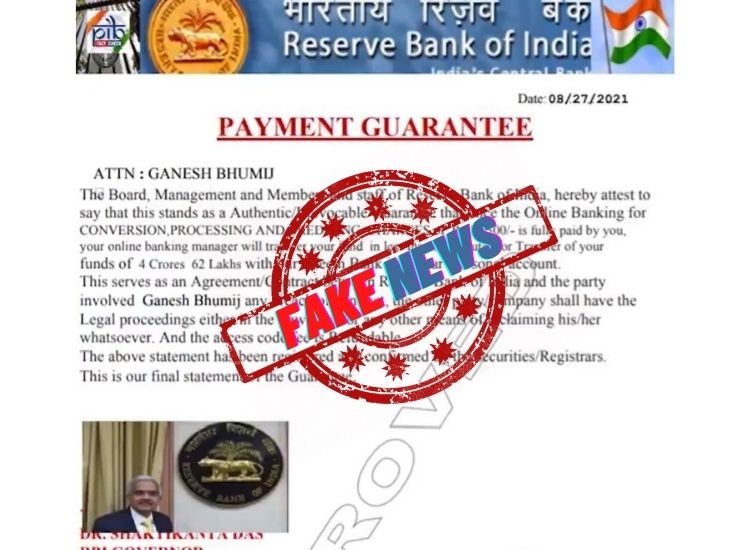 NEW DELHI: Investment is required for future requirements and meeting big expenses. However, it is critical to make secure investments if you want to multiply your wealth or receive better returns.
Cases of cyber fraud have surged so rapidly in recent years that both people living in villages and cities are becoming victims of fraud. Cyber thugs continue to prey on people in the name of a government scheme or esteem organizations like the RBI. These days, an attempt is being made to victimise people by sending a letter in the name of the RBI.
A letter from RBI is being circulated on WhatsApp and social media that make very lucrative promises. "Give Rs 12,500 and receive a return of Rs 4.62 crores. Transfer Rs 12,500 online, and the bank manager will credit your account with Rs 4.62 crore."
The deal appears attractive. Huge return that too within a half-hour. The deal sounds unreal because it is unreal.
Cyber thugs are trying to target people by sending fake letters in the name of the RBI. The thugs have sent a letter to RBI Governor Shaktikanta Das. "The RBI Management and Authority have decided that after the online transfer of Rs 12,500 is completed, the bank manager would send Rs 4.62 Cr to your account," claims the letter.
"Well, some things are just too good to be true. Fraudsters impersonate Government organisations to dupe people of money. Do not fall for such #FAKE approval letters or schemes in the name of @RBI," Tweeted PIB Fact Check.
To further illustrate, PIB has also uploaded a video clip from the Bollywood film Hera Pheri, in Aksha Kumar gives an attractive offer of doubling the money in 25 days and in very next seen many people are crying along with the actor who has lost their hard-earned money after investing in the fake scheme.
Time and again RBI's name is misused by cybercriminals to cheat people. They float fake investment letters, schemes and initiatives in the name of RBI. The federal bank through a various mediums has alerted customers and banks bout the latest fraud.