Truth Behind Finance Ministry's Viral Order Suspending DA & DR To Employees And Pensioners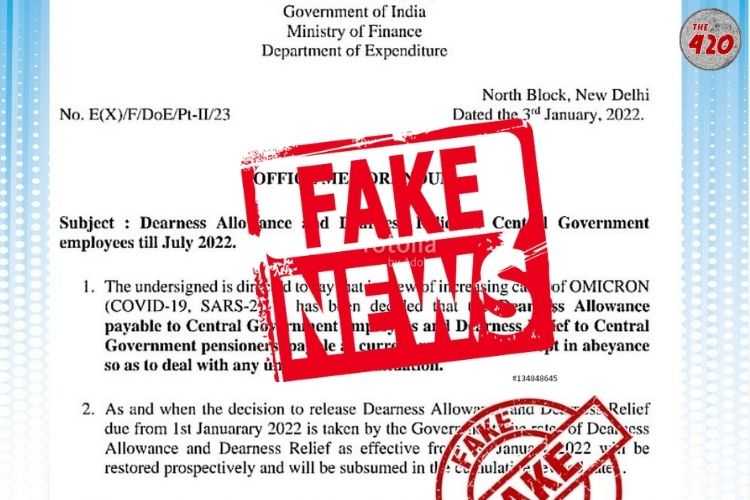 NEW DELHI: Several fraudsters and scammers are using social media platforms to promote fake news in the midst of a probable third wave of COVID-19 and Omicron scares. In light of the Omicron threat, an order purportedly from the Ministry of Finance indicated that the Dearance Allowance and Dearness Relief payable to Central Government employees and pensioners will be suspended.
"The undersigned is directed to say that in view of increasing cases of Omicron (COVID-19, SARS-2), it has been decided that Dearness Allowance payable to Central Government employees and Dearness Relief payable to Central Government pensioners, payable at current rates, are to be kept in abeyance in order to deal with any unprecedented situation," according to the letter.
It said, "These orders would be applicable to all Central Government employees and pensioners. All ministries' financial departments are hereby required to restrict additional expenditure as justifiable."

The Press Information Bureau (PIB) of India said the document to be fake, stating that no such order had been issued by the Finance Ministry. The government also shared a photo of the bogus decree, complete with a forged stamp.
Recently, a letter purportedly issued by the Ministry of Finance went viral on social media sites, authorising a loan under the PM Mudra Yojna plan and seeking Rs 4,500 as a leader charge.
However, PIB called the letter fake and informed that no such letter has been issued by the government.
Follow The420.in on
Telegram | Facebook | Twitter | LinkedIn | Instagram | YouTube