FACT CHECK: Viral Message Warning Against Chinese Crackers Causing Asthama And Eye Diseases Is Fake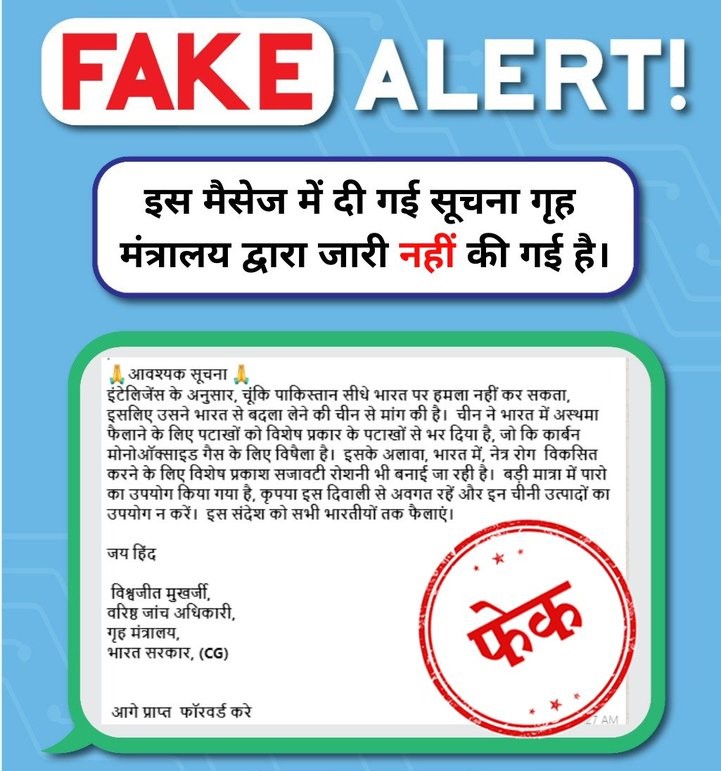 NEW DELHI: In the midst of the pandemic's concerns, the spread of misinformation on social media sites such as Facebook, Twitter, WhatsApp, and Instagram had been a persistent source of concern for the community. A warning has recently been circulated on a Facebook-owned instant messaging app – WhatsApp, alleging that the Ministry of Home Affairs (MHA) has been warned about special firecrackers and decorative lights being brought from China to spread asthma and eye diseases in India.
According to a report that is now becoming widespread on WhatsApp: Because Pakistan cannot strike India directly, Islamabad is enlisting the assistance of China. The viral message said China is sending carbon monoxide-releasing firecrackers to India in order to spread asthma. Special sorts of decorative lights are also being designed to aggravate eye ailments. It is requested that no Chinese items be used on Diwali. Please spread this word to your fellow Indians.
The Press Information Bureau (PIB) is the nodal agency of the Government of India to disseminate information to the print and electronic media on government policies, programmes, initiatives and achievements.
This time PIB came forward to alert people regarding a fake message being sent in the name of the Ministry of Home Affairs.
The PIB issued a bogus notice in response to the charges. The government's fact-checking handle stated that the Home Ministry issued no such warning and asked people not to circulate fake message.
The PIB fact check is the government's fact-checking arm, tasked with debunking false information about government policies and programmes. If you have any suspicions about government-related fake news PIB can be reached at 8799711259 or via email at socialmedia@pib.gov.in.