NEW DELHI: Fake news is being spread on social media sites such as Facebook, Twitter, and WhatsApp in the midst of the COVID-19 pandemic. People who are in a vulnerable position are duped by fake news and the claims it makes. A recent viral message making rounds on WhatsApp claims that the Government of India, in partnership with the corporation, is providing work-from-home opportunities.
The government's fact-checking organisation, PIB Fact Check, has debunked a WhatsApp message about work-from-home jobs, claiming that the government does not provide such possibilities to citizens.
PIB Calls The Message Fake
The communication contains misleading material, claiming that the government is offering work-from-home opportunities in partnership with an organisation.
The government fact-checking organisation stated, "No such announcement has been made by the government and do not engage with fraudulent links."
What Viral Message Say
According to the posted message, The King of Shadows has partnered with the Indian government to develop a revenue-generating mechanism for 2021. Anyone who wants to make money needs a mobile phone and a minimum investment of Rs 300 to generate money in 5 minutes. It further promises that a person can easily earn between Rs 2,000 and Rs 10,000 each day and withdraw the money the same day. In addition, a customer service phone number was included in the WhatsApp message. The statement has gone popular on social media and has been shared in a variety of forums and chat rooms.
ALSO READ: FACT CHECK: No Amitabh Bachchan, Narendra Modi and Mukesh Ambani Have Not Selected Your Number For Rs 25 Lakh KBC Lottery
Many people have lost their jobs as a result of the COVID-19 outbreak. Taking advantage of the situation, many bogus messages are being circulated on social media, claiming to offer simple employment with the opportunity to make money. However, it is advised to verify and check before entering into any such transactions. People should keep in mind that any job-related information offered by the government or private companies is made public on their official websites or verified social media profiles.
FACT CHECK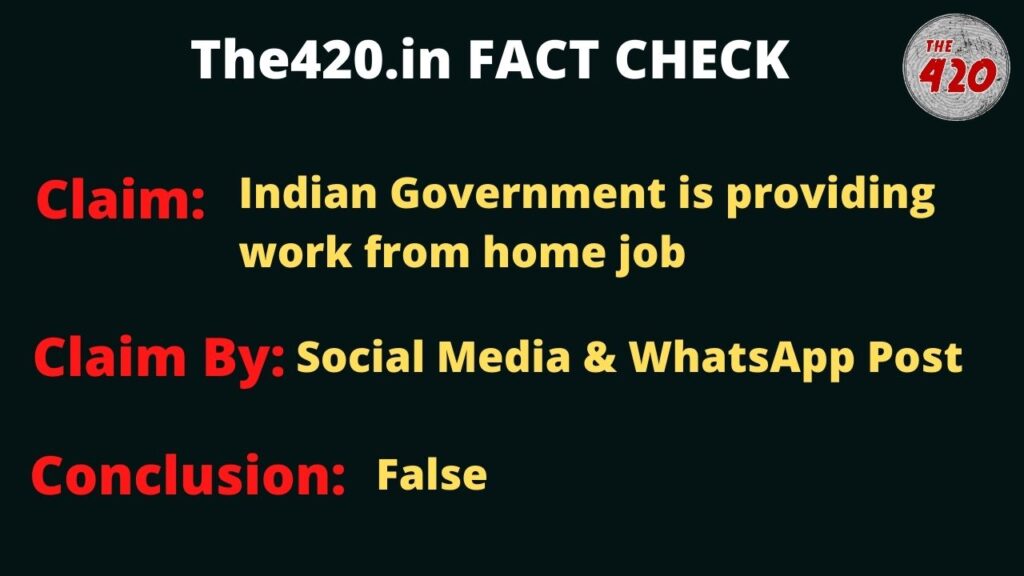 Follow The420.in on Facebook, Twitter, LinkedIn, Instagram, YouTube & Telegram