Fact Check: Scammers Are Sending Fake Court Order via Mail Posing As Indian Cybercrime Agency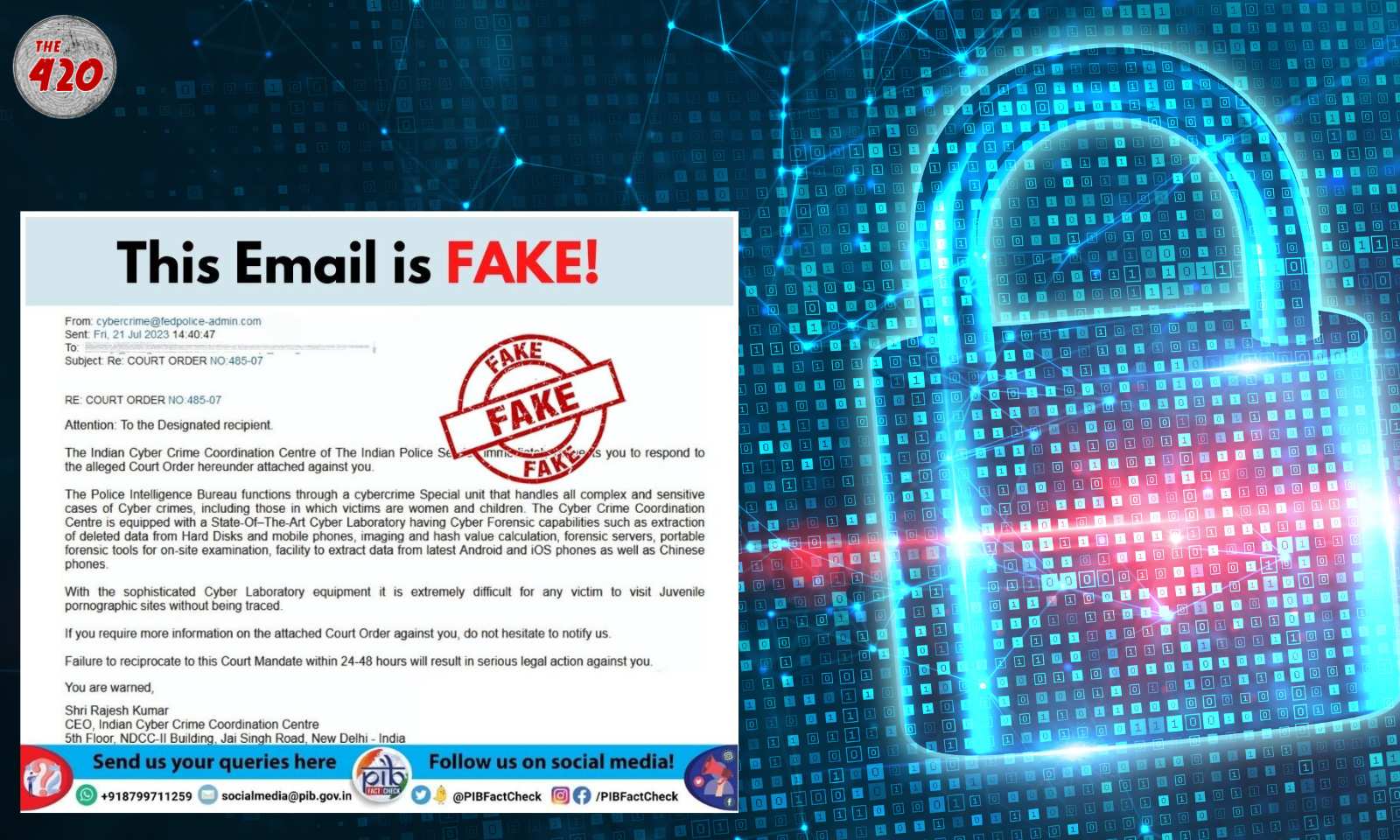 NEW DELHI: The Indian Cybercrime Coordination Centre (I4C), responsible for monitoring and addressing cybercrime across the nation, has issued a warning regarding a surge in fraudulent emails bearing its name. The Centre alerted the public to be cautious and not to respond to these deceptive emails, which falsely accuse recipients of cybercrimes and demand a response within a short timeframe.
Deceptive Emails Target Individuals
The Centre, operating under the Ministry of Home Affairs, expressed concern over the recent proliferation of fake emails sent under the guise of official correspondence from the I4C. The emails, designed to appear legitimate, target individuals and present false accusations of engaging in cybercrimes. The messages assert that recipients must respond within 24 to 48 hours to avoid unspecified consequences.
ALSO READ: Looking For Nodal Officers Of Banks, Telecoms, Social Media? Click The Link Here To Fetch Numbers – Details Inside
PIB Fact-Check Unit Unveils Fraudulent Email
The Press Information Bureau (PIB) fact-check unit brought attention to this emerging threat by sharing a sample of a fraudulent email on their Twitter account. The email purportedly originates from the administrator of the cybercrime agency and even bears the name of its Chief Executive Officer (CEO), Rajesh Kumar. The email instructs recipients to take action and respond urgently to avoid the alleged repercussions.
Government Urges Reporting of Fake Emails
In response to the growing concern, the PIB fact-check unit encouraged the public to report any instances of these deceptive emails. A tweet from the unit provided a link to the "National Cyber Crime Reporting Portal" where individuals can report such fake emails. The tweet also contained a clear message: "These emails are fake. No such email is being sent by any agency of the Government of India."
Received a similar email from Indian Cyber Crime Coordination Centre❓

Be cautious ‼️#PIBFactCheck

▶️ These emails are #Fake

▶️ No such email is being sent by any agency of the Government of India

▶️ Lodge your cyber crime related complaints here👇
🔗https://t.co/Z24NnBsrPl pic.twitter.com/XRMErSWbUf

— PIB Fact Check (@PIBFactCheck) August 4, 2023
I4C's Ongoing Efforts to Combat Cybercrimes
The Indian Cybercrime Coordination Centre (I4C), launched on October 5, 2018, as an initiative under the Ministry of Home Affairs, has been actively working towards enhancing the nation's collective ability to counter cybercrimes. Through comprehensive and coordinated measures, the I4C focuses on fostering effective collaboration among Law Enforcement Agencies (LEAs) to combat cyber threats.
ALSO READ: Deepfake Nightmare: Sextortionists Resort To Morphed Dead Videos Of Girls For Higher Ransom
National Cyber Crime Reporting Portal's Functions
The National Cyber Crime Reporting portal, an initiative by the Indian government, empowers victims and complainants to report cybercrime incidents online. It primarily focuses on addressing complaints related to cybercrimes against women and children. Complaints submitted through this portal are promptly attended to by law enforcement agencies or the police. In emergencies or for reporting crimes other than cybercrimes, individuals are encouraged to contact the local police or use national helpline numbers.
Staying Safe Online: Expert Advice
As part of the efforts to combat the rising tide of cybercrimes, experts offer valuable advice to the public:
Remain cautious of sudden pop-up messages, unfamiliar emails, and suspicious links.
Strengthen account security with robust passwords and consider using authentication methods.
Regularly update software and maintain backups of important files.
Utilize the National Cyber Crime Reporting portal for reporting cybercrimes and seek information on internet safety.
The government's call to action highlights the importance of collective vigilance and active participation in curbing cybercrimes for a safer digital environment.