Meet IAS Officer And DC Faiz Aq Ahmed Mumtaz – The Man Who Wants To Put Jamtara On The Road To Reform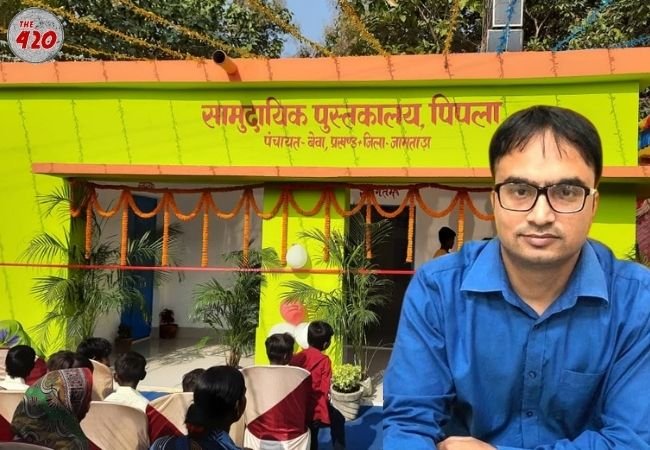 Jamtara IAS officer and District Collector Faiz Aq Ahmed Mumtaz has launched community libraries in all 118 panchayats across six blocks of the region, determined to shake off its negative association with cybercrime and firmly place Jharkhand's Jamtara on the road to reform.
Jamtara, once associated with the great social reformer and educator Ishwar Chandra Vidyasagar, who spent the last two years of life here dedicated to the upliftment of tribals and the less fortunate, has now become infamous for cybercrimes such as phishing.
Things began to deteriorate in 2013 with criminals such as Sitaram Mandal and Pappu Mandal. They carried out operations in which they duped unsuspecting people who answered their phones with a simple "hello" and ended up losing lakhs of rupees from their bank accounts.
ALSO READ: Kingpin of Jamtara Cyber Crime Gang Arrested By UP Cyber Police
Many high-profile scams in India are linked to Jamtara, with investigation teams visiting these areas on a regular basis. Amitabh Bachchan, a veteran Hindi film star, is said to have lost Rs 5 lakhs as a result of Jamtara's phishing scheme. Similarly, Rs 23 lakhs are said to have been taken from Preneet Kaur's account, the MP and wife of former Punjab Chief Minister Amarinder Singh.
"We are on the verge of establishing a new society." People should consider community libraries to be temples and mosques.
On November 13, 2020, the first community library in Jamtara opened its doors in Chengaidih panchayat. This was followed by the establishment of public reading rooms throughout the district, as well as the renovation and conversion of dilapidated old panchayat buildings and Anganwadi centres. For this project, the panchayats received funds from the CSR fund as well as budgets from the 14th and 15th Finance Commissions. Each community library has received funding ranging from Rs 60,000 to Rs 2.50 lakh.
ALSO READ: Enforcement Directorate To Scan Wealth Made By Jamtara Scammers
All libraries have running water, electricity, emergency lights, water filters, bookcases, and blackboards. The floors are carpeted, and reading is made easier by a round table system. Honorary presidents, treasurers, and librarians are elected in each library. To assist children in continuing with their studies teachers were appointed to teach children maths and English.
Jamtara is now associated with the phishing "cottage industry." Because the youth are easily sucked into the cybercrime ring, our top priority is to save them and integrate them into society. It is our goal to instil the habit of reading in the youth. "This is only the first step," said Sub-divisional Officer Sanjay Pandey.
The library also hosts a variety of classes, the majority of which are geared toward competitive exam preparation. Aside from that, they recruit volunteers from the administration and police force to lead motivational and educational sessions. Pandey himself teaches history and mind power techniques as part of the library's community classes.
ALSO READ: Jamtara's Cyber Crime Analysis Opens Up Pandora's Box: Scammers Linked With 1,624 Cases Across India
Even at 8 p.m., students can be found studying at the Jiajori Community Library in Jamtara. Around 30 boys and young men visit the community library in the Muslim-dominated Jiajori on a regular basis. After quitting his job at a private company, Mohammed Firoz Ansari, an MTech graduate from Lucknow University, is now preparing for competitive exams at the library. Since the library's inception, Azharuddin, a B.A. graduate, has passed the Jharkhand Panchayat Secretary Appointment Examination and is awaiting his appointment.
The youth are so committed to the library and its impact on the community that they express a desire to contribute financially once they are gainfully employed.
ALSO READ: Jamtara's Fake Calls Network Busted: Here Is How Cyber Criminals Arrange Fake Accounts, SIMs and ewallet
Aside from the youth-focused community libraries, an elder club project has also been launched in Jamtara's six blocks. These senior citizen recreation centres have been built at the block headquarters. Elder community members congregate here to socialise and find a sense of community. Arjun Kumar Mandal, a Nala Elders Club member, stated: "We get lonely a lot, so the club has become a source of comfort in our old age. We don't talk about politics and have discovered a new way of life by spending time together."
Members can play carrom, chess, and cards in addition to watching television. A medical team comes once a month to perform health checks. A Rs 100 monthly membership fee is collected from people getting pension and Rs 50 from others.
Follow The420.in on
Telegram | Facebook | Twitter | LinkedIn | Instagram | YouTube