NEW DELHI: What happens when you get scam calls asking you to download applications from your play store to eventually run you out of your money? Well, not everyone is as informed and aware as Arvind Goswami, a UP police official who confronted his caller when he was asked to download the QuickSupport app. While Goswami asked the caller to stop scamming innocent people and lead a life of dignity, how many of these calls have you come across?
Listen to the conversation between Goswami and the fraudster:
How The Scam Works:
There are two ways in which victims are trapped. One is where fraudsters pose as a customer care executive of a bank and the second where the victims themselves call customer care services with queries to solve.
These scamsters will ask you to download apps like Anydesk, TeamViewer, or QuickSupport. These applications are made for remote desktop connectivity and to remotely control the system via Android devices, also called screen-casting applications. But now, people misuse these to cheat online and scam people.
They will ask you to provide them a nine-digit remote desk code that will appear on your screen once you have installed the software. When you disclose this code, the scammers can see your screen and record your every move on your phone. Your personal information is stolen the moment you make an online payment/transaction through Paytm, UPI, BHIM, etc. They will take down the PIN you enter to finish the payment process. Once they've taken your money, they'll ban your phone number so you can't contact them.
Even when the phone is locked, some apps continue to run in the background. In Android phones, it's simple to capture victims' critical information without their awareness, but iPhones prevent Anydesk from casting IOS to PC. Because the person is hidden behind the screen, finding them in person with no information but a number becomes more difficult.
IMPORTANT TIPS: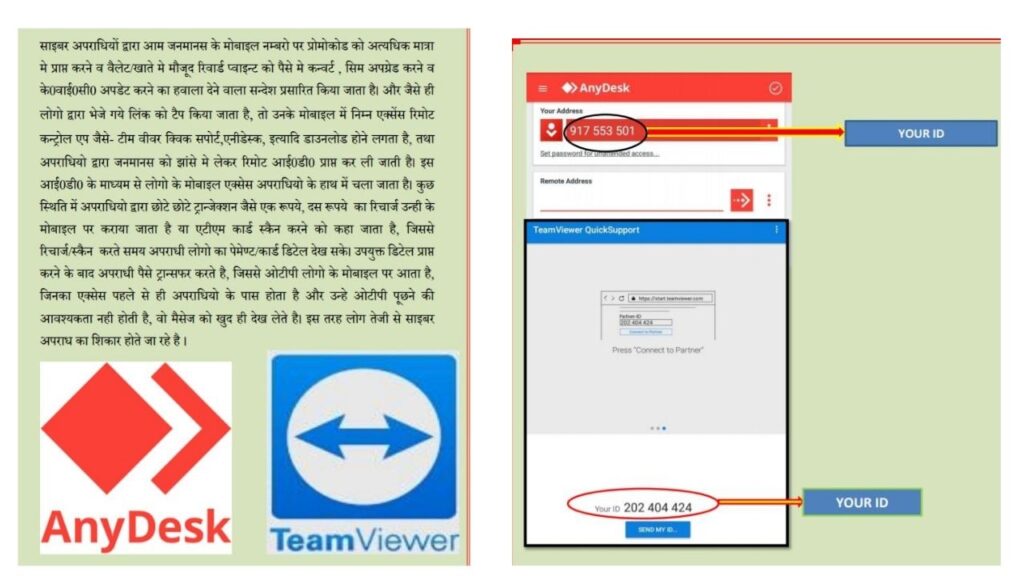 It is very important to secure your mobile phone because it has all the private information about your accounts.
Never install applications when encountered with fraudsters.
Block the number immediately to avoid further chaos.
OTP's, Passwords, Security code, remote code, PINs shouldn't be shared as anyone can access your account.
Follow The420.in on Facebook, Twitter, LinkedIn, Instagram, YouTube & Telegram