IIM-Kozhikode And Kerala Police Join Hands To Boost Cyber Security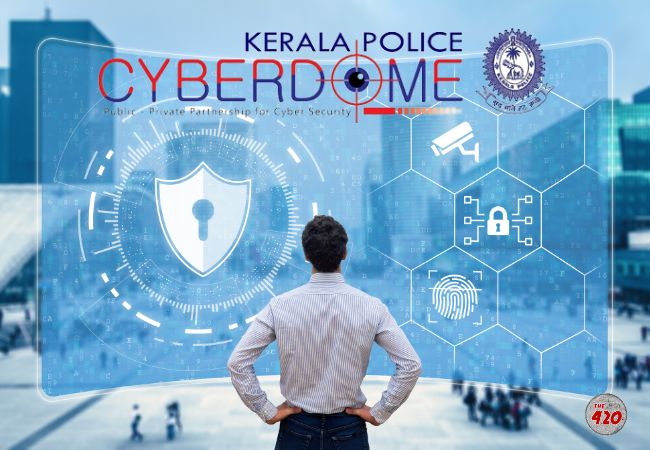 KOCHI: IIM-Kozhikode's Centre for Digital Innovation and Transformation (CDiT) and Kerala Police Cyberdome Project have collaborated in a novel partnership to collaborate on various cyber and information technology projects will bolster cyber security and policing.
The two organizations signed a Memorandum of Understanding (MoU) to solidify their commitment to work on projects enabling Kerala Police to stay ahead in an ever-evolving cyber landscape.
The MoU was signed by Lt. Col. M. Julius George (retd.), Chief Administrative Officer at IIM-K, and P. Prakash, Inspector General of Police and Nodal Officer of Kerala Police Cyberdome. Professor R. Radhakrishna Pillai, head of CDiT IIM-K, has been appointed as the IIM-K nodal officer for all related matters.
The partnership will tap into the extensive knowledge base of industry and academic experts, access to technology, process knowledge, industry standards, and practices to assist Kerala Police in a rapidly evolving cyber landscape. IIM-Kozhikode's Director, Prof. Debashis Chatterjee, expressed enthusiasm over the collaboration and noted that it would help enhance the availability of highly skilled technical experts and cyber professionals in digital and information technology.
ALSO READ: How Kerala Police Is Going To Fight, Use UAVs Through Their New Drone Forensic Lab: All You Need To Know
The collaboration will enable the police to synergize and collaborate on cybersecurity, cyber safety awareness, and other areas of mutual interest between the Cyberdome and IIM-K. Expert IIM-K faculty members will conduct tailored training and seminars for police personnel and participate as observers on relevant committees, State and national groups, addressing cybercrimes and cyber policing as needed.
The CDiT aims to promote and coordinate interdisciplinary research in emerging digital technologies, while the Kerala Police Cyberdome Project is a public-private partnership initiative of the Kerala Police that focuses on cybersecurity, information security, cyber forensics, data analytics, and other areas where information technology can be harnessed for cutting-edge policing.
This collaboration is a significant step towards making India more secure in the digital age. It shows that partnerships between government, industry, and academic organizations can be a powerful force for good in cybersecurity. The CDiT and Kerala Police Cyberdome Project have set an excellent example for other organizations to follow, and we hope to see more such collaborations in the future.
ALSO READ: Major Child Sexual Abuse Racket Busted: Kerala Police Raid 410 Places, Arrest 10 Pedophiles
As India moves towards becoming a digitally advanced country, cybercrime has become a major threat to national security. With the rise of the internet and technology, cybercriminals have become increasingly sophisticated in their methods and the number of cyberattacks has been on the rise. In order to effectively combat this problem, it is important for Indian state police to collaborate with professional organizations like IIT, IIM, and others to strengthen cyber security and investigate such cases.
By working with experts in the field, state police can gain access to the latest technologies, processes, and industry standards. These partnerships can also provide police personnel with specialized training and access to highly skilled technical experts and cyber professionals. Collaboration between the state police and professional organizations can also lead to the development of innovative solutions to tackle cybercrime. Through these partnerships, Indian state police can stay ahead of the curve in a rapidly evolving cyber landscape and effectively combat cyber threats to national security.
Follow The420.in on
Telegram | Facebook | Twitter | LinkedIn | Instagram | YouTube