CQ100: Meet India's Most Influential Cyber Warriors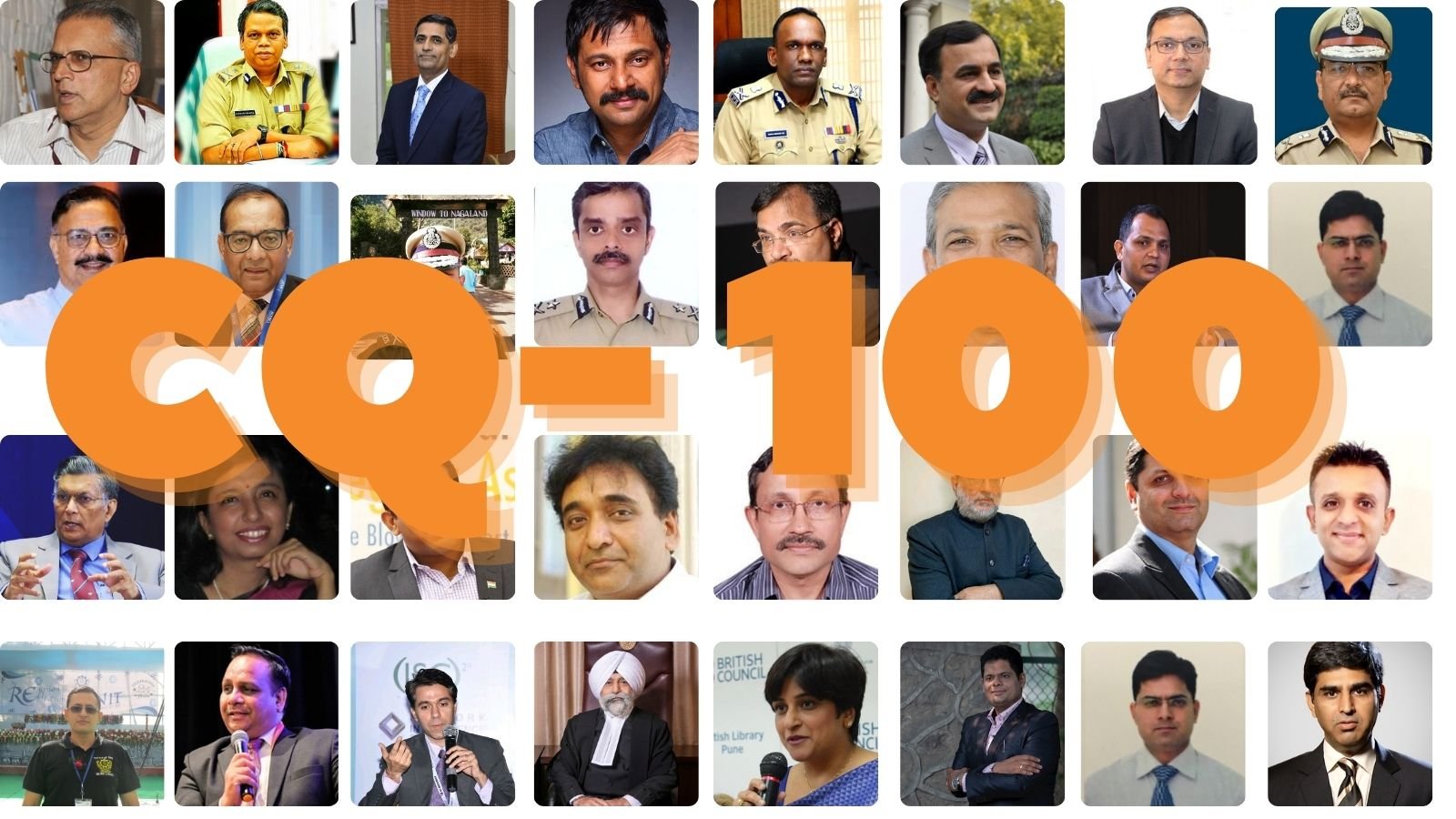 In a world so connected with each other, one of the most needed yet feared space is the cyberspace. From bank frauds to social media impersonation, cyber bullying and cyber extortion, people on the internet have had to suffer all.
The420.in has come up with a Cyber Quotient- CQ100 list which includes India's most influential, trusted cyber pioneers who have helped build the country's cyber ecosystem. Many of them in the list have been involved since the inception of the IT act, while others have brainstormed in making India's banking and financial sector resilient. This list includes many pioneers in the field of cyber law, forensic, cyber security, banking and financial system, counter-terrorism, policing etc. Each one of them has helped in achieving Prime Minister Narendra Modi's dream of Digital India.
This comprehensive list was built after a nationwide survey of domain experts, social media popularity and open-source results.
ALSO READ: Exposing FRAUD4 Nexus With Bureaucrats, Vendors, OEMs, C-Suite Executives: Time To Audit The Big4(20)
The list includes cyber lawyers, cyber experts, forensic experts, cyber cops, CAs, ethical hackers, CISO's, cyber educators, auditors, fraud risk professionals in banks, insurance, NBFC, corporates and other experts working with critical national infrastructure like CERT, National Critical Information Infrastructure Protection Centre (NCIIPC), Army, Navy, Air Force, RBI, NTRO, INTERPOL etc.
Disclaimer: This list is not any kind of ranking. It is an attempt to acknowledge the contribution made by cyber pioneers in their respective field of work. The list has been compiled using information available on open source and social media. This list will be turned into an e-book. For any corrections in pictures and information kindly write to us at news@the420.in or WhatsApp – 9580509795.
Find the full list below:
GK Pillai was former Union Home Secretary, Commerce Secretary and Secretary of the Department of Justice, Ministry of Law & Justice. Pillai has a distinguished service record. Among his many appointments at both state and national level, he was Principal Secretary to the Chief Minister of Kerala before becoming Special Secretary in the Commerce Ministry, India's chief negotiator at WTO, and Chairman, Board of Approvals for Special Economic Zones. During the tenure of this last role, over 500 Special Economic Zones, as tax-exempt export enclave zones, were approved, and are expected to employ around one million people. Pillai has a huge contribution in building the country's cyber ecosystem. In different roles in the government, he has helped in achieving stronger digital India.
GK Pillai is an Indian Administrative Service (I.A.S) officer and studied at Bishop Cotton Boys' School, Bangalore and St. Joseph's College, Bangalore, and later obtained an M.Sc from IIT, Madras. He belongs to the Kerala cadre of the 1972 batch of I.A.S. Pillai held diverse positions in the state government of Kerala.
He has represented the State and Central Government on delegations to USA, EU, Argentina, Brazil, DRC, Singapore, Japan, Sri Lanka, Philippines, Canada, Bangladesh, Myanmar, China, U.K., Thailand and Slovenia. He is renowned as a tough negotiator on behalf of national interests with a reputation as a thorough gentleman and a stickler for playing by the rule book.
---
Nandkumar Saravade is a CEO at Reserve Bank Information Technology Pvt Ltd (ReBIT). He has led the Data Security Council of India, as its CEO, for about a year in 2015-16. He has worked as an independent advisor on fraud risk and cyber security, to Ernst & Young, ICICI Bank and Citibank till June 2015.
He was head of Citigroup's security and investigations team for South Asia (2011-13), responsible for Citigroup's staff, assets and reputation in South Asia, as well as investigations for internal/external frauds and information security incidents. Was also the Chief of Internal Vigilance for Citi India.
In the previous role at ICICI Bank, he handled fraud prevention for the Bank, including process reviews, application and vendor screening, transaction monitoring, investigations, crisis management, employee and customer awareness on fraud and regulatory reporting.
Till May 2008, served with the Indian Police Service (IPS), the last assignment being Director, Cyber Security and Compliance, National Association of Software and Service Companies (NASSCOM), India's IT association, on secondment from the Government.
During the NASSCOM stint, he headed NASSCOM's security initiatives, including policy formulation, training on cyber crime investigation & knowledge for law enforcement organisations, advising NASSCOM members on incident response management and organising mass awareness campaigns on cyber security. Also set up NASSCOM's latest initiative, Data Security Council of India, a not-for-profit organisation for self-regulation of the Indian IT industry on data protection practices.
He has served in the Central Bureau of Investigation (CBI) for seven years. He led the Bank Securities and Fraud Cell of CBI at Mumbai for a year. Prior to that, he supervised the CBI functioning in the states of Gujarat and Rajasthan. He was the chief of the Mumbai Anti Corruption Branch, CBI's largest unit in the country, for five years.
---
Senior IPS officer Lokanath Behera is the current State Police Chief and Director General of Police (DGP) of Kerala. In 2009, he joined the National Investigation Agency (NIA) and was one of the founder members. At the NIA, he headed the Terror Financing and Fake Currency specialized cell of the NIA.
Before being appointed as the DGP of the Kerala Police, he served as Director, Kerala Fire And Rescue Services. He was a part of the team that travelled to the United States to question David Headley in 2010.
He was also posted as SP and DIG in the CBI, during the period he handled important cases like Purulia arms drop case, IC-814 hijacking case, Babri Masjid demolition case, Mumbai serial blast case, Madhumita Shukla murder case, Haren Pandya murder case etc. He is widely regarded as an expert in the investigation of cases of terrorist attacks, organized crimes, drugs smuggling, human trafficking, terror funding, bank scams and technology-based investigations.
---
Dr Gulshan Rai is Chief Information Security Officer at the Prime Minister's Office, Government of India. Dr Rai holds an M.Tech and Doctoral degree and has over 35 years of experience in different areas of Information Technology which include different aspects of e-Governance, cyber security, cyber laws and several related fields covering policies and operations. He was the first National Cyber Security Coordinator for the Office of the Prime Minister of India.
Previously, Dr Rai served in the Ministry of Electronics & Information Technology (MeitY), holding the prestigious post of Director General, CERT-In (Indian Computer Emergency Response Team) and heading the E-Security & Cyber Law Division, STQC and other divisions. As Executive Director of ERNET, he led work to connect more than 500 universities in the country and prepared the first blueprint of setting National Knowledge Network. He was involved in developing major policy documents in the area of IT, including software policy, establishment of hardware parks and related schemes.
Dr Rai authored India's first cyber security policy and served on the Expert Committee on Data Protection chaired by Justice BN Krishna. He also led work to establish India's National Watch and Alert System as part of the country's cyber security initiative and played a lead role in designing India's Income Tax PAN Number and the architecture of the computing system and environment at the Central Board of Direct Taxes (CBDT). Dr Rai played a key role in planning and implementing the first phase of computerisation of the Bombay Stock Exchange and has been involved all major large projects related to India's computerisation.
---
Anand Prakash Maheshwari has spent a sizable segment of his professional career in Uttar Pradesh working as Police Chief in towns of Moradabad, Kanpur, Allahabad and Gorakhpur and also headed Law & Order as well as Vigilance wings of UP Police. He has also worked in Intelligence, Security, Economic Offences, CID, Training & Human Rights divisions of the State Police. He has worked with CRPF on counter-insurgency grids of Assam, Kashmir and the states affected by left-wing extremism.
Maheshwari has worked in BSFas ADG, BSF Academy/Training and SDG Operations. He has also served as the Director General of Bureau of Police Research & Development, New Delhi and as the Special Secretary (Internal Security) in the Ministry of Home Affairs, Government of India. On his present assignments, he is heading the CRPF as its Director-General.
---
Rupin Sharma is a DGP, Assam Police. He is extremely popular for his unconventional ways of solving crimes. He has 27 years experience in law and order, security and investigation, international cooperation in criminal matters and extradition, international diplomacy, conflict management and leading 25000 policemen as Head of Police Force in Nagaland Province in India.
He led the Central Bureau of Investigation team that traced and extradited the notorious gangster Abu Salem, served under the United Nations Peacekeeping Mission in Bosnia, and initiated necessary reforms in Nagaland's prison system, among a litany of other achievements. He is an MBA graduate from the Himachal Pradesh University.
---
Dr Muktesh Chander, an IPS officer of 1988 Batch of UT Cadre is currently posted as Special Commissioner, Delhi Police. He graduated in Electronics and Telecommunication Engineering from Delhi University. After doing one-year specialization in Statistical and Quality Control and Operations Research from ISI, Madras, he joined Bharat Heavy Engineering Limited as a Quality Control Engineer and received several awards for improvement in the quality and productivity.
In 1988 he joined Indian Police Service and has remained posted to several places including DIG Goa and Addl. Commissioner of Police, Crime, and Traffic Delhi and IG Daman Diu. He has served as Centre Director Cyber Division and National Critical Information Infrastructure Protection Centre in National Technical Research Organization under Prime Ministers' Office.
His areas of interest are cybercrime and its detection, cyber terrorism, E-governance, Digital signatures, Cryptography, E-policing, Information security and Cyber laws, Social media monitoring, etc. He has written several articles on Cyber Crime and related topics, which have been published in various prestigious journals and newspapers. He is a resource person for premier institutes like Rajasthan Police Academy, Gujarat Police Academy, Gujarat Forensic Science University, National Crime Records Bureau, Punjab Academy of Administration, Bureau of Police Research and Development, National Institute of Criminology and Forensic Science, CBI, IILM Institute of Higher Education, Indian Law Institute etc.
He was member secretary of the Joint Working Group which formulated "Guidelines for Protection of National Critical Information Infrastructure in India". He has also served as Centre Director of Cyber Division of National Technical Research Centre under Prime Minister's office.

---
Ashish Gupta is an Indian Police Service (IPS) officer of the 1989 batch, allotted to his home state of Uttar Pradesh. He holds the post of ADG of National Intelligence Grid. Earlier, he worked as Director in the Prime Minister's Office (PMO) for five years where his work related to advising the Prime Minister on policy matters of energy and internal security.
He also served as a senior faculty member in the Sardar Vallabhbhai Patel National Police Academy. He was the Indian Contingent Commander to the United Nations Peacekeeping Mission in Kosovo in 2000-2002. He headed the anti-terrorist operations in the Terai region of Uttar Pradesh. Ashish has authored monographs on police operations and edited the Police Journal for three years. He is the recipient of President's Police Medal for Meritorious Service, Special Police Medal for Difficult Areas and the UN Peacekeeping Medal.
Ashish received his Bachelor's degree in computer science from IIT Kanpur in 1987 and MBA from IIM Calcutta in 1989.
---
Pratap Reddy is currently ADGP, Communication, Logistics and Modernisation has been given the additional charge of ADGP (Law and Order). He is a Btech and started his career as assistant superintendent of police in Arasikere of Hassan district. Reddy was serving as adviser to National Association of Software and Services Companies (cyber security wing), Bangalore,
He was on deputation to National Association of Software and Services Companies (NASSCOM) as a senior director, cyber security between February 2009 and August 2011. During his stint in NASSCOM, he had initiated eight cyber labs for various law enforcement agencies and trained over 9,000 personnel. In the past he has served as ASP, Arasikere sub division and Karkala sub division. He has served as the Commandant of 1st Battalion of Karnataka State Reserve Police at Bangalore, Superintendent of Police in Bijapur and Gulbarga.

He served for a short period as ADG Fire and Emergency Service prior to taking charge as IGP (Western range).
---
Dr Madan M. Oberoi is an Indian Police Service (IPS) officer of 1992 batch. He is an Executive Director (Technology & Innovation), INTERPOL. As part of this, he supervises Information Systems & Technology Directorate; Directorate of Innovation Centre; and Capacity Building & Training Directorate of INTERPOL. Till May 2019, Dr Oberoi was working in the rank of Special Commissioner of Police with Delhi Police. He was heading the Special Cell of Delhi Police, which is responsible for conducting Anti-Terror operations and combating cyber crime & Organized crime.
He was also concurrently handling the additional Charge of Adviser (ICT), Ministry of Home Affairs, Government of India. During this period, he was also instrumental in the setting up of Indian Cyber Crime Coordination Centre (I4C) at the National level, for which he was the founding Director General (DG), a charge he held in addition to his other roles till May 2019.
He is a Fulbright Scholar in the area of "Cyber Security" from University of Washington. He holds a PhD in the area of Cyber Crime from Indian Institute of Technology (IIT), Delhi. He also holds a Master's Degree in 'Management and Systems' from IIT Delhi and another Master's Degree in Police Management.
Dr Oberoi was earlier deployed as Director Cybercrime of INTERPOL, from 2014 to 2017. He has also worked as Inspector General of Police, Deputy Inspector General of Police and as Superintendent of Police with Central Bureau of Investigation (CBI).
---
Sanjay Sahay is 1989 batch of the IPS, borne on Karnataka cadre. Accomplished high degree of professionalism in wide and varied professional assignments and finally got groomed and refined into an officer who has 360 degrees experience of all policing tasks, simultaneously maintaining keen interest in all staff functions and a passion for the usage of appropriate technology in policing at all levels and in all fields.
He was chiefs of Police of three districts Raichur, Mandya and Chamrajnagar. Sahay was also posted as SP and DIG in the State CID and was part of UN Peacekeeping in Kosovo and Sudan. He was head of police computerization, communications and state crime records bureau.
He also created an Enterprise Resource Planning (ERP) software, the Police IT, for Karnataka State Police and headed the CCTNS project since its inception in 2008 till nearly the end of Bid Process for the selection of System Integrator (SI) in Sept 2011 besides single handedly creating all professional documentation pertaining to the project.
---
Dr Varun Kapoor is a senior IPS officer. He has done his BE (Honours) Mechanical Engineering – NIT Trichy (Tamil Nadu). He joined India Police Service in 1991 and was allotted Madhya Pradesh Cadre.
Dr Varun Kapoor is currently ADGP, Rustamji Armed Police Training College, Indore. He has served as SP in three districts – Dhar, Sehore & Ratlam. He was DIG in three ranges – Chhatarpur, Ratlam & Ujjain and ADG in one zone – Indore. His other posting includes IGP, Police Radio Training School, Indore; ADGP, Narcotics, Indore.
He started Black Ribbon Initiative for cyber security awareness among community members. Till date 453 sessions across India in schools, colleges, institutions, organizations, departments etc. Over 300,000 citizens made aware in 2 hour long highly interactive sessions. Out of these 109 have been webinar based sessions during the COVID 19 times. This pan India effort in 28 states of the country is also a record in itself as lakhs of citizens have been reached and made cyber security aware and equipped.
He holds a World Book of Records London – Maximum Number of cyber security awareness workshops by any one person anywhere in the world (2018).
Dr Varun Kapoor started police training under the initiative – THE BLUE PALM. Over 5000 cutting edge level officers (SI-SP) of 20 state police forces; 6 different para military forces and the Indian Army trained in specialized course in 12 modules. Till date 136 such courses organized.
He has conducted special training workshops across the country for use of cyber technology for improving wildlife protection and solving wildlife crime being done under campaign designated as ROAREING TIGER INITIATIVE. Till date 34 such workshops arranged and 1408 forest officers from 14 states of the country. Presently a special project is being delivered across the country in 6 leading tiger reserves. This project is called "CYBER CLAW" and is being coordinated by National Tiger Conservation Authority of the Ministry of Environment & Forests of the GOI.
He is also a regular faculty at premier training institutions of the country. Dr Kapoor has done extensive research in the field of cyber crime, cyber security, social media, mobile usage etc. His studies have been published in numerous national journals. He is the first police officer in Asia to be awarded an Honorary Doctorate in Cyber Security (Indore University).
---
Manoj Abraham is a cyber security specialist who has worked for integrating technology with policing. Is a sought after speaker in various aspects of cyber security, traffic innovation and community policing. He has won numerous national and international awards in areas of cyber security, social policing and traffic schemes. Innovation mentoring, emergency management, law enforcement, strategic planning, and public policy are the key areas of specialization.
Abraham is the architect of Kerala police cyberdome – a PPP initiative in cyber security and also the man behind Cocon International Cyber Security Conference. He is also an expert in Traffic Innovations for better management and has won numerous awards in this field also.
---
Brijesh Singh is currently posted as Special Inspector General of Police with Maharashtra Police. Previously he was heading state's cybersecurity unit. He was also leading the implementation of MH Cyber Project, CERT MH and Predictive Policing units. He was also implementing the unique project of Automated Multi-Modal Biometric Identification System (AMBIS), which is the first initiative in India, where IRIS, Face recognition, Finger and Palm prints will be used for identification of criminals.
Previously, he has implemented huge and successful projects like Crime and Criminal Tracking Network & System (CCTNS) project, online first information reports (FIRs), advanced forensics, and digitization of the state's crime records along with other IT schemes for Policing. Singh has also authored thriller "Quantum Siege" for Penguin books. His recent book "Dangerous Minds of India", is out on the stands now.
---
Dr Pavan Duggal is a veteran Supreme Court Advocate and has made an immense impact with an international reputation as an Expert and Authority on Cyberlaw and laws related to E-Commerce. He has also been acknowledged as one of the top four Cyber Lawyers around the world. WDD [World Domain Day] recognizes him as one of the top 10 Cyber Lawyers around the world.
Dr Pavan Duggal, is chair holder, member, consultant and advisor to several international, government and private bodies related to cyber law. He heads his niche law firm Pavan Duggal Associates, which has practice areas, amongst others, in cyberlaw, business process outsourcing law, intellectual property rights and information technology law, information security law, defence, biotech and corporate law.
When it comes to legal advice or view of a cyber expert, Dr Duggal is a prominent face on leading TV channels and newspapers. He has spoken at over 2,000 conferences, seminars and workshops. As a writer, he has made his mark with 143 books.
---
Internationally renowned soldier-scholar, Lt. Gen. (Retired) Dr. Rajesh Pant has 42 years' experience in Indian Army, especially in the fields of Electronic Warfare, Geointelligence and Cyber Warfare. Currently, Pant is serving as the Chief of National Cyber Coordination Centre. In this capacity, he is responsible for coordinating all activities across multiple sectors to ensure a secure and resilient cyber space within the nation.
He holds a PhD degree for his research in the field of Information Security metrics. He is also MTech from IIT Kharagpur, MPhil from Madras University and Master of Management Studies from Osmania University.
Prior to this appointment, he was the head of the Army's Cyber Training establishment for three years. He served in the Army Signals Corps for 41 years wherein he was awarded three times by the President of India for distinguished service of the highest order. Consequent to his retirement, he was Chairman of a listed Electronics Company, peer review member of NAAC, and Governing Council member of IETE(India).
General Pant brings to the table an interesting mix of military operations, academic excellence, corporate governance and cyber security wisdom.
---
Dr S.D. Pradhan is the Former Deputy National Security Advisor (Dy NSA) and Chairman, Joint Intelligence Committee, National Security Council Secretariat, Government of India.
He was chairman of the Task Force on Intelligence Mechanism (2008-2010), which was constituted to review the functioning of the intelligence agencies. He has taught at the departments of defence studies and history at the Punjabi University, Patiala.
He was also a visiting professor at the University of Illinois, US, in the department of arms control and disarmament studies. The ministry of defence had utilized his services for the preparation of official accounts of the 1971 war and the counterinsurgency operations in the northeast.
In the JIC/National Security Council secretariat, he was closely involved with the preparation of the reports of the Kargil Review Committee and the Group of Ministers on national security as also with the implementation of their recommendations. His publications include two books and several articles.
---
Dr S. Govind is the Former Chief Executive Officer of National Internet Exchange of India (NIXI) and Senior Director, heading the E-Infrastructure & Internet Governance Division, Department of Electronics and Information Technology, Government of India.
Dr. Govind headed the Secretariat of Governmental Advisory Committee (GAC) of Internet Corporation for Assigned Names and Numbers (ICANN) from 2006 to 2011. He continues to represent the country as an Advisor in the GAC of ICANN. He is an ongoing Member of the Multi-stakeholder Advisory Group of Internet Governance Forum (IGF).
---
Vakul Shama is a Supreme Court lawyer, specialising in the field of information technology, data protection, privacy and cyber crimes. He advises various centre and state governments and on Information Technology and practices. He has been nominated by the government on various expert committees, consultative committees, panels & working groups on information technology, cyber security, data protection, cyber crimes, e-governance etc.
He has a unique distinction of training superior court judges, civil servants, police officers, law enforcement agencies, and forensic experts all across India on information technology, data protection, privacy and cyber crimes. Sharma has written numerous Books, White Papers, Directives and Policy documents.
---
Maj Gen Sandeep Sharma joined Indian Army in 1981. Alumni of National Defence Academy, the officer is also of Defence Services Staff College Wellington and College of Defence Management Secunderabad. He is M Tech (Computer Science & Engg) from IIT Kanpur and Master in Management Science from Osmania University, Hyderabad.
He has been involved in various cyber initiatives at the National levels since 2010. The officer has written several articles on operations research, knowledge management, cyber awareness, and cyber warfare. For his distinguished services to the Army and Nation, he has been awarded Vishisht Seva Medal and commendation cards.
Sanjay Bahl is currently director-general at CERT-In. He has been providing consultancy in the areas of governance, risk, compliance, security, privacy, forensics, investigation and fraud management to national level projects in India. Prior to CERT-In, he was the chief security officer for Microsoft Corporation in India where he was responsible for interaction with the government, academia, key strategic accounts and the CXO community with respect to Microsoft's security policy.
Prior to joining Microsoft, Bahl was the global CSO of TCS where he established an enterprise-wide converged security environment and effectively addressed risk management and security across the organization worldwide. He has been in the IT industry since 1984 with experience in various areas.
---
Tulika Pandey is currently serving as the Director, National eGovernance Division, Ministry of Electronics & Information Technology, Government of India.
She is an Electronics and Communications Engineer, working with the Government of India since 1992. She has been involved in implementation strategy and action plan formulations for wider reach of ICT facilitated benefits; Integration of appropriate technology interfaces between human and cyber world; Steering of Research and Development projects for development of contextual ICT technology, tool, applications and content.
She has traversed through the path of Microelectronics development, E-Learning, Technology Development for Indian Languages, Digital Libraries, E-Infrastructure, Internet Governance and Convergence, Communications & Broadband Technologies. She has been harnessing the technologies of Internet of Things (IoT), IPv6 and convergence of Cognitive Radio Frequency with Internet for enhancing ubiquitous technology interventions in human life with minimal trespassing of security and privacy in her 26-year stint with the Government of India.
Pandey's current pursuit is addressing the Security postures of the Digital Payment Ecosystem in India and on global discussions on issues of Cyber4Digital Inclusion, Cyber4Growth, Cyber Security and Cyber Diplomacy.
---
Alok Vijayant served in the Reserve Bank of India (RBI) for 14 years in various capacities and in 2005 he joined National Technical Research Organisation (NTRO), the country's premier Technical Intelligence Agency as Head of IDG (Information Dominance Group) and TFIU (Tech Financial Intelligence Unit). NTRO was set up in 2004 and also includes the National Institute of Cryptology Research and Development (NICRD), which is first of its kind in Asia. He and his team have been defending the country from virtual attacks.
He has handled some of the sensitive assignments including detection of attack on PMO computers, MoD Attack, NSAB Attacks, MEA Attacks, Shadows in the cloud etc. He was part of the teams investigating Malegaon Blast in 2006, multiple operations with ATS, Mumbai, Delhi Police, a part of two member PMO Team post 26/11 Mumbai attack etc. He is Visiting Faculty at RAW Training Institute, BPR&, SSB Academy, CBI Academy, ARTRAC, NICFS, IIMC, NIBM, MCTE, CDM, NDC etc.
---
Anyesh Roy is currently posted as Deputy Commissioner of Police, Cyber Crime Cell of Delhi Police. He and his unit specialise in handling all complex and sensitive cases of cyber crime including those in which victims are women and children.
Roy's team has busted gangs of several online scammers including fake call centers duping foreigners in the US and Europe.
He has spearheaded the Cyber Crime Cell for the past couple of years which is now equipped with a state-of–the-art Cyber Lab having cyber forensic capabilities such as extraction of deleted data from Hard Disks and mobile phones, imaging and hash value calculation, forensic servers, portable forensic tools for on-site examination, facility to extract data from latest Android and iOS phones as well as Chinese phones.
---
Air Vice Marshal (Dr) Devesh Vatsa VSM is commissioned in the Indian Air Force in 1988. He is M.Tech in Aerospace Engineering (Control and Guidance) from IIT, Mumbai and is a PhD in Cyber Security. His vast experience includes Troposcatter communication, Satellite communication, Optical Fibre communication, Cyber Warfare and Security. Presently, he is heading the prestigious aviation software development institute of IAF.
Dr Vatsa is highly regarded in IAF for the modernization of cyber security apparatus. He gave a new meaning to forensics, auditing and CERT-IAF. During his tenure, IAF received Prime Minister's "Made in India Project" award for the indigenously developed Vayusenix Operating System. Dr Vatsa is a passionate orator and has delivered talks on cyber security, cyber crimes, cyber warfare, cyber and social media in IAF as well as various Tri Services Institutes / Colleges, Police Academy, Hyderabad etc. Also, he regularly participates in cyber / hacker conferences / events organized by various agencies such as ASSOCHAM, NASSCOM, BCCI, CERT-In, c0c0n as cyber expert.
He contributed extensively in the first National Cyber Security Policy of the country. He is one of the members of the National Task Force commissioned by Vivekananda Institute and contributed immensely in the study report titled "Credible Cyber Deterrence in Armed Forces of India", which recommended action plans to the then Defence Minister. His contribution to the formation of Defence Cyber Agency deserves special attention. His vision document on "Steps to Make India a Cyber Super Power" was well received by National Security Council Secretariat. For his long meritorious service in the field of defence communication and cyber warfare, he has been awarded VSM by the President of India. AVM Vatsa loves to mentor younger minds and talks endlessly on leadership and value-living.
---
Rakesh Maheshwari is Senior Director working in MeitY and presently designated as Group Co-ordinator Cyber Laws and UIDAI. As Cyber Laws Head, responsible for the administration of IT Act 2000 from MeitY perspective. He is also a member Secretary for the recently constituted expert committee for Data Protection Laws in India.
Rakesh Maheshwari has been involved in various e-Goverenance projects including in Passport Sewa project, UIDAI, Jeevan and State Data Centres. Responsible for e-Governance Conformity Assessment Project implementation in STQC.
Within Cyber laws functions, He is involved in handling representing MeitY in various court matters of general interest including curbing of pornograpghy, Child sexual abuse material, blue whale and various matters related to IPR violations and other cyber crimes and contraventions happening on the Internet.
---
Venkatesh Murthy is Director at Data Security Council of India. He is a digital Forensics professional with substantial experience in Cybercrime Investigation, Digital Forensics and training. He has worked with many state police agencies in capacity building for handling Cybercrimes.
Managing the Capacity building program for Law Enforcement officials in Cyber Crime Investigation through DSCI Cyber Labs located in different cities of India. He is involved deeply in setting up of Cyber forensics investigation & training facilities setup by DSCI. Contributed in Development of (ISC)2 Cyber Forensics credential CCFP as a Subject Matter Expert.
Organized exclusive Cybercrime training programs for CBI(Central Bureau of Investigation) Academy, Indian Air Force, Military Police, North Eastern Police Academy, Department of Public prosecution, Judiciary department, Banking professionals, Law students and police officers of different states. He took the lead in the development of Cybercrime resource materials for the use of Law Enforcement officials. Involved in setting up of Centre For Cybercrime Training & Research (CCITR)- country's unique initiative under PPP model. Prior to joining DSCI worked with Cyber Crime Police Station, CID, Karnataka as Technical Expert (consultant) and provided technical assistance in Cybercrime case investigation.
---
Vaishali Bhagwat is amongst the first technology lawyers in the country with prior qualification and working experience in the field of Computer Science, Cyber Defense and Information Assurance. She earned the Degree in Computer Science and Law from the Pune University and a Post Graduate Certification in Cyber Security and Information Assurance from Cranfield University (UK).
Vaishali is a practicing civil and cyber lawyer with an experience over 20 years and heads a 50-year-old all service law firm in Pune. She has handled complex high-value cyber crime litigations including data theft, insider frauds, impersonation, sexual abuse, etc.
---
Justice Talwant Singh is the Chairman of District Courts Website Committee and Nodal Officer of E-Courts Project. He is a guest faculty at National Judicial Academy, Various State Judicial Academies, Universities & Information Technology Institutions, Law Enforcement Training Institutions and Non-Governmental Organisations.
Apart from Judicial work, he has a great passion for use of ICT (Information & Communication Technology) in Courts and has been active in this field and made his humble contribution in computerisation of District Courts in Delhi. Recognising Justice Singh's interest in ICT, his services were requisitioned by Hon'ble Supreme Court of India as Member-Judicial of E-Committee in the year 2013. This Committee was entrusted with the responsibility to computerize more than 14,000 Courts all over India, which it completed in record time. He was also a member of the Software team responsible for the development of National CIS (Case Information System) for all District Courts in India in collaboration with NIC, Pune.
During his tenure in Delhi District Courts, Justice Singh also remained Chairman of District Courts Website Committee and Nodal Officer of E-Courts Project and made his contribution in developing India's First Paperless E-Court at District Court level. He has been a guest faculty at National Judicial Academy, State Judicial Academies, Universities, Information Technology Institutes and Law Enforcement Training Institutions. His interest in use of ICT in Courts and Cyber Law has taken him to many foreign jurisdictions for delivering lectures to various stakeholders.
---
Dr. Kamlesh Bajaj is CEO, DSCI. He was the Founder Director of Computer Emergency Response Team (CERT-In), Ministry of Communications and IT, Government of India. He was the co-chair of Indo-US Cyber Security Forum for a year. As the Deputy Controller of Certifying Authorities, he established the techno-legal framework for public key infrastructure in the country. Before that, he served as a Deputy Director General, National Informatics Centre (NIC).
Dr. Bajaj established a vigorous work plan of DSCI under which best practices for data security and privacy protection and frameworks have been developed. In his role of public advocacy, he has authored and presented policy papers on reasonable security practices, encryption policy, extending of binding corporate rules to the service providers under the EU Data Protection Directive, and recommendations on the proposed privacy law in the country.
He has established the footprint of DSCI as a key organization engaged in data protection through increased visibility in national and international conferences.
He began his career as a Software Engineer at CAE Electronics in Canada. He is a Fellow of the Institution of Electronics and Telecommunication Engineers, India and a Fellow of the National Academy of Sciences, India. He co-authored a book on E-Commerce.
---
Rajesh Aggarwal is a senior IAS official and has done his B.Tech in Computer Science from IIT Delhi, after which he drifted to Indian Administrative service in 1989. His interests in IIT were natural language understanding, fuzzy logic, algorithms etc. and these continue to fascinate him. Aggarwal is into big data analytics on various citizen databases, for weeding out bogus beneficiaries and targeting subsidies to genuine beneficiaries.
He has been advocating use of eGovernance, use of technology to reduce of remove corruption, for example, eTendering saves at least ten percent in government procurements, ensuring FIFO- First in, first out for various applicants etc.
He is passionate about accessibility issues, making sure all government websites are accessible to blind, deaf and other persons with various kinds of disabilities, that buildings and roads are accessible, that electronic voting machines have Braille stickers, polling booths have ramps for wheelchairs etc.
He is also passionate about use of Indian languages on the Computers and Internet, having worked with voters database in 15 Indian languages. I like playing with Unicode issues, and have written fuzzy matching algorithms in Indian languages. He also run a hobby website www.ilovemaths.com, and another website www.eGovernance.guru
---
Rajendra Singh Pawar is an Indian businessman and the chairman of NIIT, which he co-founded along with Vijay K. Thadani. He also founded NIIT University, which is a not-for-profit university in Neemrana, in 2009.
Pawar is a member of the National Task Force on Information Technology and Software Development. He heads the Quality Committees of various Industry bodies, including the South African President's International Advisory Council (PIAC) on Information Society.
He has led several ICT industry initiatives and played a significant part in shaping the IT policies of the Government of India. Pawar has worked closely with the country's educational institutions. He is on the Board of Governors of India's first global business school, the Indian School of Business; and the Scindia School.
---
Bharat Panchal is Chief Risk Officer at FIS. He is an Enterprise Risk and Payment System Risk Management Professional with over 28 years of strong experience in directing and governing all aspects of function and business engagement for Enterprise Risk, Compliance and Cyber Security who has been recognized globally as "Enterprise Risk Management & Cyber Security leader" and a policymaker with technical expertise and leadership skills in Banking & Payment system risk management, Cyber Security, Fraud Risk, ERM / ORM, AML, PFMI Compliance, Third-party certification and audit program, Quality certification, Business Continuity Management with experience in banking & Financial Services, Securities, Insurance and Telecommunication.
As head of risk management at NPCI he acted as a 'Single Point of contact for Risk' for India's entire retail banking payment ecosystem, engaged in ensuring appropriate risk strategies are in place and are acted upon throughout the entire banking ecosystem. His specialties include enterprise and operational risk management, Information Technology Risk Management, Cyber Security / Information Security Implementation and Assessment, Real-time fraud detection and prevention and System Audit management etc.
---
As a Supreme Court and Bombay High Court lawyer NS Nappinai comes with about 30 years experience. She has handled a large array of cases pertaining to constitutional, criminal, cybercrime, IPR, corporate and commercial laws.
Nappinai is an advisor to many state police and government bodies. She is a trained Mediator. Nappinai founded Cyber Saathi – an initiative to empower through knowledge, which launched with a focus on child safety online programs.
She is an alumna of the Stanford Centre of Democracy, Development & Rule of law Fellowship USA; Chevening Cyber Governance, policy and cybersecurity Fellowship, UK and International leadership Program – IPR (IVLP), of the Department of State, USA.
---
Neeraj Aarora is a practising advocate, an arbitrator and a computer forensic expert. He is Advocate on Record (AOR) in Supreme court and Public Prosecutor with NIA and also on the panel of Controller of Certifying Authorities, Ministry of Information Technologies
Aarora is the Managing Partner of his techno-legal Firm, Hazen Legal Associates which is specialized into criminal law, cyber law, digital evidence, privacy and other compliances under IT Act, 2000. His specialise to handle techno-legal issue in Courts primarily relating to Computer Forensics, Audio-video Evidences, Block-chain, AI, Machine Learning, Privacy, Robotics, Big-data, Drones, Data Protection etc.
He is a law graduate from DU, a Fellow Member of ICAI and Certified Fraud Examiner from ACFE (USA).
---
Hari Kishore Kusumakar is an Indian Police Service officer at Kolkata, West Bengal. He has done his diploma in Cyber Laws from National Academy of Legal Studies & Research (NALSAR) University Hyderabad. He is considered to be the best in Mobile Forensics with his varied and diverse knowledge on the subject.
He has been an IT & Cyber Crime Faculty & Founder of NDCRTC at the SVP National Police Academy. He has been instrumental in IT modernization of the Police offices. He has solved numerous cyber crimes under his able guidance and he is a go to Man for Forensics especially Mobile and Digital
---
Abhishek Singh is an officer of the 1995 batch of IAS with diverse experience of administration, managing law and order, implementing development programs, and of policy formulation at Central Government with regard to use of Technology for improving Governance.
He is presently posted as CEO MyGov with an additional charge of President & CEO NeGD and also MD & CEO, Digital India Corporation.
He did his Masters in Public Administration from Harvard Kennedy School of Government as a Mason fellow in May 2013. He did his B Tech and M.Tech from IIT Kanpur.
---
Hitesh Sanghvi is Director at Directorate of Forensic Science. He has more than 21 years of experience in Cyber Forensics. He is training people from various police departments and law enforcement agencies on various cyber related issues and making them aware.
He has also given in-depth training on various technical challenges in crime investigation to National and International personnel. His areas of interest are storage media forensics, smartphone forensics, Open-source Intelligence (OSINT), Live Forensics, Digital Forensics Analysis and interpretation, Malware Forensic, Network Forensic, Multimedia Forensic, VAPT, Capacity Building, Skill Development, R & D and Training & hands-on with various range of topics related to Cyber Security and Digital Forensics.
---
Dr Karnika Seth is internationally renowned cyberlaw, IP & Media law expert practising in the Supreme Court of India. Dr Seth is the Managing Partner of Seth Associates, an established law firm based in Delhi that renders legal services to both domestic and global clients. She is part of several international and Indian think tanks, organizations, and bodies imparting her knowledge. She has been instrumental in spreading cyber awareness.
Dr Seth's contribution to growth & development of cyberlaws in India and internationally is widely acknowledged in the corporate world . She has been empanelled as a member of the Working Group of ICANN formed to design the Policy framework impacting global domain registration services. She contributes to various Working Group Consultations aimed at designing policies for emerging technologies.
---
Dr. Balsing Rajput is a veteran police officer in Maharashtra state police who has firsthand experience of building 51 cyber labs and 43 cyber police stations for cybercrime investigation in the state. He has led the implementation of the Automatic Multimodal Biometric Identification System project. He is a key member of the team of Maharashtra Cyber Security Project for the development of an integrated cybersecurity environment for the state through Maharashtra Computer Emergency Response Team, Predictive Policing Solution, and setting up of Center of Excellence in Cybersecurity.
Rajput has worked in the economic offences wing of Mumbai police and investigated many sensitive cases. He has experience leading teams in large and complex police security arrangements for big events. He was team lead of Maharashtra Cyber Digital Crime Unit to develop the anti-piracy solutions which won a global award.
Rajput is an M Tech, Ph.D. along with Chevening Cyber Security Fellow 2017. He is a prolific speaker and researcher. He has strategic and technical expertise in the field of cybersecurity.
---
Dinesh O Bareja works with enterprises, Governments, Law Enforcement Agencies or Public entities for diverse Information Security needs. Some skill areas include security awareness programs – effective and engaging, complex security and cyber-surveillance solutions – policies, monitoring, early warning systems, Critical Infrastructure Protection and cyberwar – strategic ops, response, capacity and capability, war rooms, offense/defense.

He is also involved in information governance, risk, compliance, security audit, ethical hacking, license management and incident management.
---
Amit Dubey is a renowned national security expert and a crime investigator on cyber forensics and ethical hacking to various Indian investigation agencies and police department.
A prominent speaker and a credible name on national and international cyber security conferences, Amit is regularly quoted in Indian print and electronic media on global cyber issues. He is also invited by various arms of the Indian government, including its defence forces to train their cyber professionals, acknowledging his authority on cyber security. He is Chief Mentor of Root64 Infosec Foundation which is involved in various awareness and training work.
As part of awareness, Amit also run a Radio Show 'RedFM Hidden Files' And have authored two books named 'Hidden Files' and "Return of The Trojan Horse", which includes few of his interesting and thrilling crime cases that he has worked and solved successfully.
---
Amit Sharma is a popular name in the cyber-security domain and is currently serving as Advisor(Cyber) and Director in the office of the secretary department of defence (R&D).
Sharma has been a member of various committees and taskforces of ministries and government bodies which also included bilateral consultations with various countries. He has delivered a number of talks on cyber warfare, cyber security and national security issues, at various prestigious forums.
He is a Chevening Scholar and has gained his Masters in 'Global Security' from Defence College of Management and Technology, UK Defence Academy, United Kingdom. He is a graduate/fellow of US DoD's Asia Pacific Center for Security Studies, Hawaii US in Comprehensive Response to counter-Terrorism Course. He is also an alumnus of Nuclear strategy Course from Centre of Air Power studies New Delhi. He did his B Tech (honors) in Computer Science and Technology from National Institute of Technology, Hamirpur, India.
---
Vinayak Godse is vice president at Data Security Council of India (DSCI), he manages DSCI programs, which include 'Security and Privacy Education & Awareness', 'Policy Advocacy- engaging Governments and International Bodies', 'Content Research and Studies', 'Building Network of Security Professionals', and 'Cyber Lab Initiative for Capacity Building of law enforcement agencies'.
He is the principal author of the DSCI Security Framework (DSF©) and DSCI Privacy Framework (DPF©). He is engaged with industry, regulatory bodies, and international institutions on matters related to cyber security policy, international cooperation and capacity building. In this capacity, he also represents the Indian industry in bilateral and multilateral initiatives of the Government of India in the area of cyber security and privacy.
Vinayak has a rich over 18 years of experience in the areas of telecom switching, intelligence network, Internet infrastructure, mobile telephony, information security and privacy. Prior to joining DSCI, he worked with Tata Consulting Services (TCS) in its Global Consulting Practice, which advises global organizations on the matters related security and privacy. He holds a bachelor's degree in electronic engineering.
---
Rahul Sharma is a professional with diverse experience in space of Cyber Security, Policy Consulting, Technology Laws & Regulations and Data Privacy Advisory.
He runs The Perspective(TM) – that observes, analyses, designs and presents views on evolving subjects, to address the challenges, advance the dialogue and value add as a Trusted Advisor. Take up short term projects and part time assignments. Recently worked with DG JUST, European Commission on "International Digital Cooperation – Enhanced Data Protection and Data Flows" project.
Earlier had the distinguished opportunity to lead DSCI's (Data Security Council of India – NASSCOM initiative) Policy, Privacy and Standards function & as Country Leader- India with IAPP. He is an International Visitor Leadership Program (IVLP), Global Governance Futures (GGF 2027). and ICANN fellow.
---
Bivas Chatterjee qualified in Law from University of Calcutta in the year 1997, thereafter he pursued his Masters in Law from the Kakatia University. He is currently Special Public Prosecutor in Cyber Laws and Electronic evidence related cases, engaged by Government of West Bengal.
He has over sixteen years of professional experience of working in cyber law. He deals with major Information Technology, telecom and infrastructure companies. He is also the author of Electronic Evidence, Cyber Criminal Manual, Cyber Security and The Law, Cyber Contract(Legal Analysis), Dense Cloud( Legal Analysis of Cloud), Information Technology Manual, Your Ultimate Protection Guide, Cyber Adjudication. CID, West Bengal got its first conviction in the case where he was the special public prosecutor.
---
U.Ramamohan is working as Superintendent of Police, Cyber Crimes in CID Hyderabad, and i Forensic Science Laboratory, Hyderabad. He took part in technical investigation of around 5,000 cases of bombs and bombings which include number of sensational crimes of India.
He has defused more than a lakh bombs of various types. Participated in the investigation of many sensational cases such as Satyam fraud case, Navy war room leak case, Amway case etc., He has rich experience in handling digital evidence and has handled over 700 cases involving digital evidence, and gave successful deposition in west minster court UK. He is trained at Scotland Yard Police training center in U.K on cyber forensics.
Later he underwent training in Computer Crime Investigation with FBI, USA and with INTERPOL at Honkong. He is decorated with two UN International police medals for working in Kosovo during 2000-01 and in Haiti during 2009 -10 and trained many police officers of those countries. He is also decorated with Indian police medal for the year 2006.
He has authored books "Cyber Crime and Law" Child in Cyber Space" and many articles in periodicals and published many papers in International Publications. He studied M Sc statistics in S V University Tirupati and PGDCS in UOH. He is regular guest faculty for all police academies, judicial academies, university of Hyderabad, Andhra, Osmania, Padmavati etc. He is regular faculty for the defense forces for cyber security.
---
Na.Vijayashankar popularly known as Naavi is an Information Assurance Consultant and presently works from Bangalore. He has a rich professional experience spanning nearly four decades in the fields of banking, financial services, advertising and marketing besides cyber law and education. He is founder of Naavi.org, a community interested in the emerging field of laws governing the Cyber Society. The goal of Naavi.org is to contribute towards building a Responsible Cyber Society.
Naavi has created own educational certification programs through Cyber Law College on Certificate in Cyber Laws and Privacy Laws in India etc. Is also a visiting faculty in a number of premier law schools in India.
---
Sanjay Gautam is posted as Deputy SP at CBI Academy Ghaziabad Sanjay Gautam specializes in computer forensics and cybercrime investigation.
He has expertise in financial frauds, cyber crime, cyber security, network forensics, mobile forensics, computer forensics, live forensics, policy and forensic tool validation etc.
He is delivered lectures and share experience at various national and international forums. Sanjay is Masters in Computer Application.
---
Samir Datt has close to three decades of experience in the field of cybersecurity and forensics. He has been a pioneer in the Indian Digital Forensics market wherein he began evangelizing Digital Forensic Technologies at a time when people were completely unaware that such a thing existed.
He is also known for his brand ForensicsGuru, Datt offers service to law enforcement agencies and corporate. His company's skill sets include forensic collections, internal fraud investigations, Intellectual Property Theft Investigations, Data Leak Forensics, Disk & Media Forensics, Mobile Forensics, GPS Forensics, Social Media Forensics etc.
---
Rakshit Tandon is a Cyber Security Evangelist has experience of more than a decade in Security Domain. Chairing and part of various Important Security Councils and Chapter. He is Cyber Security Consultant to Internet and Mobile Association of India. Marked as Resource Person/Faculty for Cyber Crime Investigations at BPRD (Bureau of Police Research And Development) for Training Law Enforcement Officers across the Country.
In his personal capacity, he has sensitized more than 2.5 million students on the issue of Cyber Safety across the nation covering more than 26 states, 4 union territories. Played an important role in contributing to Child Online Protection in India Report by UNICEF.
---
Santosh Khadsare is an InfoSec and DFIR professional who specializes in Digital Forensics and is presently heading a Digital Forensic Lab at New Delhi.
He is B.E (Electronics and Telecommunications) and possesses additional qualifications such as CHFI, CEH, RHCSA, IVTA (CMU, Pittsburgh, USA), Advance Cyber Forensic Course (CDAC), Cyber Crime Investigator (CCI), Cyber Crime Intervention Officer (CCIO) and Access Data Certified Professional. Santosh was judged amongst top three scholars during the MDI-ISAC National Cyber Security Scholar Program for the year 2020 and was awarded for the best innovative paper titled "The Role of Digital Forensics in Industry 4.0".
He has 20+ years plus of rich experience in the field of Digital Forensics, Cyber Laws, Information Security, Cyber Audit, and Incident Response. He is known in the digital forensics community for his experience, skillsets and mentorship qualities.
He has been a speaker in various national and international conferences. He has authored various articles on information security and Digital Forensics in national and international publications.
---
Kumud Bajaj Dubey has over 18 years of experience in the software industry with leading MNCs like Alcatel Lucent, Mentor Graphics and Cadence Design systems, Kumud has been a part of senior management and thought leaders of the organizations.
At present, she is working with Boeing India as a Senior ASIC verification Engineer. Being a prominent speaker and a well-sought name in national and international conferences, she has been regularly quoted in Indian print and electronic media on global issues. She has been invited by various Indian government bodies, including its defense forces to train their cyber professionals.
Along with her team, she has conducted various events for capacity building and cyber safety awareness in association with state police departments and UNICEF. She has supported various government initiatives in their technical reviews and audits, especially the smart city initiatives of Government of India. She is involved in awareness campaigns and promoting digital India through her NGO.
She has been involved actively in Cadence Design System for solving complex design problems using Machine Learning Algorithms.
---
Satyendra Sharma is Senior Manager (IT) – Punjab National Bank (Cyber Crime Monitoring Cell). He has over 16 years of experience.
He is a guest speaker for investigation of banking cyber crimes at Central Bureau of Investigation (CBI) Academy, National Forensic Sciences University (NFSU), Gandhinagar and UP Police.
He is MCA, MBA (HRM), PGDLL and Certified Information Security Banker. He is also GFSU certified cyber crime investigator (now NFSU) and done PG Diploma in Cyber Laws and Cyber Forensics (PGDCLCF) from National Law School of India University (NLSIU), Bengaluru.
He is an expert in banking cyber security, banking cyber forensics, financial cyber crime investigation, server administration, software development, database administration, application analysis. He also specializes in cyber law, IT security, information security audit and server security audit.
---
Mumbai based lawyer Prashant Mali has over 20 years of experience. He specialises in matters related to cybercrime, online abuse, digital frauds, e-commerce, cryptocurrency frauds, economic offence, privacy and copyright.
Mali is a Masters in Computer Science, Masters in Law & Ph.D. in International Cyber Law & Cyberwarfare. He has authored several books and research papers in International Journals.
He is a regular face on TV channels and leading newspaper. Mali frequent appears for training sessions and seminars imparting his knowledge in the cyber domain.
---
Venkatesan Subramaniam owns Lab Systems which helps to detect, Investigate and prevent fraudulent practices happening in corporate and government sectors. His company is a leading distributor of world-class computer forensic software tools like Encase, myFRT, Fast Bloc, Drac, MiniDrac, Magnet Software & many more.
The company also provides consultancy services in this area that includes Custom Digital Forensic Training, Computer Forensics Investigations and Lost Data Recovery.
---
Nilay Mistry A is the senior-most faculty of Digital Forensics and Cyber Security at the Institute of Forensic Science at World's First of Its Kind, National Forensic Sciences University, Gandhinagar, Gujarat, Government of India formerly known as Gujarat Forensic Sciences University.
He has pursued his M.Tech. Computer Science and Engineering from Nirma University and B.E. in Computer Engineering from Gujarat University. He is actively a part of various research projects in Cyber Forensics at Directorate of Forensic Science, Cyber Crime Division, Gandhinagar.
He provides sessions on Cybercrime and Investigations to BPR&D, Bangladesh Police, Myanmar Police, Nepal Police, Defense Wings, Law Enforcement Agencies, Railway Protection Force etc. He is also assisting in investigation of various cyber crimes to various National and International Law Enforcement Agencies. He has also given in-depth training on various technical challenges in crime investigation to National and International personnel.
His areas of interest are storage media forensics, smartphone forensics, Open-source Intelligence (OSINT), Live Forensics, Digital Forensics Analysis and interpretation, Malware Forensic, Network Forensic, Multimedia Forensic, VAPT, Capacity Building, Skill Development, R & D and Training & hands-on with various range of topics related to Cyber Security and Digital Forensics.
---
Khushbu Jain is a Delhi based Supreme Court lawyer. Her area of expertise includes litigation practice pertaining to business, Information Technology, and crime.
She is a consultant to members of SEBI, and advises them on issues ranging from Prohibition of Fraudulent and Unfair Trade Practices (PFUTP), Embezzlement, Prohibition of Insider Trading (PIT) and other relevant issues.
She speaks and writes extensively on issues related to corporate law, privacy and cyber issues.
---
Alok Gupta comes with over 30 years of rich and varied experience in the Information and Communications Technology (ICT) industry.
He is co-founded of several ICT companies such as Samtech, AirJaldi, Dataway and Pyramid with innovations and solutions in the field of Artificial Intelligence, Cyber Security, Internet and IOT.
As a past member of the National Committee on Information Technology for Confederation of Indian HYPERLINK "http://www.ciionline.org/"Industries(CII), Alok advised and provided deep insights into how can Indian Enterprises and Government leverage use of ICT and Information Security to compete and grow in the global economy. Alok is a faculty with Institute of Chartered Accountants (ICAI) and founding member of the DSCI Cyber Forensic Forum (DCFF) representing the Digital Forensic industry.
He has been a frequent speaker at various events, workshops and forums in India and Internationally.
---
Manu Zacharia is Information Security Evangelist with over 25 years of experience. He was an external Consultant to Kerala State IT Mission / Computer Emergency Response Team (Kerala) – CERT-K from Feb 2016 to Jul 2016. He has been awarded the prestigious Microsoft Most Valuable Professional – MVP award consecutively for four years (2009, 2010, 2011 and 2012) in Enterprise Security stream.
He is also honored with the prestigious Asia Pacific Information Security Leadership Achievements Award for 2010 from (ISC)² under Senior Information Security Professional Category. He is recipient of Newsmakers Achievers Awards in IT Sector for the Best Ethical Hacker in 2011.
He is the founder of c0c0n International Hacking & Information Security Conference and also Information Security Day Initiatives. He is also the Co-Founder – Ground Zero – Asia's Foremost Information Security Conference. He is enlisted with Prometric as their Subject Matter Expert (SME) for Cyber Security
He is a regular speaker at various International and national security and technology conferences.
---
Burgess Cooper is a cybersecurity professional with wide-ranging technical knowledge across various domains, Burgess is EY Information & Cyber Security Advisory Services Partner. With over 20 years of industry experience, he is proficient in enterprise risk management, computer forensics, business continuity planning, and disaster recovery and vulnerability management.
Prior to joining EY in 2015, Burgess served as Chief Technology and Security Officer at a mobile telecommunication company in India. He was also associated with a leading banking and financial services organization as its Chief Information Security Officer.
Winner of CISO 100 title for three consecutive years — 2011, 2012 and 2013 — Burgess earned a BE in Telecommunications from Bharati Vidyapeeth University and an MBA from Jamnalal Bajaj College of Management in India.
---
Sebastian Edassery has more than 40 years experience in security and vigilance, business continuity and crisis management, investigation of technology crimes and digital forensics and law enforcement training.
He has worked with reputed organizations like Indian Air Force, Central Bureau of Investigation (CBI), Deloitte and GMR.
He was also associated with Interpol, International Centre for Missing and Exploited Children (ICMEC), United Nations Office on Drugs and Crime (UNODC) etc. for Law Enforcement Training on Computer Facilitated Crimes against Children.
---
Ajit Hatti is a founder of PureID and specializes in Information security, Threat Intelligence, Cryptography, and Blockchain Technology. He is the author of LAMMA and Gibbersense tools, widely used for assessment of crypto implementations.
He also co-founded Null Open Security Community and has worked as Security Researcher with IBM, Emerson, Symantec & Citrix.
Ajit has been regularly presenting his work at BlackHat USA, and DEFCON. He also conducts Blockchain Village at DEFCON and organizes World Run by Hackers at various conventions.
---
Kapil Madaan is a Chief Information Security Officer at Spark Minda. A professional with proven abilities and certified dynamic technocrat of rich Indian & USA experience in the areas of Cyber Security Operations Management, Audit and accreditation and IT & InfoSec , Data Privacy, Strategic Planning & Management, IT Security, IT Governance, IT Operations, People Management, Project Management, Business Continuity Planning & Disaster Recovery, Process Improvement, Service Delivery Management, Vendor Management, Budgeting.
His areas of expertise are Functional (Information & Cyber Security) Leadership, Regulatory compliance (SOC2, ISO27001, BCMS) & IT, General Controls (ITGCs), Consulting & Risk assessment and Business continuity and disaster recovery planning
---
Tarun Wig is a Co-Founder of Innefu Labs Pvt. Ltd. He is an Entrepreneur who likes to take calculated risks. He sold off his first venture at the end of three and a half years after the first round of funding.
The goal now is to create a company which would be respected around the globe for its vision, innovative products and ethics. The target is to take this venture to the IP stage in the next five years. Tarun have been actively involved in research on information security vulnerabilities.
His expertise lies in innovating latest technologies to protect users and organizations from hacking attacks. Apart from consulting multiple organizations, he is also an active participant in Indian Infosec Consortium. His specialties include Information technology – product development, business development and marketing.
---
Durgesh Pandey is a Managing Partner at DKMS & Associates. He is a Chartered Accountant and Certified Fraud Examiner – USA. He is currently pursuing PhD on Financial Forensic and Financial Crime Investigation from Gujarat Forensic Science University. His core strengths are Forensic Accounting, Fraud Investigation, Fraud Risk Management, Incidence Reporting and E-discovery of Evidences, Interview and psychological methods of Crime Investigation and Arbitration and Dispute Resolutions
He is professionally associated with Multiple Law Enforcement Agencies like Enforcement Directorate, Economic offences Wing, CID – Crime, Anti-Corruption Bureau and others on active cases of Financial Crime Investigation. He has investigated some of the most controversial cases involving multi-million dollars of frauds.
He has trained over 9000+ Chartered Accountants on topics of Financial Forensics across India. He has also trained senior IAS officers, IPS Probationers (National Police Academy – Hyderabad), ICLS officers (IICA – Manesar), Income Tax Officers, officers at SFIO, Directors and Senior management at SBI, Officers of Enforcement Directorate, Anti-Corruption Bureau officers, Gujarat Police etc.
---
Nitin Pandey is a Cyber Security Evangelist has experience of more than 13+ years in security domain. Nitin is an expert in ethical hacking, Information Security and Compliance, Dark Web, Counter & Cyber Terrorism, Cyber Crime Investigations, Cyber Threat Intelligence, Cyber Safety, Social Engineering Techniques, Financial Frauds etc.
Nitin has been widely acknowledged by Industry leading Cyber Security firms, Communities, Law Enforcement Agencies & Senior Professionals for the excellence in leading & delivering Cyber Security Projects, Assessments, Talks, Views & Trainings in different sectors involving Public, Private Enterprises & Government.
Like other Cyber Security professionals, Nitin Pandey also has expertise and can respond for any requirements in Penetration Testing, Cyber Crime Investigations, Incident Response, Incident Management, Security Audit, SOC, Service Management, Crisis Management, Wireless Security, Security Strategy, Network Penetration Testing, Fraud Control and so on. These are some areas where he is most comfortable providing services to people. Nitin Pandey is also highly active and intersted in Researches, talking about current and emerged cyber security threats. You can contact him to speak at your Conferences, for Workshop Trainings, Cyber Security Consulting & Advisory Services.
Nitin is frequently quoted in various newspapers, magazines and is also listed in Hall of Fame of so many giant companies.
---
DEEPAK KUMAR D3 has been a speaker, trainer, consultant, an investigator for various academia, organizational and law enforcement. Have delivered workshops/ training across India and African countries trained high-end professionals on cybercrime, vulnerability assessment, cyber forensic & threat intelligence.

Individually assisted cases on related to cybercrime and forensics like online social media crimes, identity data theft, financial fraud, email hacking, child sexual abuse material (CSAM), CP contents, CCTV, mobile phone forensics, etc.
---
Dr Rakesh Goyal is the Director-General of Centre for Research and Prevention of Computer Crimes and MD of Sysman Computers Pvt Ltd., a CERT-in empanelled IT Security Audit organisation.
He is a PhD in Cyber Security, a gold medallist in engineering and a gold medallist PGDM from IIM Bengaluru. He has multiple InfoSec certifications. He has over 42 years experience including 24 years in IT Security Consulting, Audits and Forensics.
He has been a part of several government committees and has authored six books, the first being on cybercrime in 1993.
---
KK Mookhey is the principal consultant and founder at Network Intelligence as well as the founder of The Institute of Information Security. He is a distinguished expert in the field of IT governance, information risk management, forensic fraud investigations, compliance and business continuity, internationally.
He has more than a decade of experience in the field, and some of his clients include the Indian Navy, the United Nations, Abu Dhabi & Dubai Stock Exchanges, State Bank of India, ICICI Bank, HDFC Bank, Saudi Telecom, Capgemini, BNP Paribas and the Mumbai Crime Branch, among others.
---
Rahul Neel Mani is the co-founder and Editor-in-Chief for Grey Head Media. With over 23 years of experience in B2B media, and widely known and respected in the CIO and CISO communities, Rahul leads Grey Head's editorial function. He has worked with CIOs and CISOs from a range of industry verticals and has an in-depth understanding of their unique knowledge needs.
Rahul's grasp of the IT and IS industry ecosystems is complete. His passion to engage with communities helps him deliver information and insight to the stakeholder's satisfaction.
---
Suresh Menon is based out of Mumbai and brings in over 33 years of experience in the IT Industry in India and abroad. Menon is a popular name in information security (cyber security )awareness and education information security governance, information security consulting.
He has successfully conducted cyber security awareness seminars, regarding the dangers of cyber-crime (threats & prevention & IT Act), across the Corporate World, Realty -Banking-Hospitality-Government-Education-Healthcare- Telecom- & other segments in a lay man's terminology.
---
Shailesh Verma is a cyber crime expert. He has worked in the fields of Sales and Marketing- Branch Banking, Relationship Management, Branch Operations, Product and Services. Customer Service, Special Projects, Collections, Risk Management.
He specializes in startup units, Process Management, Customer Service blueprints, Collections practices, Risk models. He is managing the card collection at risk at Axis bank. Prior to this he was head of fraud control at Standard Charted Bank.
---
Gaurav Gupta is among the first in the country to be awarded Ph.D. in the area of Digital Forensics on the topic 'Study On Digital Forensics For Detection Of Computer Frauds and Cyber Crimes' in the Department of Computer Science and Engineering, Jadavpur University, Kolkata in 2009.
He has developed scalable and efficient solutions for "Detection Of Computer Frauds And Cyber Crimes". His research interests include the development of efficient, scalable, low cost portable digital forensic solutions.
---
Shivakumar Sriraman is an experienced Chief Risk Officer with a demonstrated history of covering various aspects of risk management in the payments domain.
Skilled in Banking, Credit and Fraud Risk Management, Cyber Security. Strong finance professional with a Master of Business Administration (M.B.A.) focused in Business Administration and Management, General from Great Lakes Institute of Management.
---
Sharath Kumar Pakalapaty has been advisor to various Central & State Investigating Agencies handling Financial Forensic Investigation assignments Practicing CA with specialization in Financial Strategy, Preventive Fraud Risk Management, Forensic Audit etc.
He is an expert in Corporate strategy, Financial structuring, Fraud Risk Management, Fraud Investigation and Forensic Accounting. He also advises on Anti Money Laundering & Foreign Corrupt Practices Act compliance.
---
Chetan Dalal is a Chartered Accountant and Certified Fraud examiner, he specializes in fraud detection and forensic investigations. He is also a Certified Internal Auditor and a Certified Information Systems Auditor. He has served on the board of the Association of Certified Fraud Examiners (India Chapter) and India Merchants Chamber.
He is the recipient of several prestigious awards including the Tarneja Award 2003 for the best article on fraud awarded by the Bombay Management Associations and the PM Trivedi Memorial Prize for the best feature on Standard Auditing Practice in the Bombay Chartered Accountants Society's journal.
---

Satinder Kumar Bhalla is currently DDG Telecom security NTIPRIT Ministry of Communications
Policy Research and Capacity Building in the field of Digital Communications Security. He has been the Director, Ministry of Home Affairs, Cyber and Information Security. Led the team for setting up of Indian Cyber Crime Coordination Centre (I4C).
---
Vishal Dubhashi is currently Sr. Vice President – Risk & Loss Mitigation and Cost Management Department in HDFC ERGO GIC Ltd. He has previously worked with ICICI Lombard, Kotak Mahindra Bank, CitiBank India and Standard Chartered Bank. He was also a senior faculty at Aptech, Mumbai.
He is an alumnus of IIM Bangalore, NMIMS Mumbai and University of Mumbai.
---
Bobby Thomas currently heads Governance & Analytics, Strategic Partnerships, Regional Technology at Prudential Corporation Asia. In his role in India as Vice President – Operational Risk at ICICI Prudential Life Insurance from 2010 – 2018, he had the opportunity to work with Policy Makers on various aspects on Risk Management within the BFSI Space and led various industry initiatives on the above subject
Bobby comes with nearly 20 years of rich industry experience within the BFSI sector especially within Life Insurance. He is a recognized industry leader and is extremely passionate about Risk Management as a domain. His passion also lies in using Analytics for driving Risk Management and implementation of Controls
He specialises in Operational Risk and is extremely driven about using Technology for Risk Mitigation/Prevention. He is a Post Graduate in Enterprise Risk, Business Management, Cyber Law and Intellectual Property Rights Law.
---
Vishal Jain is a technology professional with experience in advising organisations on risks aspects while enabling business through technology components, including the security aspects.
He has varied experience in providing services to large oranisations across different sectors – banking & finance, technology, telecom, manufacturing & retail, life-sciences with specialized experience in the Telecom & Media.
With transformations around, technology capability enriched to digital enablers – IOT, RPA, Analytics, Digital Identity etc. He is supporting organisations on Digital – business and emerging risk aspects (data protection, resilience, privacy). Jain specialises in telecom technologies, Digital, Crisis Management, Business Resilience, Data Privacy, Cybersecurity.
---
Venkata Satish Guttula is an experienced Information Technology expert. Currently, he is heading Information Security in Rediff.com playing a crucial role in implementing and practising information security.
He is a Certified Information Security Manager (CISM), Lead Auditor and Lead Implementer of ISO 27001. He has been a recipient of many awards including CISO Platform 100 India's top IT Security influencer and community contributor award.
---
Rohas Nagpal is a blockchain evangelist and Chief Blockchain Architect at Primechain Technologies Pvt. Ltd.
In the past 25 years, he has investigated cyber crimes and data breaches for hundreds of organisations across dozens of sectors – aerospace, banking, defence, enforcement, IT, manufacturing, media, medical, pharmaceuticals, shipping, trading, transportation & more. Since 2011, he has been working extensively in the blockchain (distributed ledger technology domain).
He co-founded Asian School of Cyber Laws in 1999, assisted the Government in framing cyber laws, co-founded COIN (Collaborative Online Investigation Platform) and LeapCourses.com (a popular platform for quick & free online courses), authored 18 books & whitepapers (including the Cyber Crime Investigation Manual & Woman 2.0).
He manages the Global Cyber Law Database and most recently co-founded IndiaCoin – an experimental crypto currency developed to train police and other enforcement agencies.
---
Praveen Singh is an ethical hacker, security researcher, and cybersecurity specialist. His field of expertise includes computer and network security, Application Security, Cyber Crime Investigation, and Cyber Threat Intelligence.
He has provided cybercrime investigation and cyber forensics training across various law enforcement agencies. Praveen is an expert in Dark Web Intelligence, OSINT, and Threat Intelligence.
---
Ruby Mishra is a currently a National IT security officer in KPMG. A Cybersecurity and Data privacy professional, leader & strategist with over 16 years of rich & insightful global experience around Telecom, BFSI and consulting industries. A 'thought leader' acting as a conduit between the business and the technology devising a short- and long-term security and privacy roadmap to drive the strategy and compliances across the organization.
Proven competence in identifying business and security needs based on geographic risks, regulators and clients demand, internal IT audits, business risk assessments, control-self assessments, and building a competent team to drive security needs across the ecosystem. Strong business as well as technological insight with the ability to design a holistic solution and execute a wide range of technology to cover the security in the domain of Datacenter, endpoint, network, cloud, application including Red and Blue teaming etc. to enhance firm's security posture based on evolving threats and risk.
Have facilitated information security and privacy governance through the implementation of a hierarchical governance program and led organizations in achieving ISO 27001, Business Continuity and Privacy Certifications.
---
Sanil Nadkarni is an executive level management professional with more than 16+ years of core Information Security, Fraud & Risk Management experience with leading Fortune 500 multinational companies like Symantec, Convergys, MphasiS and Capita. His professional experience spans across Banking, Financial, Telecommunications & Information Technology services industries in India, USA, UK, Australia, Canada, and EMEA countries. He has experience from high-end security product implementation to the deployment of process controls and managing information security Risk and managing risk across various geographical regions.
He has extensive experience in building robust information security framework and foundation for IT/ITES/Banking across different geography. He has extensive exposure to Core Security implementation, Vulnerability Assessment, Penetration Testing (Ethical Hacking), Application security, Surveillance audits, Legal & Regulatory Compliance Consulting, Computer Forensics, IT Act & Cyber laws, Security Advisory, Law & Enforcement Cyber Crime prevention.
---
In his current role of Chief Information Security Officer & Senior Vice President at HDFC Bank, Sameer Ratolikar heads the Information Security Group and provides leadership to the development and implementation of Information Security program across the Bank. Prior he served as CISO with Axis Bank, where he was responsible for developing and implementing robust information strategies in line with business IT initiatives in a time-bound manner. Additionally, he ensured domestic and foreign information security, compliance, and gathered threat intelligence.
Previously, Ratolikar served with Bank of India for six years. There, he facilitated information security governance through the implementation of a hierarchical governance program. He led Bank of India in achieving ISO 27001, Business Continuity and PCI-DSS certifications, implemented access control, data leakage prevention, identity and access management, two-factor authentication, encryption, IT GRC solutions, and established an SOC for SIEM. Prior to Bank of India, Ratolikar served as principal systems analyst of security and networking with National Informatics Centre, part of the India Ministry of Communications and Information Technology's Department of Electronics & Information Technology.
---
Mukesh Sharma is founder and CEO of QA InfoTech Worldwide, Mukesh is responsible for the company's vision and leads the organization's worldwide operations, marketing, sales and development efforts.
He founded QA InfoTech with a vision to provide unbiased Quality Assurance (QA) testing solutions and has grown the organization to four Centers of Excellence globally. Mukesh began his technology career with DCM Data Systems and then worked at IBM Corporation, Quark Inc., Gale Group and Adobe Systems in software engineering and testing roles.
He has a passion for excellence, an eye for detail and commitment towards customers, and blends it with an execution style that has the maturity of an established organization with the nimbleness of a startup – these together have enabled QA InfoTech stand apart in the exceedingly competitive software testing industry.
Under his guidance, the company has contributed to various innovative quality assurance and test-automation solutions. He continues to actively evangelize software testing as a career and its indispensable aspects in today's world of software engineering.
He has authored three books in these areas to benefit testers and engineers at all levels – these include "Are You Smart Enough To Be A Tester", "Leverage The Wisdom of the Crowd in Software Testing" and "Software Testing 2020: Preparing for New Roles"
---
Anupam Tiwari is a keen IT Security enthusiast and an incisive learner, holds rich experience and qualifications in the cyber security domain including courses CDAC & GFSU Certified Cyber Security Professional, Certified Ethical Hacker with B.E from Jamia Millia Islamia University, New Delhi and M.Tech in Computer Science from JNTU Hyderabad, India. He also holds three post-graduation qualifications in Information Security, ERP and Operations & Systems. He has 18 years plus experience in the field of Cyber Security domain and firmly believes in the power of open source softwares.
He is a regular contributor to articles in leading technical magazines and journals and has been a volunteer for participation in technical talks and discussions in International-National conferences. He has 25 plus articles and papers published in International, national and defense journals/ magazines. He has been a regular participant in various seminars-conferences as a guest speaker and has spoken in 45 plus National-International conferences. He has conducted independent day-long workshops on Blockchain in universities and Indian government institutions like Central Bureau of Investigation academy, Central Academy for Police Training, IIIT Raipur,IIIT Dharwad etc.
He is an active member of technical societies including Computer Society of India, Institution of Engineers, Institution of Electronics and Telecommunication Engineers, Indian Science Congress Association and Advanced Computing and Communications Society. Anupam Tiwari has been exploring the technical side of blockchain and cryptocurrencies vide his research interest for the last 4 years now.
---
Gaurav Batra is certified cybersecurity professional, result-oriented IT&IS change-leader with more than 12 years of experience demonstrated abilities to implement secure technical business decisions and deliver value-added solutions. Strong knowledge of IT-Business alignment, large scale project deployment, and organization-wide security deployments.
An Ethical Hacker, InfoSec Speaker, Cyber Security Trainer, associated with many international organizations and also with The Institute of chartered Accounts of India as a Global Faculty for Forensic Accounting and Fraud Prevention program. Founder of CyberFrat (Cyber Fraternity) which is an Enterprise Risk management community with a motive to help people understand the risk of operating in the digital world.
Has been awarded CISO of the year 2017, 2018 & 2019, Top 100 InfoSec maestros, Data security champion, India's top 20 InfoSec influencers, and many more speakers and InfoSec level recognition including one from The Economic Times.
---
In a career span of 20+ years, Vineet Kumar has founded NGO/NPOs, set up state government IT infrastructure & network, headed Jharkhand State Government agency on Cyber Defence, led various initiatives for the welfare, trained senior officials on cyber crime, security & investigations, taught at prestigious schools/universities, conducted speaker engagements globally at seminars/conferences/forums.
As CTO – Jharkhand Police, he was actively involved in the modernization of the state police, setting up India's first Government-led research center, Cyber Defence Research Centre (CDRC), cyber cell & cyber wing for Jharkhand Police. Waged war on digital threats, implemented various cyber security initiatives, trained officers, worked for the protection of critical information infrastructure. He also worked for the modernization of the state police. He acted as Technical Advisor for Jharkhand State Cricket Association (JSCA) and Liaison Officer for Anti-Corruption & Security unit (ACSU) of International Cricket Council & BCCI.
---
Rahul Tyagi is the Co-Founder of Lucideus. He is has over eight years of experience in cybersecurity training. He is a thought leader in bridging the gap between the people-element in organisations and cybersecurity.
Rahul is the key executive responsible for developing Lucideus' SAFE ME platform which is a unique mobile-first approach to people security and awareness. With SAFE Me, Lucideus aims to re-engineer cyber consciousness for individuals. Rahul has been featured in Fortune Magazine's 40-under-40 list for his contributions.
---
Dr. Parag H. Rughani is an Associate Professor in Digital Forensics and Information Security at National Forensic Sciences University (NFSU). Before this, he was an assistant professor at Institute of Forensic Science, Gujarat Forensic Sciences University, Gandhinagar – Gujarat.
He holds Ph. D. in Computer Science with M. Phil. In Computer Science and MCA. He has more than 15 years of experience in academics. He has authored one book and published more than 15 research articles at national and international level. He is lifetime member of IACIS, IETE and ISTE. He has delivered expert sessions on various topics at many organizations. His research areas include Digital Forensics, Malware Analysis, Memory Forensics and IoT Forensics. His areas of expertise include machine learning, digital forensics, memory forensics, malware analysis and IoT security and forensics.
---
Atul Kumar is Senior Consultant with DSCI. He anchors DSCI's initiative to promote Innovation & Entrepreneurship in the domain of cybersecurity. He takes the lead in policy matters associated with start-up and innovation ecosystem, engaging with government bodies on initiatives such as make in India, start-up India, for policy matters impacting start-up ecosystem in the country and conceptualizing & overseeing new initiatives to promote start-ups.
Kumar is also mentoring start-ups on various fronts including formulating strategies such as market expansion, government engagement, raising funds, etc. He engages with the Indian industry, industry associations, authorities, and government agencies on policy matters. He has co-authored DSCI Security Assessment Framework and a part of editorial board of privacy assessment framework.
---
Deepak Maheshwari is a public policy professional with more than 20 years' experience in Information Technology, Telecom, Cyber Security, Data Protection, E-Commerce, Digital Payments and Corporate Social Responsibility across India, ASEAN and China. He has worked in Symantec, MasterCard, Microsoft, Sify and HCL.
He interacts with government officials and regulators across federal & state governments, trade associations, media, academic institutes, development sector and think tanks towards key policy reforms and advocacy by focusing on the interplay of technological innovation and socio-economic development.
Maheshwari is an engineering graduate from Indian Institute of Technology (IIT) and also earned a degree in law.
---
Rohit Srivastwa is a well-known security evangelist and a specialist in IT infrastructure, cyber warfare and cyber-crime investigation. He is an advisor to several security and law enforcement agencies and corporates in India and abroad. He is the recipient of the prestigious "Microsoft Most Valuable Professional" award since 2012 in the domain of "Enterprise Security"
Prior to these Rohit has held the positions of Director Technology at Commonwealth Games Pune (2008) as well as Director Technology and Network Operations for Commonwealth Games (2010) held in Delhi. He delivered the complete technology of games and managed every aspect under the umbrella of technology.